Cady Lalanne's second-half showing gives UMass another key win
There aren't many teams in the country with two season-opening wins as good as UMass: Boston College and LSU.
• 2 min read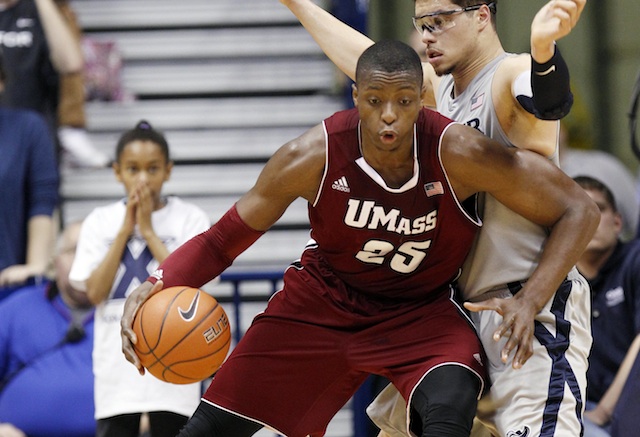 If Massachusetts is on the NCAA tournament bubble in four months, the Minutemen's opening week of the season could end up determining their Selection Sunday fate.
And that would be a good thing for Derek Kellogg's crew – there might not be a team in the country with two better season-opening wins than UMass. The Minutemen beat Boston College on Sunday, then held on to beat LSU on Tuesday afternoon, 92-90.
Boston College is expected to be a potential sleeper in the ACC (despite starting 0-2), while LSU is projected by many to be the fourth-best team in the SEC this season. When the Tigers are at full strength, they could certainly be an NCAA tournament team.
And UMass beat them both.
Neither win is going to be the difference between the NIT and the NCAA tournament, but it wouldn't be a shocker to see all three teams sitting on the bubble in March. These two victories could be a nice trump card for Massachusetts when push comes to shove.
With that said, given the way Massachusetts played the past three days, it's a realistic possibility that the bubble is aiming too low for the Minutemen. They could certainly push for a second or third-place finish in the Atlantic 10, if VCU lives up to expectations.
And the man that has given UMass the added dimension it had been missing the past couple of years is Cady Lalanne, a 6-foot-10 Florida native who has emerged as a go-to option inside this season. He was a capable post player last season, but he was inconsistent for the most part. This season he seems like a changed man inside.
Lalanne opened with a dominant performance against Boston College, going for 27 points and 12 rebounds on 12-for-15 shooting from the field. He also blocked three shots.
When Lalanne was shut out in the first half against LSU and its talented frontline, it looked like it was more of the same from the junior big man: an impressive showing followed by a disappearing act. But he erupted in the second half, finishing with 16 points and six boards before fouling out. LSU's Johnny O'Bryant and Jordan Mickey combined for 39 points and 21 boards, but Lalanne's second-half effort meant the Minutemen weren't completely destroyed on the inside.
Chaz Williams (24 points, nine assists) and Derrick Gordon (eight points, three assists) are going to get into the lane consistently – having a dump-off option like Lalanne who can finish at the rim is a huge asset.
We'll see if Lalanne can continue his impressive start with games against Nebraska, New Mexico or UAB, BYU, Florida State and Providence in non-conference play.
And who knows, with a couple more wins, the Minutemen could be in very good at-large shape heading into Atlantic 10 play.
The university also maintains that Pitino was appropriately fired

Price only made it nine games into his third season

The Wildcats won't play another currently ranked team until Jan. 10
The BC fan has a ton of apparel and gear headed his way after this putt

Durant's made a habit of making sure his alma mater is set with the latest customized gear

Ball says UCLA told him to thank Trump for getting him back to the states after shoplifting...