Calhoun plans to be at UConn at least two more years
There was no official announcement, but if you need any proof that Jim Calhoun will be back this season at UConn, it was in the bleachers on the recruiting trail. Calhoun plans to finish out the remaining two years on his contract -- at the very least.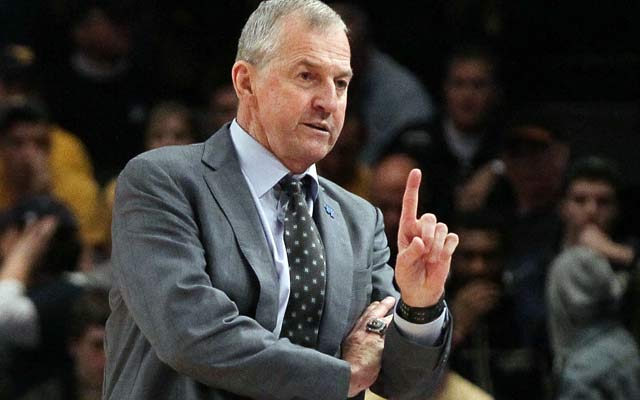 Jim Calhoun says his contract is for two more years, and he plans to honor it.
(Getty Images)
INDIANAPOLIS - Jim Calhoun sat in the bleachers, surrounded by his staff, talking endlessly about his team this season, how the UConn Huskies have stepped it up in the classroom over the past two seasons and how this group will have to play for pride instead of a postseason tournament. 
Calhoun isn't leaving. Not yet. 
"My contract is for two more years," he said. 
Calhoun doesn't sound any different than he did a few years ago. Sure, plenty has changed. His Kemba-led team won the national championship two seasons ago, then came the train wreck campaign last season -- and also the news that the Huskies would be ineligible for the postseason this year due to poor academic performance. 
Alex Oriakhi left for Missouri, Roscoe Smith to UNLV and Michael Bradley wound up in the junior college ranks. 
There were plenty who felt as though Calhoun should call it a career, that this was the right time since the UConn program had taken a significant jolt. 
"It'll certainly be different this year," Calhoun admitted. "But there are a whole bunch of schools that aren't going to make the NCAA tournament and will still play hard." 
Calhoun still maintains his group of perimeter guys can play with just about anyone: There's Shabazz Napier, who is currently nursing a foot injury and will be back on the court in a couple weeks; Ryan Boatright, who battled eligibility issues as a freshman; fifth-year senior R.J. Evans, who averaged 11.5 points at Holy Cross last season; talented sophomore DeAndre Daniels, who spent much of the year on the bench; and freshman Omar Calhoun. 
Calhoun admitted that the key to this team will come up front where there are certainly questions. Tyler Olander returns and Calhoun said that German Enosch Wolf has lost weight and could be a factor. 
This team will also be unlike any he's had due to the lack of a big-time shot-blocker.
"We'll have to play different," Calhoun said. 
The tone in Calhoun's voice was exactly the same as it's been over the years. Strong and fiery. Despite turning 70 recently, he's still the same stubborn guy who I've said will be around until someone tells him he is no longer able to coach any longer. He's even learned to pull back a bit, opting to go 25 miles instead of 50 in his annual charity bike race. 
"I feel good," Calhoun said. 
But we'll see what his state of mind is like in January and February. It's easier said than done to keep a bunch of teenage kids motivated with no NCAA tournament and national title to dangle at the end of the rainbow. Calhoun must also find a way to turn the page with the chemistry in the program. Plenty of bodies are gone -- including Jeremy Lamb and Andre Drummond. Napier will have to become a much better leader than he was a year ago. 
"I still think we have chance to be pretty good this season," Calhoun said. 
And judging by his presence on the summer circuit, he'll be around at least one more year beyond this one. 
Social media was abuzz about the NCAA's decision to force the Cardinals to vacate its 2013...

Meantime, the same AP voter moved Auburn up six spots after a loss to unranked South Carol...

Josh Nagel has his finger on the pulse of West Virginia basketball and released a play for...
The ex-Cardinal player is not thrilled with the NCAA's decision to strip Louisville of its...

Pitino's got the championship etched in ink across his back, which is now void

SportsLine's advanced computer model simulated Tuesday's Kentucky-Arkansas game 10,000 tim...