Calipari Q&A: 'Talent alone does not win; team has to play for each other'
Jon Rothstein sat down with decorated Kentucky coach John Calipari to discuss the disappointment of the Wildcats' 2012-13 season, and the way forward for the legendary program in 2013-14.
• 7 min read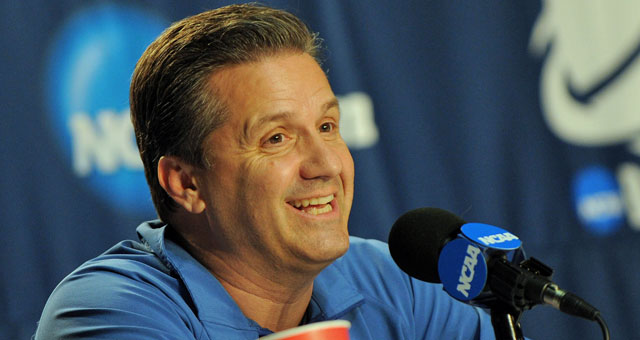 The University of Kentucky comes off one of the most disappointing seasons in its storied basketball history, as the Wildcats followed up a national title in 2011-12 with a 21-12 finish and an ignoble first-round NIT exit at the hands of Robert Morris one year later. But optimism abounds in Lexington heading into this year, as a talented freshman class including six McDonald's All-Americans, highlighted by twins Andrew and Aaron Harrison, has the Cats on a short list of serious national title contenders.  
CBS Sports Network and CBSSports.com's Jon Rothstein sat down with Wildcats coach John Calipari, who will have the job of molding all UK's talent into something cohesive, as Big Blue seeks to turn the page on last year's nightmare. 
CBSSports.com: Have you ever anticipated the start of a season like the one you're about to begin?
Calipari: I've been doing this a long time. I'm just focusing on this team and these guys and what we have to do. What is the best way to play with this group? There's a lot of ways we can play. We're going to press a little bit more. I like what I see from guys like Marcus Lee. He's a high energy guy who I'm going to have to find time for. There's a lot of different things we're going to have to work out. It's not normal doing what we're doing and I tell people "don't try this." Every year we have a new team. I can't say right now that I know how we're going to play. I can't say we're going to do these drills or use this system. We know we're going to play fast. We know we're going to be a great defensive team. We know we're going to share the ball. We know we're going to use a little more dribble-drive. How do we play pick and rolls though with this group? What's our zone offense with this group? It's different from last year's group. Every year we have to figure out our team which means early in the season we won't be nearly as good as we'll be later in the year.
CBSSports.com: You won a National Championship two years ago by only really playing seven guys. What is it like to have the type of depth that you have?
Calipari: Well when you look at it, we have seven or eight guys and then we have a couple of others vying for minutes. I think any team that's going to be a really good basketball team, seven is about the number. I've had two people in my life tell me that. One is Jack Leaman when I was at UMass, the other was Coach Wooden. I called him and talked to him about my 2010 team and he said "you're playing too many guys." He told me when he was at UCLA they only played six or seven guys and they fought every day in practice to develop a team. That's how you learn to play together. I don't know if you can play nine or 10 guys and win at the level we hope to win at.
CBSSports.com: Two years ago you talked about how important your veterans -- Doron Lamb, Terrence Jones, and Darius Miller -- were in terms of leadership because they had played in the Final Four the year prior. How different is that dynamic now because your returning players played in the NIT and not the NCAA Tournament?
Calipari: That's hard. Willie (Cauley-Stein) and Alex (Poythress) and Jon Hood, the experience they had wasn't good last year. We're asking them to do what Terrence (Jones), Darius (Miller), and Doron (Lamb) did two years ago but those guys had been to the Final Four the year before. Those three returning players were very important two years ago. That's part of coming together. The question is how fast can we come together? Can we get guys to play for each other and not for themselves? It's all questions that aren't answered right now.
CBSSports.com: How would you compare Michael Kidd-Gilchrist's motor two years ago to Julius Randle's right now?
Calipari: Until we get into games and Julius is really comfortable playing, making mistakes, missing some shots, and not letting it affect how he responds -- that's when you find out where that motor really is. We're going to drive and drive and drive. We're going to miss four footers. We're going to miss layups. Now, does that affect you? Michael just kept playing. That's something Julius has got to learn, but he's physical. He's probably more physical than Michael. He's probably not the agile athlete that Michael was but he's still a good athlete. It will be interesting to see how that plays out.
CBSSports.com: A big part of your success the past five or so years has been due to elite guard play. Do the freshmen you brought in this year have a chance to take a seat at that table?
Calipari: Andrew and Aaron Harrison have got some myths to bust. You talk about two great kids who when it's time compete at that level will be ready. Now there's been times when the competition wasn't high or they got bored and they stepped back. My challenge is to keep them involved. I think you'll find that they're different than guys I've had. They're bigger. They're 6-5, 220. Derrick Rose wasn't that big. I don't think Tyreke Evans was that big. John Wall was kind of in between that and he was faster. Brandon Knight wasn't as big but could really shoot the ball. He was a different type of point guard. I think Aaron and Andrew bring great size. They should be two great defenders. They've got to be in shape. They've got to be used to staying in a stance. But they should be two great defenders.
CBSSports.com: You talked a lot two years about how important it was to have a sixth man like Darius Miller. Could James Young be that for this team?
Calipari: He could be. I think we have seven starters with Willie, Alex, Dakari Johnson, James, the twins, and Julius. We've got seven guys who can all start so two are going to come off the bench. In a normal season, the sixth man always seems to get the most minutes on my team. I don't know, but the rotation works out that the sixth man gets the most minutes and even the seventh man is going to get around 20 minutes a game. It will be interesting to see.
CBSSports.com: Out of all the players that you've brought in so far, who has been the biggest surprise?
Calipari: Probably Aaron Harrison. People say there's this big difference between him and Andrew --- I laugh. They've got the same DNA. I will say this. Their personalities are different, but Aaron has played really well up to this point.
CBSSports.com: Your first three years at Kentucky were extremely successful. What was it like, after last season, just being around Lexington?
Calipari: It was fine. People just want us to be in the conversation for a National Championship and for the best prospects in recruiting. We are, so they're happy. The issue comes with going to the NIT. For me as a coach, it's not what I want. I was miserable in a lot of ways, but being a players-first program look how it turned out. Nerlens Noel was drafted sixth, even after blowing out his knee. Look at the type of year it was for Archie Goodwin. He got drafted in the first round. Willie and Alex would have been first-round picks if they put their name in the draft. Kyle Wiltjer was the sixth man of the year in the SEC. We have a 3.4 GPA. Three guys got college degrees and graduated and Julius Mays just signed a contract to play professionally. So for the players, this was a pretty good deal. Now for our team, it's not what we expected. Again we talk about Nerlens' injury. It set us back and we probably would have been an NCAA team with him. But with that being said, we weren't good enough to replace him and be one of those teams. Hopefully this year we have a different level of talent, but talent alone does not win. You have to be a team that cares for each other, plays for each other, and loves each other. If we do that, this team will win.
LaVar argued with the CNN host over why he came off as ungrateful and why he didn't thank Mr....

The voter has Northwestern seven spots ahead of undefeated Texas Tech, which just blasted the...

The 7-foot-1 center is the No. 3 prospect in the Class of 2018, according to 247Sports
Alabama enters the top 25 while Northwestern drops out after a rough week

Four years ago, Bryant told Jimmy Kimmel that he'd have picked UNC

Dates, start times and streams of LaVar Ball's interview with CNN