Calipari's Kentucky extension came after calculated talks with Cavs
It was out of character for John Calipari to take a call from a reporter in Cleveland and talk openly about the possibility of coaching LeBron James when he did so last month. Gary Parrish suggested then that it was not a coincidence, and now we know it wasn't.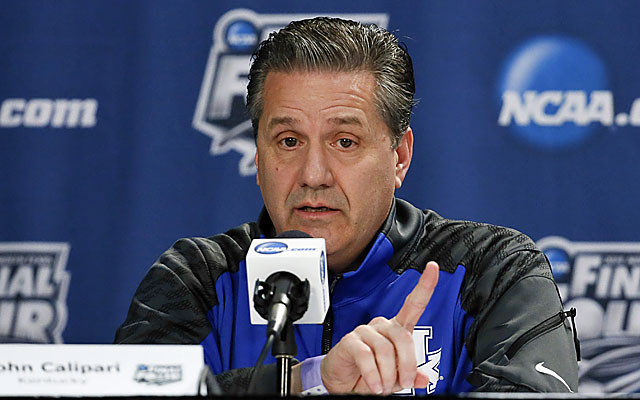 More: Cal discussed deal with Cavs | Cal inks UK extension
When John Calipari, while recovering from surgery and vacationing with family, took a call last month from a Cleveland reporter, I wrote that it was out of character for the Kentucky coach to randomly grant an interview to a local newspaper and openly discuss the idea of guiding LeBron James, and I insisted it was naive to suggest it happened without motive.
The Cavaliers had just fired Mike Brown.
Calipari was aware.
Combine that with the presence of a star point guard (Kyrie Irving), the reality that the franchise would have a lottery pick in the draft, and the possibility, even if it's unlikely, of the return of LeBron James, and it was easy to see why Calipari might be interested in being a candidate in Cleveland. Meantime, the fact that he said he would "absolutely" leave Kentucky to coach James was farther than Calipari had ever publicly gone while indirectly discussing a job opening, and that he did so, again, with a reporter from Cleveland while recovering from surgery and on vacation with his family was never coincidental.
Here's the way my column ended on May 14th ...
It would be naive to suggest Calipari isn't, at the very least, positioning himself to maybe have options, and it would be just as naive to deny that any NBA franchise would consider hiring Calipari if it gave them an advantage in a pursuit of James -- who, it should be noted, can become a free agent this summer, if he wants. If nothing else, this was a calculated move featuring a quote laced with purpose unless you think a man recovering from hip surgery would take a call from any newspaper in any market in May.

Don't be silly.

John Calipari talked to the Cleveland paper for a reason.

And he said what he said about LeBron James for a reason.

In the end, it might all amount to nothing, and, in fact, it probably will. But where it leads has little to do with the motivation behind it, and Calipari showing his hand on Wednesday is sure to spark a fascinating conversation at both the NBA and college levels.
Which brings us to Monday morning and this report from Yahoo! Sports:
Before finalizing a contract extension with Kentucky late last week, John Calipari had gone deep in discussions with the Cleveland Cavaliers on a seven-year, $60 million-plus contract to become president and coach, sources told Yahoo Sports. Cavaliers owner Dan Gilbert had been persistent in his pursuit and kept returning to Calipari in an effort to deliver full control of basketball operations, sources said. Gilbert and Calipari had discussed a package in the range of $8 million-plus a year, sources said, and it wasn't until midweek that Calipari finally rejected Cleveland and fully committed to his seven-year, $52 million extension at Kentucky.
The story goes on to report two interesting things:
Calipari was intrigued by the roster possibilities in Cleveland.
Calipari likely would've taken the job had Andrew and Aaron Harrison turned pro.
The latter development -- i.e., the Harrisons returning for their sophomore years -- ensures the Wildcats will be ranked No. 1 in all relevant preseason polls, and that was always going to make Cleveland's pursuit of Calipari more difficult than it otherwise would have been. Still, like I wrote last month, there was nothing random or accidental about Calipari taking that call and doing that interview with the Cleveland Plain-Dealer. He wanted to be pursued and create options, and, boy, did he ever get pursued and create options.
Put another way, Coach Cal won again.
The 55-year-old engaged Cleveland just enough publicly (and to a serious degree privately) to generate big interest from Gilbert, and doing so produced a no-lose situation. Suddenly, Calipari had the option to either return to the NBA with a contract in excess of $60 million or remain at Kentucky for a contract worth roughly $53 million, and that he decided to remain at UK is a testament to the school's commitment and roster in place.
Still, my main point from last month remains unchanged.
Like I wrote then and will repeat now, nothing Calipari does is ever a coincidence. When he took that call from that Cleveland reporter and talked about his desire to someday coach King James, he did so with an agenda easy to spot. It was calculated and brilliant and, most important, effective to the point that it eventually led to two contracts on a table worth more money than any normal person could ever dream of earning.
The Wildcats, once written off after a three game skid, appear poised to enter Pac-12 play...

The Ducks are riding a three game winning streak yet are slight underdogs against the Bulldogs...

The Hurricanes are one of only a handful of unbeaten teams left in college hoops
The Bearcats are fresh off a convincing win over previous unbeaten Mississippi State

The Cuse take on Georgetown in D.C.

How unselfish play has the Volunteers racking up victories this season