Can Arizona win a title without Brandon Ashley? Absolutely
Doug Gottlieb touches on the way forward for Arizona, Cal, Syracuse, Texas, Oklahoma State and others.
I feel terrible for Brandon Ashley, who will miss the remainder of the season with an injured foot suffered in Arizona's 60-58 loss to Cal on Saturday night.
Ashley was in my estimation the Wildcats' most versatile big man, and though some do not like his motor, his vast amount of skill is virtually unmatched in a player his size (6-foot-8, 230 pounds) in college basketball. His 12 points and six boards a game will be missed.
But can Arizona still win a national championship? In a word, yes.
On a poor shooting night for Nick Johnson (1 of 14), in a game where Ashley was injured two minutes in, Arizona compensated by shooting 16-for-16 from the line and nearly won on the road.
Their bench will be short going forward, but Rondae Hollis-Jefferson can play both small and power forward, and frankly Aaron Gordon has a chance for mistmatches galore when he slides to the center spot, sort of like Derrick Williams was able to last time Arizona made a run to the Elite Eight.
Ashley's loss hurts, and Arizona lacks the shooting and now the depth to be called a favorite going into March, but this is still a very good, very dangerous team.
...and as for Cal
Justin Cobbs scored Cal's final 12 points, including the game-winner, but finished with only 19 on the night. So how were the Golden Bears able to stay in the game until then?
Cal went inside to their big man tandem of Richard Solomon (12 points, 7 rebounds) and David Kravish (14 points, 11 rebounds). Solomon has really improved and Kravish is 15-20 pounds from being an NBA-caliber big man (Solomon is likely to be a second-rounder if he keeps improving).
Arizona plays behind the post, and the Wildcats might reconsider that tactic against other teams with low-post talent because it puts their bigs in 1-on-1s where they could get into foul trouble.
We'll see if Cal -- which had lost three straight going into the Arizona game -- can keep its foot on the pedal when it hosts Stanford Wednesday night.
Baylor's Franklin emerging ... finally
Speaking of Cal, once upon a time Gary Franklin was a star recruit with a seemingly bright future in Berkeley. Then, when he  was leading the team in shots just nine games into his freshman year, he left to be a point guard at Baylor. But Franklin was stuck behind Pierre Jackson for two seasons, and this year he could not beat out Kenny Cherry for the starting point guard spot. But a funny thing happened Saturday in Stillwater … opportunity.
Cherry, who frankly has looked like a mid-major guard and been exposed a bit in Big 12 play, missed the Oklahoma State game with a toe injury and Franklin got his chance. He took advantage to the tune of 11 points, five assists and three steals in a 76-60 upset of the eighth-ranked Cowboys.
Franklin really should be the starter for Baylor heading forward. He's not a true point, but what he is as a player was on display at Gallagher-Iba Arena, in the Bears' biggest conference win to date -- a huge shot maker. Franklin made living in AAU and high school ball (Mater Dei) out of taking and making the biggest of shots.
There are times in which he is too right-handed and will make a bad decision or two, but considering his IQ (basketball and otherwise, it's very high), his experience and his shot-making ability, I think his strengths outweigh his flaws. The great lesson to college players everywhere is to stay ready, the season is long and when you get your shot, take and make it.
What's wrong with the Pokes?
The Baylor loss was the third defeat in four games for OSU, exposing some issues for a Cowboys team that started the year at 15-2.
First there was the Michael Cobbins torn Achilles' that knocked him out for the year on Dec. 30th, an injury that crushed the Cowboys' already slim front line. Cobbins' stats may not have wowed you, but a fifth-year senior who knows his role, protects the rim and has no ego is a vital weapon. Add in that big man Kamari Murphy is just not as good playing 30 minutes as he was playing 15, and your post situation is a mess.
Marcus Smart is 3 for 28 from three-point range in his last four games and is struggling to get calls while being called out for being a flopper.
Stevie Clark is now off the team after a 16-game career at OSU that was a major distraction.
So, is all hope lost for OSU? I actually don't think so. Oklahoma State may have been the best team alongside Arizona in the country in November, and though that ship and a national championship has probably sailed, I expect OSU to bounce back. Smart is a tough hombre and will play better, Phil Forte III will hit jumpers and though they aren't winning the leauge, I do not beleive the Pokes are a dead team walking ... yet.
Props to Tom Crean
Indiana head coach Tom Crean, whose hockey-like substitution patterns seem to hurt his team's momentum at times, had struggled to find any sort of offensive groove with this IU team. But Sunday, his decision to put 6-0 Yogi Ferrell on 6-6 Michigan starter Nik Stauskas was outstanding, and helped fuel a much-needed 63-52 win for the Hoosiers.
The basketball term is "getting underneath" a guy, which happens when you use a smaller, stronger, quicker guy and have him use his speed and quickness to contain the bigger player and force him into playing a post-up game. Stauskas who has developed substantially since last year, is simply not a post player and couldnt just rise up over Yogi to get buckets.
For an IU team that is 9-1 in is last 10 games vs AP top 10 teams at home, it was another solid home win. For Michigan, it should be a sign that they are not close to being a top 10 team, but neither are they as inept as they looked Sunday. Michigan simply has to find a way to get Glenn Robinson III going. Robinson and Caris LeVert are they only other scorers opposite Stauskas, and when Stauskas isnt going, they aren't getting good looks either.
Did Johnnies find key to stopping Creighton?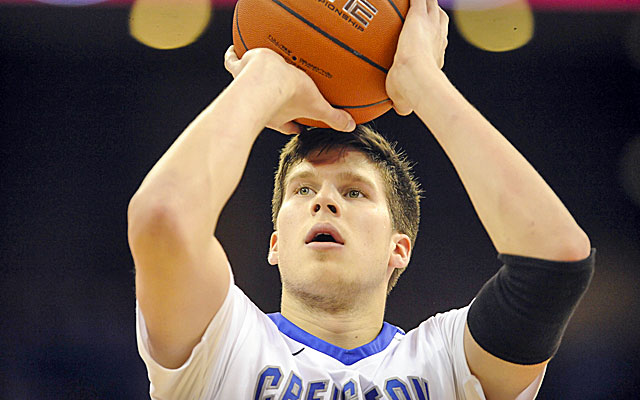 St. John's stomped Marquette on Saturday, but the bigger topic of the week in my conversations with Big East coaches was the St. John's gameplan in a 63-60 loss at Creighton earlier in the week. Steve Lavin chose to let Doug McDermott "get his," and not double-team or leave Creighton's other shooters. It nearly worked, the tactic defeated only by a deep McBuckets three to win the game. Creighton's strength is that all five guys, especially without Gibbs on the floor, can shoot and pass, and McDermott has to be guarded by a 5 man since big man Ethan Wragge only plays outside the three-point line. Look for more teams to adopt the St. John's strategy, and look for McBuckets to put up huge numbers in the coming weeks.
Wichita's road to a one seed
After beating Evansville Saturday, Wichita State now has four of its next five on the road and if they run the table in the regular season, CBSSports.com's Jerry Palm says the Shockers will get a No. 1 seed. As I stated on CBS, I don't think there is a way to measure how good they are compared to a field that plays a far superior schedule, and so I wouldn't put them on the 1 or 2 line. While we're comparing top teams from non-power conferences, I had the opportunity to call the Wichita State win over Saint Louis and the San Diego State win over Kansas, and I believe SDSU is a better team. On the other hand, I expect both teams to lose a road game or maybe two in conference play and would not penalize Wichita excessively for losing a roadie -- all the big boys seem to lose one or two on the road too.
Get rid of this bracketing rule
San Diego State will likely play in Spokane for the Rounds of 64 and 32, as the Aztecs' home arena is the site of a pod and thus they cannot play there. What a stupid and dated NCAA Tournament rule.
Think about this -- Spokane Arena, where Gonzaga occasionally plays, could have had the Zags play there on the first weekend if they were good enough to earn a protected seed. Raleigh (8 miles away) will likely have Duke. But San Diego State can't play in town just because America's Finest City only has one arena good enough or big enough for an NCAA site?
I understand trying to negate homecourt advantage, but the pod system keeps plenty of teams that aren't deserving close to home, why not a very deserving team?
While we're changing this rule, I believe we shouldn't shy away from rematches on the first weekend as long as they aren't third or fourth meetings of the year. Many conference schools don't play each other twice a year, and I find nothing wrong with a second matchup in the Round of 32.
The Cuse -- good and bad
Syracuse has everything needed to win the whole thing. I cannot help but be impressed by the Orange's role allocation and acceptance -- the best part about them is how their starting five works together. Jerami Grant beasted Andre Dawkins in the OT thriller over Duke, C.J. Fair commanded the ball in isolations and Tyler Ennis continued to pick his sports perfectly. The offense, while rudimentary, is run perfectly, spaced well and they seem to have complete buy-in from the players in terms of what shots the coaches want them to take. Fair has to be in consideration for national player of the year based upon his production, especially in big games. He is dynamite from 18 feet and in.
But the Orange are not without their flaws. I have some doubts that will have to be answered when they finish up with four of five on the road in the ACC (what a strange schedule). Syracuse takes plays off defensively as it has no depth. The Orange do not have more than one shooter on team and they only have one ball handler. Fair is a dominant college scorer, and Syracuse plays through him, but he's very left-handed and no one knows if he can guard anyone.
Tough upcoming road games against Pitt (2/12) and Duke (2/22) could show some cracks in this team's national title potential, if there are any serious enough to worry about.
What's gotten into Texas?
Many thought Texas coach Rick Barnes was a "dead man walking" coming into this season, but a funny thing happened on Barnes' way out the door. Texas is 17-4 and red-hot after a double-digit win over Kansas Saturday.
Barnes told me before the season he finally loved his team, and that they could really defend. Man was he right. The Longhorns have looked strong on that end of the floor, whether using man or "gimmick" defenses, they block shots, and they play HARD. They frankly intimidated Kansas in a 81-69 win. Texas looks like a solid NCAA team.
The big challenge going forward will be getting sophomore center Cameron Ridley to keep improving and losing weight. He has huge soft hands and is athletic despite still being overweight -- if he drops another 20 pounds he has a chance to be a dominant big man in college and a first-round pick in the NBA Draft.
As for the Horns' other talent, they do not shoot it that well, but Jonathan Holmes' continued improvement has him averaging 13 points and seven rebounds  in just 24 minutes per game. Isaiah Taylor is just a blur, and Barnes lets him play as fast as Russ Smith for Louisville. Don't get me wrong, Texas will still likely lose 5 or so games in the Big 12, but its depth of talent, ability to defend both on the ball and at the rim and the energy of the program is excellent and worth notice.
It's difficult to imagine an athletic director giving the Hall of Famer another chance

The recruiting scandal has cost Rick Pitino his job as coach of the Cardinals

Pitino's lawyer fought for his client's job Monday
These teams who have the potential to pull some upsets should they make it to the Big Danc...

Gary Parrish and Matt Norlander explain how and why UNC escaped penalty

J'Raan Brooks, a top-100 player, says he's reassessing his options