Can this unheralded bunch of Texas Longhorns save Rick Barnes' job?
Rick Barnes entered this season on the so-called hot seat, and he's still on it. But Texas is 10-1 with a win at North Carolina. So perhaps this unheralded roster can extend Barnes' career.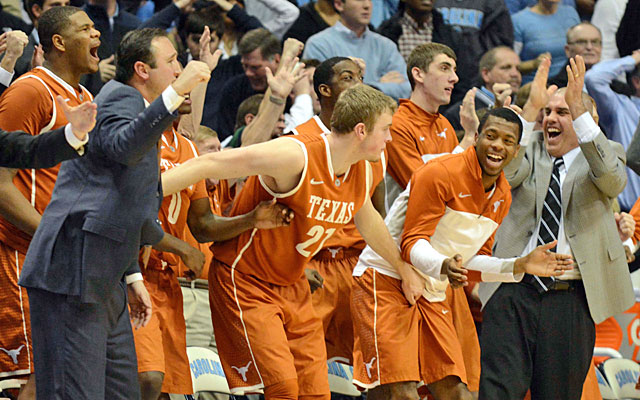 Back in the preseason, right after Class of 2014 star Emmanuel Mudiay committed to SMU, I wrote a column detailing how Texas coach Rick Barnes had lost yet another in-state recruit, and I suggested that this undeniable pattern would eventually be Barnes' undoing.
I spoke to a number of sources before I wrote that column.
None of them denied that in-state recruiting had become a problem.
But one source went out of his way to explain that another issue was how the culture of UT basketball had changed. For whatever reason, recently, the players weren't invested in the program, the source said. That's why there was an inordinate amount of players transferring and too many borderline professionals applying for early entry to the NBA Draft, because everybody's goals were different, and UT wasn't at the center of any of them.
I found this theory interesting.
And what I remember from that conversation is that this particular source told me he thought that had changed. The knuckleheads were gone, mostly replaced by team-first players whose primary goal was to win basketball games at Texas. I had no reason to doubt this source. So I didn't. But I still wondered whether A) the team-first players were talented enough to win basketball games at Texas, and B) if it was too late for Barnes anyway.
At this moment, I'm still wondering about those two things.
The Texas roster still isn't obviously great on paper.
Barnes' future is still very much up in the air.
But a 10-1 record with a win at North Carolina is still a 10-1 record with a win at North Carolina. That's a nice start to this seemingly make-or-break season for Barnes in which he's operating with no seniors and without his top four scorers from last season.
"We refuse to let us have a season like last year," Texas sophomore Javan Felix told ESPN.com's C.L. Brown after Wednesday night's win in Chapel Hill. "As far as coach being on the hot seat, we hear people talk about it. But it's never talked about around the facility. We never touch on it at all. We just go out there and play as hard as we can for him."
What a novel idea, huh?
Players playing as hard as they can for their coach.
It sounds simple, sure. But nobody who follows Texas would try to tell you that such has been the case in recent years, which is among the reasons why the Longhorns haven't finished with a winning record in the Big 12 since 2011, and haven't been to the Sweet 16 since 2008. There have been too many recruiting misses, too much roster turnover and not enough examples of players playing as hard as they can for their coach. The result has Barnes on the so-called hot seat, and who knows if he'll ever actually get off of it?
Texas is still ranked just 55th at KenPom.com, still projected to finish no better than 9-9 in the Big 12, and is still going to be out-manned when it plays Oklahoma State, Kansas, Baylor and Iowa State, just to name a few. Meanwhile, recruiting, both within the state and outside of the state, remains a problem. So there's a decent chance that Barnes could do a good job with this team but still be nudged into retirement -- exactly like Texas football coach Mack Brown was last week nudged into retirement -- because there's a decent chance that first-year athletic director Steve Patterson will conclude that the program needs new energy after this season, and that won't be totally unreasonable regardless of Texas' final record.
Either way, Barnes won't go down without a fight.
That became clear Wednesday night.
He has players fighting for him again. Granted, these players aren't as talented as Kevin Durant or even D.J. Augustin; nobody is pretending otherwise. But they're all pulling in the same direction, chasing the same thing, and, relatively speaking, that's a nice development.
Freshman had 12 turnovers and 20 points as the Wildcats rattled him and kept OU on its hee...

Kentucky and UNC are just behind the Blue Devils and Jayhawks

Cal's form wasn't pretty, but when it works, it works
Josh Nagel has his finger on the pulse of Purdue basketball and locked in a play for Tuesd...

Gary Parrish and Matt Norlander discuss the latest in college basketball

The Mountaineers' coach surprised Self with a pullover -- and Self actually wore it during...