Can you believe Syracuse was ranked No. 1 less than a month ago?
The Orange have lost five of their last seven after starting the season 25-0.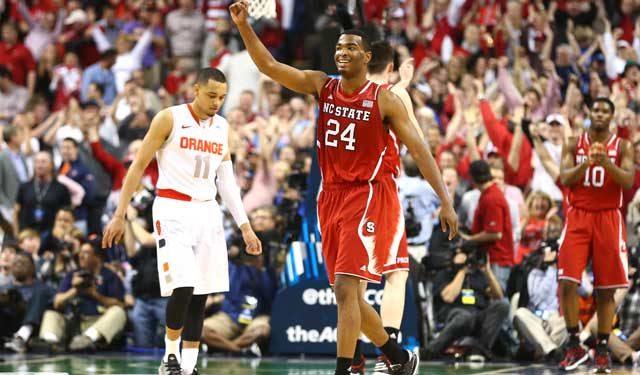 Latest in hoops: Bracketology | Bubble Watch | Latest news & notes
It seems weird now -- not to mention like forever ago. But the following statement is true: Syracuse was 25-0 and ranked No. 1 in both national polls less than a month ago.
Less. Than. A. Month. Ago.
There were 97 ballots turned in on Feb. 17 by voters who participate in the Associated Press poll or the Coaches poll, and 96 of those ballots had the Orange in the top slot. Needless to say, life was good for Jim Boeheim; he was smiling a lot ... or, at least, a lot for Jim Boeheim. But then he lost to Boston College at home, got ejected in the final seconds of a loss at Duke, and it's been a bit of a mess ever since -- the latest example being Friday night's 66-63 loss to North Carolina State in the ACC tournament quarterfinals.
Put another way, this team that was 25-0 and ranked No. 1 less than a month ago didn't win a single game in its conference tournament. Consequently, the Orange will enter Selection Sunday with a 27-5 record, meaning they've lost five of their past seven games.
Three of those losses came to unranked teams.
Two of those losses came at home.
So congrats to North Carolina State, and T.J. Warren was awesome again late Friday while getting 28 points on only 21 shots. But the story here still is undeniably Syracuse, which by the way, missed a layup, a dunk and four 3-pointers in 21 seconds on its final possession.
That sequence has already been set to appropriate music.
"We needed a 3 at that point," Boeheim told reporters afterward. "We got four looks at it, which is more than you normally get."
Did I mention that one of those looks bounced off of the top of the backboard?
Because it did.
It was that kind of night for the Orange, and it's been that kind of month for the Orange, too. To be clear, they'll still get a No. 3 seed or a No. 4 seed or something like that in the NCAA Tournament, and they'll still be dangerous in the bracket, I guess. But can a team that hasn't won two in a row in more than a month win four in a row to make another Final Four?
Perhaps.
But it's been a while since Syracuse looked like a threat to do anything.
The FBI investigation took another high-profile twist

The Zags are ranked No. 9 in the CBS Sports Top 25 (and 1)

Davis is averaging 8.8 points and 2.4 rebounds per game this season
CBS Sports reached out to coaches across the country to get their reaction to Friday's huge...

Our advanced model simulated Saturday's Creighton vs. Villanova game 10,000 times

The ex-UCLA star says college players are getting paid under the table, so it's time to legalize...