Candid Coaches: All things equal, who is basketball's top recruiter?
There is no level playing field in college basketball. But if there were, would Mike Krzyzewski, John Calipari, Bill Self and others still get the type of prospects they get?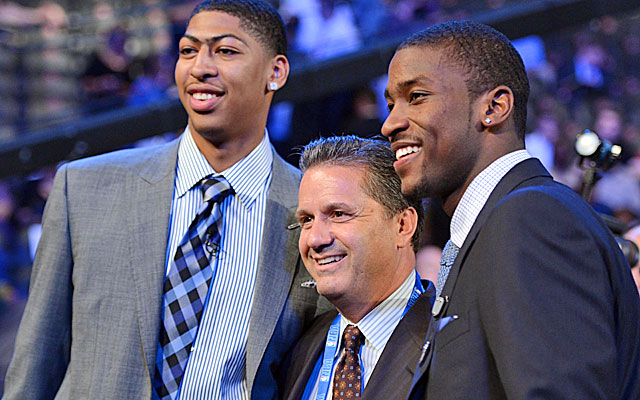 CBSSports.com's college basketball trio of Gary Parrish, Jeff Borzello and Matt Norlander spent the July recruiting period at various NCAA-sanctioned events, where they sat and talked with coaches from all levels of the sport. Parrish, Borzello and Norlander asked for opinions on prospects, players, coaches and issues. They'll be sharing those opinions to specific questions here in the blog over the next three weeks.
There are certain coaches who could recruit well anywhere, a handful of schools that would enroll elite players regardless of the circumstances. You probably know who's who. You probably know which is which. But what about on a level playing field?
Today's question: All resources being equal, who is the best recruiter in the sport?
John Calipari (Kentucky): 49 percent
Bill Self (Kansas): 8 percent
Mike Krzyzewski (Duke): 6 percent
Billy Donovan (Florida): 5 percent
Buzz Williams (Marquette): 5 percent
Others receiving multiple votes: Scott Drew (Baylor), Leonard Hamilton (Florida State), Sean Miller (Arizona), Paul Hewitt (George Mason), Josh Pastner (Memphis)
FIVE QUOTES THAT STOOD OUT:
On Calipari: "He's just that good. It's unfair and generally a waste of time to go up against him. People can speculate all they want about his practices or say that anyone can recruit to Kentucky. They are all signs of jealousy. You have to have skills as a recruiter, a marketer, and a leader to get that many elite-level kids to put aside their egos to play with other great players. It's not easy when they all want playing time and the spotlight. He gets them to trust his process and to focus on winning. And he has to do it all over again, year after year. That's not an easy task. He would be a great recruiter at any level of our business. As a matter of fact, he has been."
On Donovan: "Billy has built a national power at a place where the students and fans don't care too much about basketball, and he's done it with recruiting. He used to just get the highest-ranked guys he could get. Then he changed his philosophy and started targeting the best recruits who fit what he wants to do. That's how he won two championships. That's why he's always in the top 10 of the national polls. He's smart and he's good. He's an impressive guy. A Hall of Famer."
On Hewitt: "Look at his resume. Chris Bosh. Jarrett Jack. Thad Young. Dwight Howard if he would have gone to college. Impressive."
On Self: "Self is one of the few guys who can go head-to-head against Calipari and win. And it's not just because he's at Kansas. He was big time at Illinois, too. Out of nowhere, he got Josh Selby late. Out of nowhere, he got Andrew Wiggins late. He's really strong."
On Williams: "He knows the kind of player he wants and can coach to win 25 games a year. Then [identifies them and then] relentlessly pursues them. If he was at Duke, UNC, Kansas or Kentucky he would dominate the rest of them."
THE TAKEAWAY (BY GARY PARRISH)
It should come as no shock that John Calipari tops this poll considering he's basically established himself as the greatest recruiter in the history of college athletics. The only surprise is that he received just 49 percent of the vote, which suggests some of the coaches polled here were simply overthinking things.
Love him or hate him, Calipari is clearly the best.
He built a national power from nothing at UMass, then did the same thing at Memphis. Now he's operating at an unprecedented level in terms of recruiting at Kentucky, and the fact that Calipari needs to sign an elite class every year and does it every year is beyond impressive. In a world where prospects desire immediate playing time over everything else, Calipari convinced Eric Bledsoe to commit after Kentucky already had John Wall at the same position, convinced Dakari Johnson and Marcus Lee to commit when Kentucky still had Willie Cauley-Stein at the same position. That's incredible. But Calipari makes it seem so normal.  It's an upset any time he misses on someone he seriously desires and targets, at this point. And he doesn't miss too often.
Marvin Bagley, if eligible at Duke this season, projects as the country's top power forwar...

The Big Ten Tournament is a week earlier than usual, so the regular-season schedule may look...

Arizona, Grand Canyon and Tulane are also in Barcelona and have reported to be accounted for...
The Kansas forward is no longer accused of walking out on an $88 tab

Cavaliers basketball coach tapes statement on behalf of his university and his city

Gary Parrish and Matt Norlander discuss all things Marvin Bagley and his immediate future