Candid Coaches: Can star players be stopped from rule-breaking?
In light of the P.J. Hairston situation, is it realistic to assume coaches can prevent star athletes from accepting impermissible benefits?
• 5 min read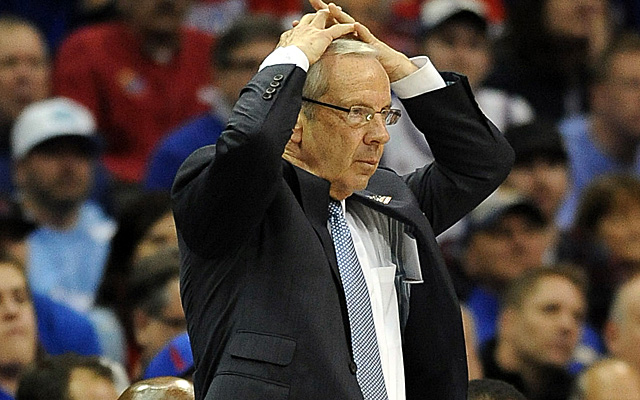 CBSSports.com's college basketball trio of Gary Parrish, Jeff Borzello and Matt Norlander spent the July recruiting period at various NCAA-sanctioned events, where they sat and talked with coaches from all levels of the sport. Parrish, Borzello and Norlander asked for opinions on prospects, players, coaches and issues. They'll be sharing those opinions to specific questions here in the blog over the next three weeks.
If Brad Stevens leaving the sport was the biggest headline of college basketball's offseason (and we addressed this in Candid Coaches earlier this week), then the P.J. Hairston saga at North Carolina has to be No. 2. The UNC guard has been pulled over three times by police and two of those times was reportedly driving a rented car tied to an ex-convict.
Hairston's made some bad decisions. His most recent speeding escapade landed him an indefinite suspension. He's yet another high-profile college athlete who's got himself into trouble. (And that's without even touching the Johnny Manziel deal.) It's yet to be determined if the NCAA will deem Hairston received any impermissible benefits throughout these ordeals, but nonetheless, the question still exists.
And it's the third question in our series.
In light of the P.J. Hairston situation, is it realistic to assume you can prevent star athletes from accepting impermissible benefits?
No: 96 percent
Yes: 4 percent
QUOTES THAT STOOD OUT:
"I think you use these moments as teaching moments. You try to show the kids that even a player like P.J. Hairston at North Carolina or [Johnny] Manziel [at Texas A&M] can end up with their eligibility at risk. But now it looks like both of those players are probably going to be OK. So maybe it's not a teaching moment. I don't know. It's hard."
"If the athlete or his family want to accept or is looking for benefits, it is impossible to stop. You have to be careless, stupid, arrogant or really unlucky to get caught. And most of it isn't that 'loud.' It is free dinners, haircuts, movies, etc. Little things but technically illegal."
"I think the Hairston deal might scare somebody straight from driving a vehicle that doesn't belong to them. But how are you going to ever stop somebody from taking a free meal or cash or anything without a paper trail? We tell them the rules. They know the rules. But they are still tempted and they know they probably won't get caught. All you can really do is educate, turn over anything you hear or learn about to compliance and hope nothing big happens. But every coach worries about getting caught up in something. When Roy Williams and even Coach K [with Lance Thomas] have to worry about it, we all have to worry about it."
"It's outside our hands. It's the dumbest thing to try to control."
"I don't think it's realistic to assume that. I believe that it's only a matter of time before they accept something. Think about it. They are cheered and worshipped like Hall of Famers for so long and by so many, that even saying no to the extra benefit can be hard to do. Even a great character kid in my opinion has taken some sort of extra benefit (a dinner, $20 here and there, etc.)."
"I don't recruit in the high-major world, and don't deal with those type of prospects, so it is difficult for me to answer that question, however from good friends that do recruit those guys, I would say that it is becoming nearly impossible to manage those situations."
"I don't think it is too realistic. It all boils down to the culture and mentoring provided to these young men once they get to your program. If there is a support system in place that educates them on the negative to doing those things I think most kids will sacrifice the now for the money down the road. Now, all the same can't be said for parents or relatives. That you can never prevent."
"It is not realistic to prevent all elite players from accepting impermissible benefits. A lot of these kids do not have much money, may come from broken homes without true mentors or parenting and/or will always have people around the who ultimately want something out of their relationship with the prospect. The answer is NO."
A reason for yes: "More education must be implemented, especially with guys who are potential pros. To me, the education piece is on the specific program the player is at. You almost have to scare them and use what has happened to certain athletes and what they have lost. After that, you have to hope the relationship you have with that kid is strong enough and the education you have provided can withstand the temptation. It's a selfish decision, one where that particular player is choosing himself before the team. That's something as coaches we are charged with teaching."
THE TAKEAWAY (BY MATT NORLANDER)
We've got 10 questions in our series this year, and this was the one we knew would have the biggest majority/disparity between votes. But we wanted to highlight just how helpless coaches feel on this issue. What can be done to stop it? Honestly, it's honesty, scare tactics and hoping you get lucky on the recruiting trail. But even high-character players might take a small benefit here and there -- because most of the time it's not getting them in trouble.
And this is just basketball coaches managing 13 players. Think about what big-time football coaches go through, dealing with teams of nearly 100 guys.
More and more, players are hyped at an early age, developing a circle of friends/family that are supportive -- but also looking for support. Or a payout. Or some sort of benefit. There are tiers to this. Sometimes it's actual money -- thousands -- being negotiated to the family of the player. Sometimes, as a coach notes above, it's smaller stuff: entry to concerts, a quick and cheap meal, a free haircut. It's impossible (and uncomfortable) to monitor players every hour of every day. To think this behavior can be completely strangled out of college athletics is nonviable.
After all, why do people do anything? Because they can. And often times it's hard for us to realize what it must be like to be 19 years old, the big man on campus with temptation or handouts flying in your face every other day. When it comes to big players getting under-the-table perks, under current NCAA governance and philosophy, it's a problem forever without a solution.
The NCAA formally notified MSU of its investigation into Nassar on Tuesday

The Sooners' freshman, pilloried for his recent performances, showed a different side Tues...

Young is leading the NCAA in both scoring and assists per game
Our advanced computer model simulated Tuesday's UNLV vs. Fresno State game 10,000 times

Our advanced computer model simulated Tuesday's Kansas-Oklahoma game 10,000 times

Our advanced computer model simulated Tuesday's Virginia vs. Clemson game 10,000 times