Candid Coaches: Is Kentucky poised for a title or disappointment?
To finish off our series, we ask coaches about Kentucky: are the Wildcats ready for a return to the Final Four or are they going to collapse again?
• 3 min read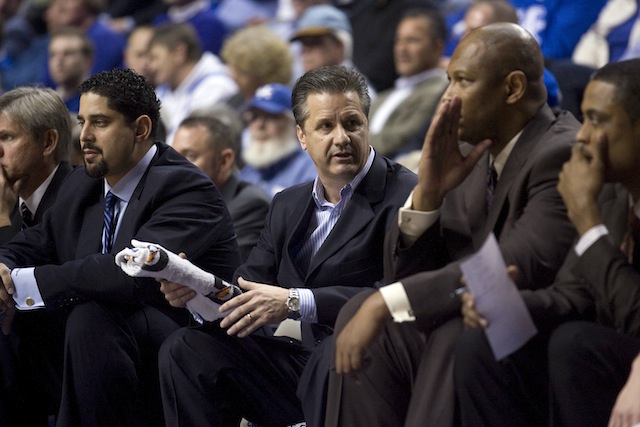 CBSSports.com's college basketball trio of Gary Parrish, Jeff Borzello and Matt Norlander spent the July recruiting period at various NCAA-sanctioned events, where they sat and talked with coaches from all levels of the sport. Parrish, Borzello and Norlander asked for opinions on prospects, players, coaches and issues. They've shared those opinions to specific questions here in the blog over the past three weeks.
To take a look at any of the previous Candid Coaches we have done, here is the entire series.
To finish off our Candid Coaches series for this summer, we're going to take a look at the nation's most intriguing team: Kentucky. Coming off a national championship team, the Wildcats entered last season as a projected top-five team – but didn't even reach the NCAA tournament. With loads of talent on the roster this season, how will the boys down in Lexington fare?
Will this season's Kentucky team be closer to the 2012 title team or the 2013 NIT team?
Title team: 87 percent
NIT team: 13 percent
FIVE QUOTES THAT STOOD OUT:
"They have NBA guys at every position, and two at some positions. And they won't be all young this season. They're just going to overwhelm most everybody they play."
"Last year's team had Ryan Harrow. They had no shot from day one."
"There's too much talent to be NIT. This is an embarrassment of riches when it comes to flat-out talent. Do they have the character of the 2012? Are there upperclassmen willing to be as unselfish as the as the 2012 team's was? The answers to those questions will determine their fate. They could lose two of their top eight guys and still be a top-five team. How many teams can say that?"
"Calipari will be able to use last year to get their attention. Those guys last year thought it was going to be easy. If he can get this group to surrender to the team like that 2012 team, the talent is there."
"Too many egos for even Calipari to handle. I think they have some cancers on the team as well."
THE TAKEAWAY (BY JEFF BORZELLO)
Kentucky will likely enter the season ranked No. 1 considering the Wildcats are enrolling the nation's best recruiting class and also return two first-round picks. With all the talent on the roster, it's difficult to imagine the Wildcats not being among the sport's elite. But, of course, you can just point to last season as an example of what happens when talent doesn't mesh – and things go downhill in a hurry.
After asking plenty of coaches, though, it seems the majority don't think we're going to get a repeat of last season. There's simply too much talent across the board. Andrew and Aaron Harrison will immediately form one of the best backcourts in the country, and that doesn't include top-10 recruit James Young. Up front is likely top-five NBA draft pick Julius Randle and five-star bigs Dakari Johnson and Marcus Lee – along with returnees Alex Poythress and Willie Cauley-Stein.
"Embarrassment of riches" is the only way to describe it.
The biggest difference from last season will be at the point guard position. Ryan Harrow was expected to be a difference-maker in 2012-13, but the North Carolina State transfer was absent early in the season, was inconsistent when he played, then decided to transfer. He wasn't the Derrick Rose-Tyreke Evans-John Wall-Brandon Knight-Marquis Teague point guard that Calipari is used to. Andrew Harrison will be that sort of player, though. As long as he's cleared to play, Kentucky will have the dynamic playmaker they lacked a year ago.
One note on the poll is that many coaches split the difference and said that Kentucky would be closer to the national championship team – but would likely only reach the Sweet 16. The primary reason is the unpredictability of freshmen, and the lack of role players. The 2012 team had Darius Miller and Doron Lamb. Who will be that sort of guy for this year's group? Moreover, where will the leadership come from? Michael Kidd-Gilchrist was a born leader, and Anthony Davis had no problem buying into his role despite being the best player in the country. Some coaches think this team could have chemistry issues.
In the end, though, talent won out. It's simple math: a team with up to eight first-round picks on the roster is going to be tough to beat. If someone steps up as a leader and everyone buys into the collective goal of winning a title, there is no ceiling for these Wildcats.
The UConn women's basketball coach stepped in to offer up a solution in an education budget...

Duke and North Carolina players will skip ACC Operation Basketball because of new NCAA pol...

After a close game against Michigan, Air Force is playing San Diego State with some moment...
Quickley played for John Calipari this summer with USA Basketball

A revamped Erwin Center is part of a $4.25 million upgrade to the Longhorns' hoops facilit...

Nov. 10 will be here before you know it so here's what you need to know