Candid Coaches: What are the best three hoops jobs in the country?
We concluded our annual Candid Coaches series by asking coaches for a list of the top three college basketball jobs in the country. Kentucky, Duke and North Carolina ranked first, second and third.
CBS Sports' Gary Parrish, Matt Norlander and Sam Vecenie spent the July evaluation period at NCAA-sanctioned events, where they talked with college basketball coaches from all levels. They asked for opinions on players, coaches and issues in the sport. They'll be sharing those opinions over a three-week period in our Candid Coaches series.
***
Previous poll questions:
• Which eligible NCAA player would you take over all others?
• Which coaching hire was college basketball's best this offseason?
• Will a woman be hired as a Division I assistant in the next three years?
• Are you OK with the idea/philosophy of all freshmen being ineligible?
• Has a shoe company ever cost you a player's commitment?
• Who is the best offensive coach in college basketball?
• Who is the best defensive coach in college basketball?
***
One of the questions I've received from Florida fans a few times is whether Shaka Smart would've taken the Texas job had he known Florida would subsequently open. Each time, I assure them he absolutely would've. And then I try to explain there's a reason Smart turned down UCLA, Illinois, N.C. State, Marquette and a bunch of other schools before taking Texas, and that's because Texas is, in the eyes of college coaches, one of the very best basketball jobs in the country ... regardless of whether casual fans realize it.
With that in mind, we decided to let casual fans know how college coaches view jobs.
So we asked the following question ...
What are the top three college basketball jobs in the country?
Other jobs that received multiple votes (listed in order): Kansas, Texas, UCLA, Arizona, Indiana, Stanford, Gonzaga, Louisville, Florida.
FIVE QUOTES THAT STOOD OUT
• On Kentucky: "Fan base is unwavering. They're consistent. Kentucky owns the state in terms of the fan base. They travel well, are willing to put in any amount of money. There's a blank check for those guys to do what they need to do dot maintain a level of greatness."
• On Duke: "I think it's a great job because it's such an iconic brand. But I sure wouldn't want to be the man who follows Coach K. That's an impossible situation."
• On North Carolina: "UNC could get five-star recruits no matter who the coach is. MJ played there. The tradition is great. Dean won championships. Roy has won championships. And I don't mean this in a bad way, but even Matt Doherty signed a top-ranked recruiting class there. Almost anybody could win big there. To me that's the best job in the country."
• On Kansas: "Great tradition. Great fans. Coolest facility in the sport. The only question is whether it's a great job because it's a great job or because they've always had great coaches. It's been 30 years since Kansas didn't have a Hall of Fame coach."
• On Texas: "One of the top revenue schools. Everything you need to win from a facilities/financial standpoint. It's a phenomenal football school, and [it has] an unbelievable recruiting bed. Unlike UK and Carolina, you have a pool of kids growing up, dreaming of playing in Texas, in-state. That's not happening as much at those other schools." 
MY TAKEAWAY
It's hard to argue with the top three answers, isn't it?
I mean, we could debate the order. And Kansas, Indiana or perhaps even Texas, in my opinion, could replace one of the top three. But it's hard to take issue with Kentucky, Duke and North Carolina finishing first, second and third, and Kentucky and North Carolina are no-brainers, I think, if only because every man who has coached either of those schools for at least five seasons has won a national championship dating back more than 50 years.
Think about that.
History shows that if you're A) fortunate enough to get the Kentucky or North Carolina job, and B) competent enough to keep the job for at least five seasons, you'll win a national title.
There are literally no exceptions to that rule -- dating back more than 50 years.
Gonzaga making the list is smart, I believe, because it really is a top-shelf job given how it's head-and-shoulders above every other job in its league. Mark Few, with the help of his administration, has elevated Gonzaga into a nationally recognizable entity, and it's at the point where Few is essentially guaranteed to make the NCAA Tournament each year.
That's a good setup ... and what makes for a great job.
In the spirit of honesty, I'm a little surprised Stanford made the list.
It's a fabulous school, undeniably.
But is it really a top-three job? One worthy of some coaches' first-place vote?
With all due respect, I'd say no.
The one job I was surprised that didn't receive a single vote is Ohio State because Ohio State is a great job for most of the same reasons Texas is a great job. Not sure if it's a top-three job, exactly. But it's definitely a better job than some of the answers we received.
Either way, the top three is a solid top three.
Kentucky.
Duke.
North Carolina.
Makes total sense to me.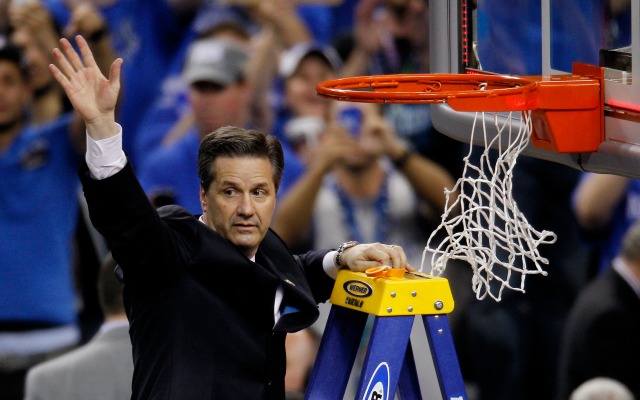 Arizona, for no good reason, doesn't have to play at USC or UCLA this season

We look at the 'Major 7' leagues and give you the best of what's to come in conference play...

Louisville's coach predicts a change is coming to the NBA's one-and-done rule by 2019
Multiple former players of Lonergan's alleged verbal abuse and inappropriate remarks

When Miller left for Indiana, there was cause for concern in Flyerland; a top-100 signee says...

The Hoyas will spend their non-league schedule playing mostly nobodies -- as will most big...