Candid Coaches: Which 2014 prospect will have best NBA career?
There are plenty of talented players atop the 2014 class, but which will have the best NBA career? We asked coaches to find out.
• 3 min read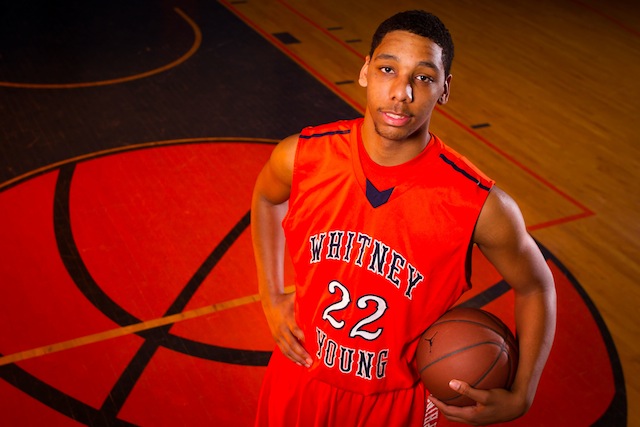 CBSSports.com's college basketball trio of Gary Parrish, Jeff Borzello and Matt Norlander spent the July recruiting period at various NCAA-sanctioned events, where they talked with coaches from all levels of the sport. Parrish, Borzello and Norlander asked for opinions on prospects, players, coaches and issues. They'll be sharing those opinions to specific questions here in the blog over the next three weeks.
Despite three five-star players reclassifying from the class of 2014 into the recently graduated class of 2013, the rising senior class has remained strong at the top. When Andrew Wiggins moved into 2013, Jahlil Okafor took over the No. 1 spot and has been doing his best to fight off all the competition for that honor. But is Okafor headed for the best NBA career?
Which 2014 prospect will have the best NBA career?
Jahlil Okafor: 50 percent
Cliff Alexander: 16 percent
Myles Turner: 9 percent
Emmanuel Mudiay: 9 percent
Tyus Jones: 7 percent
Karl Towns: 5 percent
Others receiving votes: Trey Lyles
FIVE QUOTES THAT STOOD OUT:
On Jahlil Okafor: "I think he has the most NBA-ready body and game right now, and there will always be a place for a 6-foot-11, 270-pound beast. He was the biggest WOW guy for me, and I don't think even think I saw him at full strength half the times I watched him."
On Jahlil Okafor: "Jahlil was maybe the best player on the U-19 team, and that team had Marcus Smart and Aaron Gordon. I don't know if he'll have the best career for sure. But he'll be the No. 1 pick in 2015."
On Cliff Alexander: "I've always felt that Cliff Alexander would be the best pro of the group. He has some versatility and is better ball handler and passer than people realize. He has a great feel for the game and a body that will withstand the grind of 10-plus years. Think Amar'e Stoudemire when healthy."
On Myles Turner: "With his size and athleticism, I think he'll play a long time. He's a more skilled Tyson Chandler. I think if the NBA keeps evolving like it is, and depending on how much better and stronger he gets in college, he will have a great pro career."
On Karl Towns: "He has a chance to do to the center spot what Magic Johnson did to the point guard spot. He can change the position. That's not an exaggeration. He can be an NBA superstar. The only thing that stops him is if his people mess him up and get him to be entitled. But he has skills, IQ, strength, motor. And he's a smart, coachable, personable kid."
THE TAKEAWAY (BY JEFF BORZELLO)
Jahlil Okafor went into the spring and summer periods as the No. 1 player in the country, although guys like Tyus Jones, Emmanuel Mudiay and Cliff Alexander were on his heels. Throw in a meteoric rise from Myles Turner over the past couple of months, and Okafor certainly had competition heading into July. That competition was over fairly quickly, though.
Okafor opened his July by playing with the U19 team at the FIBA World Championships – and was arguably the best player on a team filled with college stars. Despite playing only 14.2 minutes per game, Okafor averaged 10.8 points and 4.8 rebounds while shooting a ridiculous 77.2 percent from the field. He followed that up (less than a week later, mind you) with averages of 16.8 points and 10.0 at the Nike Peach Jam. After just two weeks of July, Okafor had cemented his spot atop the class.
It's become very difficult to imagine Okafor not being a successful college and NBA player. He has terrific size and hands, with footwork and feel to match. Okafor is a dominant back-to-the-basket player with a variety of post moves and plenty of aggressiveness around the rim. He can play the high post or low post, and has very good passing ability. In fact, one coach said he thinks Okafor will be better than Andrew Wiggins.
Is Okafor a lock to be a future NBA all-star? Nothing is a guarantee, of course, but all signs point to a long and productive professional career for the Chicago big man.
SportsLine's advanced computer model simulated UConn vs. Michigan State 10,000 times

It's not every day that a team gets to the line zero times and doesn't complain

The Wildcats were No. 2 two days ago, but a two-game losing streak keeps them out of our r...
No. 2 Arizona and No. 18 Purdue are each 0-2 in the Battle 4 Atlantis, and they'll play each...

It's rare to see two incredibly gifted big men going head to head this early in a college hoops...

The Wildcats are no longer undefeated after losing to NC State