Candid Coaches: Which coach under 45 will make the Hall of Fame?
Shaka Smart, Sean Miller and Buzz Williams are among the coaches under the age of 45 who could develop into Hall of Fame candidates.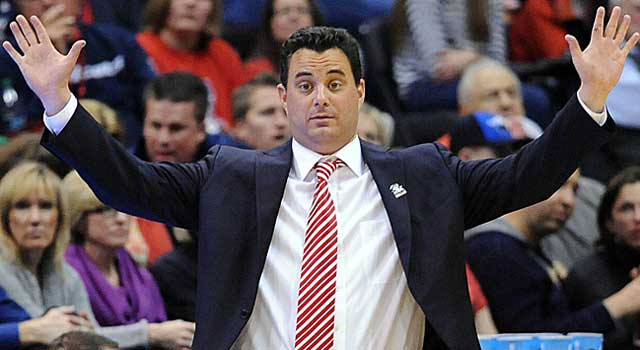 CBSSports.com's college basketball trio of Gary Parrish, Jeff Borzello and Matt Norlander spent the July recruiting period at various NCAA-sanctioned events, where they sat and talked with coaches from all levels of the sport. Parrish, Borzello and Norlander asked for opinions on prospects, players, coaches and issues. They'll be sharing those opinions to specific questions here in the blog over the next three weeks.
Mike Krzyzewski, Rick Pitino, Roy Williams, Tom Izzo, Jim Boeheim, John Calipari, Billy Donovan, Bill Self and Thad Matta have combined to make 46 Final Fours and are among the most relevant coaches in college basketball today. Each is great in his own way. And the one thing they all have in common is that their greateness was pretty easy to recognize while they were either in their 30s or early 40s. By the age of 45, they were all established and possibly headed to the Hall of Fame.
And with that, today's question: Which coach under 45 will make the Hall of Fame?
Shaka Smart (36 years old): 33 percent
Brad Stevens (36 years old): 18 percent
Sean Miller (44 years old): 16 percent
Buzz Williams (40 years old): 8 percent
John Groce (41 years old): 5 percent
Fred Hoiberg (40 years old): 5 percent
FIVE QUOTES THAT STOOD OUT:
On Smart: "He is 36 years old and has a Final Four appearance, seven NCAA tourney wins and 111 wins overall over a four-year stretch."
On Stevens: "After he gets fired and collects $22 million from the Celtics, he will come back to whatever school he wants and win a national championship."
On Miller: "He's restored Arizona basketball to where Lute [Olson] had it in his time of dominance. He has a track record at Xavier and should be a force in years to come -- not just in the Pac-12, but nationally. Sharp, precise, determined. Should win a national title in the next three years."
On Williams: "Wait till Buzz gets the Texas job. It'll be him and Bill Self at the top of the Big 12 pretty much every season."
On Hoiberg: "The only question with Hoiberg is whether he'd be willing to leave Iowa State for a job where it's a little easier to win big. And he could just end up in the NBA. But those are the only reasons to bet against him being one of the best in college basketball."
THE TAKEAWAY (BY GARY PARRISH)
Shaka Smart getting nearly twice as many votes as anybody else shouldn't be too surprising considering he's never won fewer than 27 games in four seasons as a head coach and already made a Final Four at a program that isn't obviously equipped to make Final Fours. He's an undeniable star and obviously patient enough to wait for the ideal next job, proof being how Smart has turned down practically every athletic director with an opening at some point over the past three offseasons.
Simply put, the kid has a bright future -- whether it's at VCU or somewhere else.
And how about Brad Stevens making the list?
Keep in mind, we didn't ask for the name of a "current" college coach. Just a coach under 45. Stevens is most certainly that, and, as you can tell from the quote above, many people believe he'll return to the college game at some point -- just like Rick Pitino and John Calipari before him. Now let's be generous and say that's after a decade in the NBA. Stevens would still be only 46 upon his return to college and thus in a position to coach at least another 15 years at what would presumably be a top-shelf program because, as the coach quoted above noted, he'll forever be a candidate for whatever is the best available job. So, yeah, Stevens makes a lot of sense on this list.
The most surprising thing to me here is Sean Miller.
I'm not surprised he's on the list.
I'm surprised he only got 16 percent of the vote.
Miller is, to me, the safest bet of the group because we're not waiting on him to take an elite job. He already has an elite job, and he's crushing it. I don't know whether he'll win a national title in the next three years like the coach quoted above predicted because that always takes some luck in a three-week single-elimination tournament. But I'm certain Miller will compete for championships, and I'm guessing he'll do it consistently for the next 10 to 15 years given the way he's established himself as a recruiter. Truth be told, I figured Miller would be really good when he got the Arizona job. But he's even better than I realized, and there's no reason to think he can't match or possibly exceed Lute Olson's accomplishments. I know that sounds crazy. But I really do believe it's true.
The Mountaineers blew a double-digit lead in the second half and Huggins decided he'd seen...

The No. 3 Wildcats crush the No. 4 Musketeers to move closer to winning a 5th consecutive Big...

The No. 2 Spartans overcame a 27-point deficit vs. Northwestern and South Carolina holds on...
John Calipari's team gets a healthy home win over Alabama, and UK fans can finally calm th...

McLemore was taken to a nearby hospital for further evaluation

Bagley is leading the Blue Devils in scoring and rebounding