Candid Coaches: Which low-major coach can be the next Andy Enfield?
There are many really good coaches still grinding away at small schools.Who's most likely to make a run soon and get a big-time job?
• 4 min read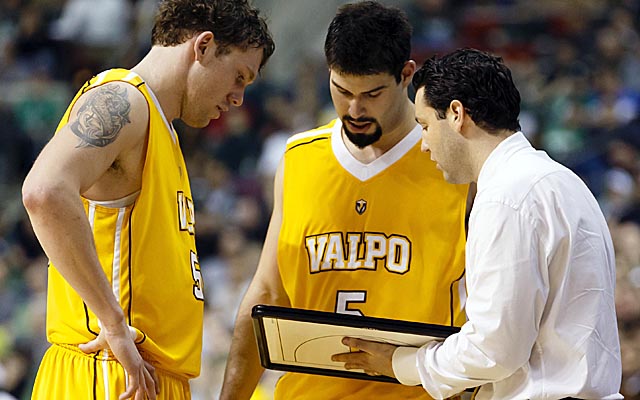 CBSSports.com's college basketball trio of Gary Parrish, Jeff Borzello and Matt Norlander spent the July recruiting period at various NCAA-sanctioned events, where they talked with coaches from all levels of the sport, asking for opinions on prospects, players, coaches and issues. They'll be sharing those opinions to specific questions here in the blog over the next three weeks.
Coaching turnover is a perpetual, seasonal thing in college basketball. Each spring, around 10 percent of the sport loses its head coaches to retirement, firings or different jobs. The third part is what makes it interesting. Inevitably there will be one, two or three gigs following every season where a coach grabs a higher rung and ascends in the profession.
This past season, no coach took a longer reach than Andy Enfield. The former Florida Gulf Coast/current USC coach went from unknown to national sports celebrity in less than two weeks -- because of two games. Had Florida Dunk Coast not made that Sweet 16 run, Enfield is probably still in Fort Myers, Fla., prepping his program in hopes of back-to-back Dance appearances.
Enfield moving up is the latest example of how winning big at a small school can pay off -- literally -- in huge ways. And despite Enfield's success and the coaching carousel that comes every spring, it's not every year we see a man at a particularly small school make the definitive leap to a top-60 program.
Which leads us to the fourth question in our Candid Coaches series.
Which low-major coach is poised to become the next Andy Enfield?
• Bryce Drew, Valparaiso: 15 percent
• Mike White, Louisiana Tech: 12 percent
• Will Wade, Chattanooga: 9 percent
• Steve Masiello, Manhattan: 8 percent
Others receiving multiple votes: Joe Dooley (FGCU); Pat Skerry (Towson); Brett Reed (Lehigh); Andy Toole (Robert Morris); Scott Cross (Texas-Arlington); Kareem Richardson (UMKC); Joe Jones (Boston U)
QUOTES THAT STOOD OUT:
On Drew: "I'm pretty sure he could already be a high-major coach if he wanted. He'll make the jump eventually. He's just waiting on the right fit."
On White: "He's had a lot of success in a short amount of time. He also has the connections to get him a big time job."

"Look what he's done in just two years. Has a team that is poised to make a run this year.  Good X/O, good recruiter, great person. You want to play for him or have him lead your program."
On Masiello
: "Steve hustles and he can recruit. Big personality. Add to that the Pitino effect, and he'll be in a position to make a move when he wins his first league title."
On Wade: " Coming from the VCU coaching tree, he has a chance to be successful and be different in that league.  Especially with Davidson leaving the league, they can win there, and all it takes is one special March."
On Wade: "He has the best job in his league after Davidson departs. He's arguably one of the top recruiters in the country and will implement Havoc (Chaos) from VCU."
On Richardson
: "Combination of several factors: has the Pitino card, is getting kids already, very solid chance to win the league right away. I just don't see him staying at UMKC long at all."
On Skerry
: "He has a good name (interviewed at Minnesota), and a chance to win the conference this year."
THE TAKEAWAY (BY MATT NORLANDER)
Before we talk the top vote-getters, I want to note that we had more than 25 names populate this list in doing our survey. There is a lot of optimism about the young guys coaching at small schools. In general it feels like the coaching culture is as positive and talented in the under-40 crowd as it has ever been. In talking to older coaches, they say the go-getters now, the young assistants who quickly work their way up to head jobs, those guys are smarter, more active and better at a young age than coaches from past generations.
As for Drew winning, it's not a huge surprise. Drew has already passed on other jobs, and he'll likely be able to have the pick of the lot every spring, so long as his team is near the top of the Horizon. And remember, Butler's long gone from that league, so opportunity is there to conquer.
White at Louisiana Tech is a name a lot of college basketball fans don't know. But he's tremendously respected in college hoops circles. The son of Duke AD Kevin White, Mike White is seen as a guy with a very bright future. He has a 45-23 record in two seasons as a head coach at La. Tech, which hasn't exactly been too good over the past 20 years.
Wade is an interesting choice. He's the latest VCU assistant to get a job, and Chattanooga is a good spot. Masiello is a big name, big personality and will have Rick Pitino to plug him whenever he has the chance to get a promotion; look at what Richard Pitino just did in going from Florida International in one season to landing the job at Minnesota.
Like I said above, every spring doesn't bring a really big job to a coach from a small school. But looking at the candidates here, and knowing the NCAA tournament is as likely as ever to give us high-profile upsets? The odds seem to be increasing, and it wouldn't shock me if at least half of all the names listed above are in major-conference jobs by 2017.
Oklahoma and Arkansas are new additions to Sunday's Top 25 (and one)

Gary Parrish and Matt Norlander discuss a wild Saturday of college basketball

Ball left the program earlier this month and has since signed with a Lithuania professional...
Sooners beat third-ranked Shockers while Florida and FSU lost in upset fashion to unranked...

The Hoosiers grow up before our eyes, and Miller has his first signature victory as Indiana...

Trae Young, a freshman and the nation's top player, has a 21-point first half at Wichita S...