CBSSports.com Freshman of the Week: Jabari Parker, Duke
For the second week in a row, Duke forward Jabari Parker is our national freshman of the week.
• 2 min read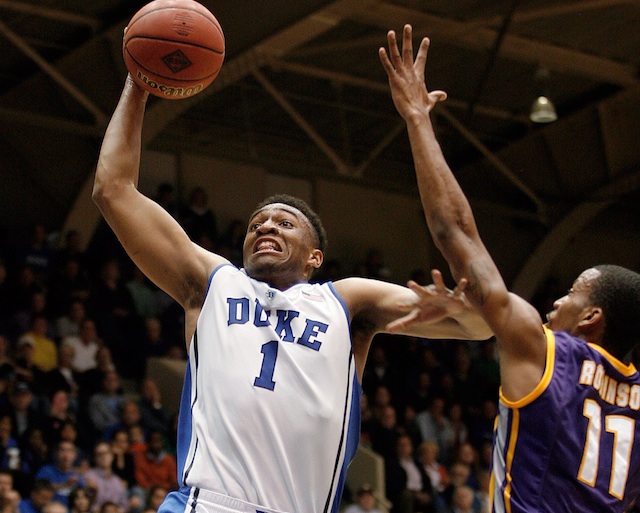 When I start going through freshmen to give out the CBSSports.com Freshman of the Week award, I try not to focus on the big names: Julius Randle, Andrew Wiggins, Jabari Parker, etc. It's sometimes more fun to pick a lower-tier guy or a borderline top-100 player instead of an obvious All-American.
This week (and the previous two weeks, and probably most weeks), I just couldn't do it.
For the second week in a row, Duke freshman forward Jabari Parker is our Freshman of the Week.
The 6-foot-8 Simeon (Ill.) product played three games this past week, and excelled in each of them – even though Duke escaped with a couple of closer-than-expected wins. Parker only played 19 minutes against UNC-Asheville, but he found a way to get 21 points, 10 rebounds and four assists during that span, going 8-for-13 from the floor.
He followed that up with 21 points, nine rebounds and six blocks against East Carolina, including several key plays in the second half to preserve the Blue Devils' lead. On one play, he grabbed a rebound and went coast-to-coast through most of the ECU team to finish with a dunk, and also came up with back-to-back blocks down the stretch with just over two minutes remaining.
And Parker saved his best performance for his third game of the week. In surprising fashion, Duke needed a last-possession failure from Vermont in order to escape the Catamounts by one point. But Parker played a major role in keeping the Blue Devils from getting knocked off. He had 26 points, nine rebounds, shooting 11-for-16 from the field. With just over three minutes left, he had a dunk to tie the game at 81 – and then had an offensive rebound and tip-in on the ensuing possession. He had 19 points in the second half alone.
Parker has simply been fantastic this season, and he's shown no signs of slowing down. Sure, teams in the ACC might have more time and tape off which to prepare, but that might not matter. The only player who showed any ability to slow Parker down was Kansas' Andrew Wiggins, and Parker won't play him again until the NCAA tournament, potentially. So basically, if you have the future No. 1 pick on your roster, you have a chance of slowing down Parker.
On the season, Parker is now averaging 23.0 points, 8.8 rebounds, 2.2 assists, 1.8 blocks and 1.3 steals. He's shooting 58 percent from the field and an absurd 60.9 percent from 3-point range. The only knock on his stat line right now is his free-throw shooting: it's at 68.8 percent.
A couple of other impressive performances from the week: Kentucky's James Young went for 26 points and five 3-pointers; Kennedy Meeks had 13 points, 12 boards and seven assists in North Carolina's win over Louisville; Memphis' Nick King is starting to come into his own, averaging 17.5 and 7.5 this week; Missouri's Johnathan Williams III had 17 rebounds in a game; VMI's Q.J. Peterson had 38 points in one game and is averaging 24.2 for the season; and Kansas' Joel Embiid started to show why he's a lottery pick, going for 16 and 13 against Iona.
Updated freshman rankings
1. Jabari Parker, Duke: 23.0 ppg, 8.8 rpg, 2.2 apg, 60.9 3PT%
2. Julius Randle, Kentucky: 19.8 ppg, 13.7 rpg, 56.3 FG%
3. Andrew Wiggins, Kansas: 16.8 ppg, 6.3 rpg, 58.5 FG%
4. Aaron Gordon, Arizona: 13.0 ppg, 9.0 rpg
5. Jordan Mickey, LSU: 14.8 ppg, 9.8 rpg, 4.8 bpg
Jerry Palm's latest NCAA Tournament bracket projection also shows why Florida has issues

Michigan State's Miles Bridges, Duke's Wendell Carter among dozens of players named

Kenny White used to set lines for Vegas' biggest books. Now, he's telling you who to back on...
Duke, which held the previous record of 32 set in 1950, took to Twitter to congratulate the...

Without Trier, Arizona's Final Four chances are clearly in jeopardy

Porter Jr. is a projected top 10 pick but has played just two minutes all season