CBSSports.com Freshman of the Week: Kentucky's Julius Randle
Kentucky forward Julius Randle is CBSSports.com's selection for national Freshman of the Week.
• 2 min read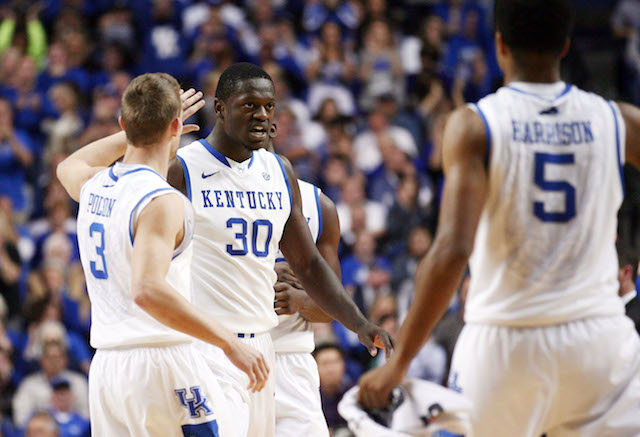 There is going to be plenty of time for debates in college basketball this season surrounding the freshmen across the country. Julius Randle or Andrew Wiggins? Andrew Wiggins or Jabari Parker? What about Aaron Gordon? Don't forget the Harrison twins!
Anyway, this week certainly isn't going to be one of those weeks – at least when it comes to Freshman of the Week honors.
Randle, the 6-foot-9 power forward from Prestonwood Christian Academy (Tex.), absolutely dominated his first two opponents this past weekend, leading No. 1 Kentucky to a couple of easy wins.
It started on Friday, when Randle went for 23 points and 15 rebounds against UNC-Asheville. He got to the free-throw line 13 times, making 11 foul shots. Five of his boards were on the offensive end, and he shot 6-for-12 from the field.
Sunday was more of the same – and even though his point and rebound totals were fewer than Friday, it might have been a better all-around game. Randle had 22 points and 14 boards, including another five offensive rebounds. This time, Randle was 10-for-14 from the charity stripe, but he was more efficient from the field, making all six of his 2-point shots. (He did miss a 3-pointer). Another thing to note was his three assists – he was drawing defensive attention and finding open teammates.
While the two games were against teams far below Kentucky's level, Randle showed why he is going to be so much trouble to deal with this season. He's stronger than most opponents, but he's also extremely aggressive and is capable of facing up and going by his defender. Moreover, given all the talent John Calipari surrounded Randle with, teams can't focus their defensive attention on him.
As a result, Julius Randle is the CBSSports.com College Basketball Freshman of the Week.
Outside of Randle, there were other freshman studs from the weekend – and yes, Wiggins, Parker and Gordon all did fine too. Wiggins opened his career with 16 points, although he did too much floating and needs to be more aggressive. Parker went for 22 points and six boards against Davidson, knocking down three 3-pointers. Gordon also opened strong, finishing with 13 points, 10 boards and four blocks.
Other impressive debuts included: DePaul's Tommy Hamilton (16 points, 11 rebounds), Indiana's Noah Vonleh (11 points, 14 rebounds), and California's Jabari Bird (14 points, seven boards, five assists in 21 minutes).  
Bagley is still recovering from a knee injury he suffered during the Blue Devils' loss to...

Izzo was emotional as he coached the seniors on their final home game in East Lansing

The Shockers look to build on their four game winning streak as they return home to face T...
De'Anthony Melton is leaving the Trojans program and will look to jump up to the professional...

Kenny White used to set the lines for the biggest casinos. Now, he's dishing out advice at...

In a heartwarming moment, a team manager got an opportunity to play on the floor