CBSSports.com Freshman of the Week: Tyler Ennis, Syracuse
After helping lead Syracuse to the Maui Invitational title, Tyler Ennis is the CBSSports.com Freshman of the Week.
• 2 min read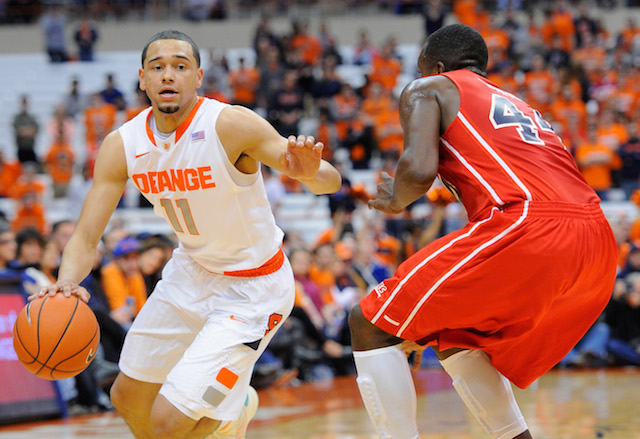 Tyler Ennis wasn't going to be eased into his freshman season at Syracuse – head coach Jim Boeheim had to throw him into the fire immediately. Michael Carter-Williams was in the NBA and Brandon Triche was playing professionally in Italy. This was going to be Ennis' team, for better or worse.
After one month, the returns have been very positive for both Ennis and the Orange.
Last week, Ennis helped lead Syracuse to the Maui Invitational title – and in the process, also won the CBSSports.com Freshman of the Week award.
A 6-foot-2 Canada native who played his high school ball at St. Benedict's (N.J.), Ennis was fantastic during his three games in Hawaii. It started with an up-and-down performance against Minnesota, finishing with 12 points, four rebounds, five assists, five steals – and zero turnovers. He only shot 1-for-9 from the field, though.
In the semifinals, Ennis took his scoring to a new level against California. He went 9-for-12 for the field, scoring 28 points and controlling the game. He also dished out four assists and picked up three steals.
Then there was the championship game against Baylor. Ennis played all 40 minutes, scored 11 points and dished out nine assists. The biggest thing, though, was Ennis didn't turn the ball over once. He didn't allow the Bears to force turnovers and get out in transition. Ennis also picked up four steals – including the game-clinching steal and timeout in the final minute.
Ennis is going to be the catalyst for Syracuse's successes (or failures) this season. If he plays well, taking care of the ball and being an offensive threat, the Orange will run much better offensively. He's had a couple subpar games, and it showed in the team's entire offensive performance. As he continues to develop and become more comfortable at the college level, the Orange are only going to get better.
Ennis' numbers for the season aren't eye-popping, but the most noteworthy number is very important to Syracuse going forward: 33 assists, eight turnovers. Better than a 4:1 assist-to-turnover ratio. If Ennis can take care of the ball and distribute effectively, Boeheim will be happy. He's also averaging 11.7 points and 2.9 steals.
Updated freshman rankings
1. Jabari Parker, Duke: 23.0 ppg, 8.0 rpg, 55.4 FG%, 50.0 3PT%
2. Julius Randle, Kentucky: 18.1 ppg, 12.6 rpg, 53.6 FG%
3. Andrew Wiggins, Kansas: 14.3 ppg, 5.6 rpg, 49.3 FG%
4. Aaron Gordon, Arizona: 12.1 ppg, 9.3 rpg, 48.5 FG%
5. Noah Vonleh, Indiana: 12.9 ppg, 10.4 rpg, 52.6 FG%
Oklahoma's star freshman has a father who has been there and done that

Kentucky now is at risk of slipping out of the Top 25 (and one)

Cherry's commitment gives ASU a top-20 recruiting class and its highest rated pledge since...
Matt Norlander is on a 11-7 run in college basketball picks and shares his best bets for W...

Kentucky losing this game probably cost it a shot at earning a high NCAA Tournament seed

Freshman had 12 turnovers and 20 points; the Wildcats rattled him and kept OU on its heels