CBSSports.com Player of the Week: Creighton's Doug McDermott
Doug McDermott averaged 24.5 points and 8.5 rebounds in wins over Marquette and Seton Hall to become the CBSSports.com National Player of the Week.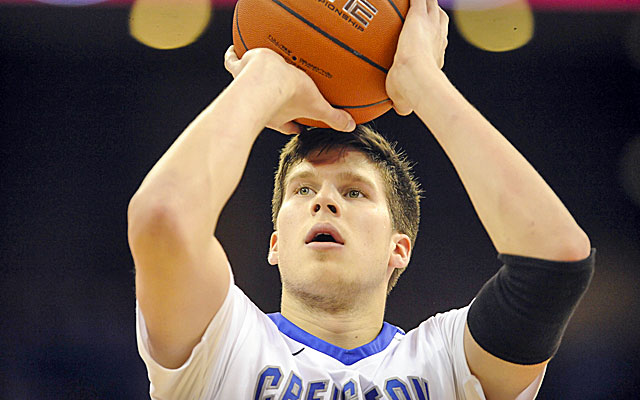 Late Saturday afternoon, while I was questioning whether it was wise for Duke coach Mike Krzyzewski to bench Duke star Jabari Parker for the final minutes of what ended up being a close loss at Notre Dame, I tweeted the following: "I know Jabari was struggling. I guess my point is that I'd never bench the nation's best offensive player."
Almost immediately, Creighton fans replied.
They didn't care much about Parker getting bench.
They just wanted to set the record straight about the title of "nation's best offensive player."
That label belongs to Doug McDermott, lots insisted. And, you know, that's certainly a reasonable opinion. Sure, Parker is shooting a slightly higher percentage from the field (51.2 percent to 49.1 percent) and 3-point range (42.9 percent to 42.7 percent). But McDermott is the dude with the highest scoring average among players from nationally relevant conferences, and he got 30 points and 10 rebounds in Saturday's win at Seton Hall after, earlier in the week, finishing with 19 points and seven rebounds in a blowout of Marquette.
Consequently, Doug McDermott is the CBSSports.com National Player of the Week.
We talked about McDermott on Monday's Eye on College Basketball podcast and agreed that the most amazing thing he's done is make it where getting 30 points in a 40-minute game doesn't seem like a big deal. He's already done it five times this season, and the byproduct is that Creighton is 12-2 overall, 2-0 in the Big East and ranked in the Top 25 (and one).
McDermott is, quite simply, having one of the greatest college careers in modern history.
And there are at least two months left in it.
So you'd be wise to enjoy it.
SportsLine's advanced computer model simulated Sunday's Tulsa vs. Cincinnati game 10,000 t...

Graham was so good on Saturday vs. Texas Tech, he's got a case for Big 12 Player of the Ye...

Coaches should know better, but players are the real victims in the corruption that rules college...
Shareef O'Neal, a 4-star recruit who signed with Arizona in November, has changed his mind

Despite not being on the sideline Saturday, Miller states he is "confident that I will be...

Bridges was mentioned in Friday's report, but has been cleared to be on the court