Celebration turns to tears after UCLA learns of Adams' broken foot
Talk about bittersweet. Moments after knocking off Arizona for the third time this season and advancing to the Pac-12 tournament title game, UCLA freshman Jordan Adams learned he was done for the rest of the season with a broken foot suffered on the final play of the game.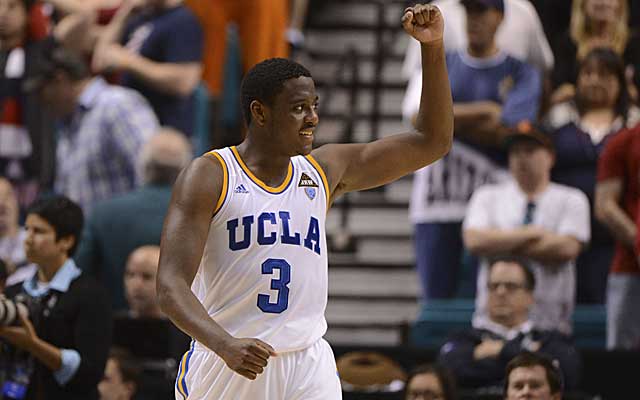 LAS VEGAS -- Larry Drew II sat in front of his locker in the corner of the UCLA locker room, motionless, doing everything he could to fight back the tears that were welling up in his eyes. He clenched his eyes, pulled his top corner of his game jersey over his head and finally was unable to hold back any longer. The emotions came pouring out, tears and the correct words to sum up the Bruins' latest obstacle. 
More on UCLA-Arizona
Related links
More college basketball coverage
This was supposed to be a moment to rejoice, celebrate a third victory against rival Arizona. Freshman Jordan Adams had just rescued the Bruins, scoring 18 points in the second half and leading this team that was written off back in December within one game of a Pac-12 regular-season and tournament sweep.
Then came the news.
Adams was done for the rest of the season with a broken right foot suffered on the final play of the game.
"I'm in shock," Drew II said. "I can't believe it. I feel horrible for him." 
Drew and his teammates had no idea of the severity of Adams' injury until he returned to the locker room on crutches with a boot on his right foot. It was then that they were told he was done. UCLA coach Ben Howland was completely unaware of the X-ray results until informed by a reporter of the CBSSports.com report in the postgame news conference. 
"It's horrible. Just horrible," Travis Wear said moments after being delivered the news. "Especially with how we've been playing."
UCLA was playing its best basketball of the season, winning nine of its last 11 games -- and Adams was a major reason for the team's success. One of UCLA's assistant coaches had told me less than 24 hours earlier that Adams was the team's toughest player. He is also the Bruins' most effective and versatile overall scorer and proved that down the stretch against Arizona, at one point scoring 11 straight points for Howland's club.
He stood in front of his locker, crutches by his side, still in a state of dismay. The locker room was eerily quiet. Unlike Drew, though, Adams somehow remained composed. He explained that the injury occurred as he was closing out on Arizona's Solomon Hill as he attempted a potential game-tying shot with just seconds left on the clock. He immediately limped to the scorer's table after the final buzzer sounded. 
"I knew something was wrong," Adams said. "It hurt. A lot." 
This hurts Adams. It hurts UCLA. It hurts Howland. It's a major blow to a team that has dealt with no shortage of adversity. There were the high expectations entering the season, largely due the arrival of a stellar freshman class that was highlighted by Shabazz Muhammad and Kyle Anderson. Muhammad wasn't cleared by the NCAA until after the third game of the season, but the Bruins lost to an unranked Georgetown team in Brooklyn, N.Y., and then a week later dropped a home contest to Cal Poly. Two players -- Josh Smith and Tyler Lamb -- left the program. 
But this group hasn't quit. Instead, it has persevered to become a dangerous team during the second half of the season. 
"This has been hard for us all year all year with the transfers and injuries. Now this," Drew II said. "It's tough, but there's something about this team. We find ways to make things happen when it seems like all is lost. … But I'm not saying all is lost." 
It's difficult to fathom, though, this UCLA team making a run without Adams. Muhammad is the team's leading scorer, but he can't manufacture a bucket with ease in the same manner as Adams. This team, which has virtually no depth, needed all of its pieces to make a legitimate run in the NCAA tournament. Now the Bruins don't even have a backup guard behind Drew and Norman Powell, who will almost certainly be thrust into the starting lineup. 
After a few more minutes, Drew composed himself enough to get up from his chair. Across the locker room, Adams grabbed his crutches and hobbled out into the MGM Grand casino. 
"It's tough," Adams said while still trying to force a smile. "But things happen in life, and you've got to deal with it." 
Maybe, but this is a tough one to swallow for the Bruins.
Happ is a force for the Badgers because of drills at home -- and a big growth spurt

Josh Nagel has his finger on the pulse of Big Blue and just locked in a strong pick for Tu...

The 10th-ranked Jayhawks end a four-game Morgantown losing streak with a big second half
Gary Parrish, after being questioned, explains why he writes the Poll Attacks each Monday

The Blue Devils looked like a team in need of a reboot against Miami, then they morphed into...

Providence's Ed Cooley suggests to the refs that vampires, not contact, made his player bl...