Champ Check: Four different tests say Indiana is the favorite
The number of teams meeting the benchmarks of champions is dwindling as we approach tournament time.
The top of the college basketball rankings got jumbled up again Monday. But unlike last week, there were also a couple of big changes to the two champ lists we track. Each Tuesday, we do a champ check based on stats we've been tracking for 12 years and another test using KenPom statistics. Let's look at the basic champ check first. The last 12 champions have possessed these eight stats:
A one, two or three seed (the AP Top 20 make the grade)
Member of a Power conference: ACC, Big East, Big Ten, Big 12, Pac-10 or SEC (CF in the list below)
Either went to the previous year's dance or have an All-American (*/12)
Led by a coach with more than five tourney trips and at least one Elite Eight run (CO)
Averaging more than 73 points per game (PF>73)
Allowing fewer than 73 points per game (PA
An average scoring margin of at least seven points per game. (SM>=7)
A schedule among the 75 strongest in the country (S
As of Tuesday, only six teams meet all these criteria -- one fewer than last week. Here's the breakdown: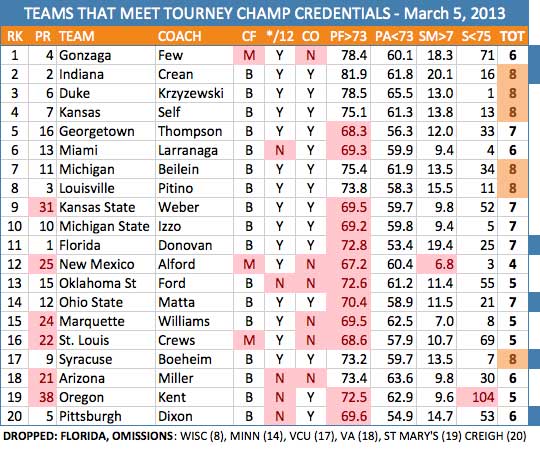 Under the "TOT" column at the right, an "8" means the team met all the credentials. (Ignore the blue flags for a moment.) Red-filled boxes identify credentials each team failed to meet. The six teams on the champ list this week are Indiana, Duke, Kansas, Michigan, Louisville and Syracuse. Florida dropped off the list this week because its scoring average fell below 73 points per game.
I mentioned the dearth of scoring in college basketball a couple of weeks ago. It's gotten even lower since then. Think about this: The last two tourneys were the lowest scoring since the dance expanded to 64 teams 28 years ago -- and the top 20 most efficient teams averaged 75.1 points a game. This year, the KenPom top 20 averages a meager 72.2 points a game, nearly three points lower.
Speaking of KenPom, let's talk about those blue flags. These tabs identify six teams that meet two other champ stats I introduced six weeks ago. If you're a fan of Ken Pomeroy's possession-based stats, these filters may be more valuable to you. I don't include them in the basic champ check because I only have nine years of pre-tourney KenPom data. That said, every one of the nine champions since 2004 has had an offensive efficiency rank among the top 17 and a defensive rank among the top 25.
When you evaluate the top 20 teams in the AP rankings on these two KenPom rankings (as of Monday), four of our six potential champs don't make the grade: Duke's defensive efficiency ranks too low (28th), Kansas isn't efficient enough offensively (20th), Michigan ranks a shockingly low 53rd on defense, and Louisville is too offensively challenged (25th). Duke is the latest team to fail the KenPom ranking test.
On the other hand, three teams meet the efficiency ranking criteria that don't have the eight traditional champ stats. Gonzaga (3OE, 23DE) barely made the KenPom defensive efficiency threshold. Ohio State's (15OE, 17DE) is solid if not spectacular on both ends of the court. And Pittsburgh (12OE, 10DE) also made the grade.
Before Duke fans start to worry too much about their defensive ranking, know this: its raw defensive numbers are well within the threshold of past champions. I usually do the KenPom test by offensive and defensive ranking, but the fact is, this year's teams are much stronger on defense than in past years -- and correspondingly weaker on offense (which no doubt explains the low scoring averages). If you went by raw points scored and allowed per possession, irrespective of ranking, you'd have yet one more view of who has the chops to be champs.
The last nine champions have had offensive efficiency numbers no lower than 115.1 points and defensive numbers no higher than 92.2 points per possession. So which teams meet both these thresholds? Take a look at the chart: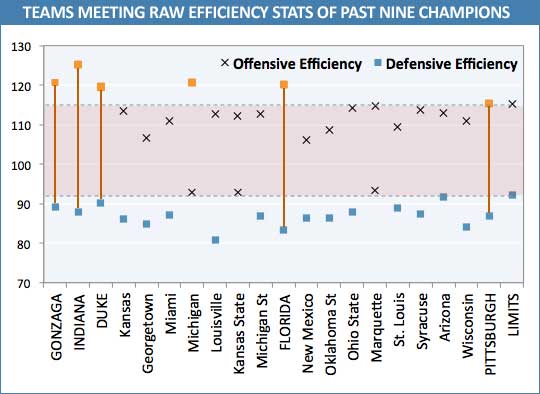 Based on raw possession-based numbers, there are only five teams that have the offensive and defensive efficiency of the last nine champions: Gonzaga, Indiana, Duke, Florida and Pittsburgh. They're illustrated in the chart above by the red vertical lines connecting their efficiency numbers
So where does that leave us? Ten different teams qualify for at least one of the three champ tests. Here's who appears the most:
Indiana (3)
Gonzaga (2)
Duke (2)
Florida (2)
Syracuse (2)
Pittsburgh (2)
Kansas (1)
Michigan (1)
Louisville (1)
Ohio State (1)
The Hoosiers are the only team that passes all three champ tests -- our basic check of eight stats the last dozen champions have possessed and the two KenPom methods for assessing champ-worthiness.
If Indiana is in the driver's seat, who's its closest competition? Here's one more champ stat to chew on. I went back 20 years and discovered that 18 of the champions have come from a Big Six conference, scored at least 76.5 points a game and beaten opponents, on average, by more than 10 points. Only Indiana and Duke meet those criteria. So I'd have to say the Blue Devils are the nearest challenger to cut down the nets -- at least for now. Talk to me next week.
CBS Sports HQ Daily Newsletter
Get the best highlights and stories - yeah, just the good stuff handpicked by our team to start your day.
Please check the opt-in box to acknowledge that you would like to subscribe.
Thanks for signing up!
Keep an eye on your inbox for the latest sports news.
Sorry!
There was an error processing your subscription.
Joeviair Kennedy was a freshman on Western Michigan's basketball team when a WMU student died...

Gary Parrish and Matt Norlander also discuss James Wiseman, CJ Walker and other elite prospects...

Jaden McDaniels has the body of a young Kevin Durant and might be the best NBA prospect in...
Los Angeles, which is building a covered stadium, was snubbed from Final Four consideration...

The big man, favored to ultimately pick Kentucky or Memphis, has some interesting rivals pushing...

Cole Anthony, son of UNLV great Greg Anthony, averaged 26.2 points at recruiting's biggest...