Cincinnati gets much needed victory in 'rock fight' against Pitt
Mick Cronin hasn't gotten the offensive production he sought when he made changes to his team's approach, but Cincinnati still has the defense to beat quality competition.
• 2 min read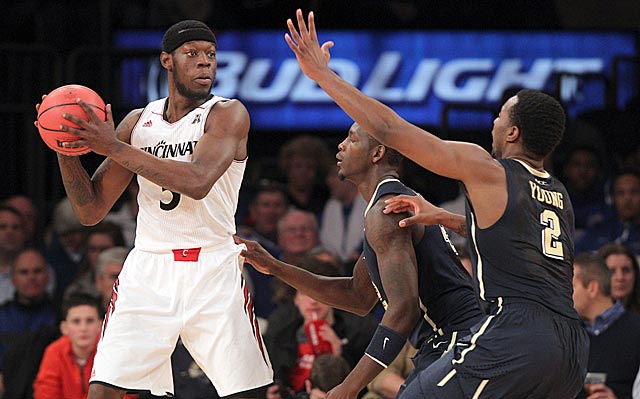 NEW YORK -- Mick Cronin changed Cincinnati's philosophy in the off-season.
The Bearcats went away from playing with a traditional center and instead decided to use three forwards along the baseline in an effort to accelerate the tempo and cause more turnovers on defense.
More turnovers and the game being played at an increased velocity leads to more possessions, which then is supposed to lead to more scoring.
The Bearcats' offense is still a work in progress, but if Tuesday night is any indication, their defense is still going to be enough to win them games against quality competition.
In a "rock fight" of epic proportions, Cincinnati edged Pitt 44-43 in the Jimmy V Classic at Madison Square Garden.
A back-and-forth game came down to the final seconds, and the Bearcats went ahead for good with four seconds left when Titus Rubles scored off an offensive rebound that put Cincinnati ahead by a point.
Pitt's Cameron Wright missed a desperation heave at the buzzer as the Bearcats improved to 8-2 with the victory.
"It was a great team win," said Cincinnati's Sean Kilpatrick, who finished with nine points. "It was exactly what this team needed."
The tape of this game won't be sent to the Naismith Hall of Fame anytime soon, but the Bearcats can take solace in the fact that they earned a victory against an opponent that was previously unbeaten.
Cincinnati scored a combined 101 points in back-to-back losses to New Mexico and Xavier and needs to drastically improve offensively in order to return to the NCAA Tournament for a fourth consecutive season.
The Bearcats had only one player -- Justin Jackson (12 points, nine rebounds) -- score in double figures against the Panthers and desperately need some of their perimeter role players to make shots to take pressure off Kilpatrick.
Sophomore wings Jermaine Sanders and Shaquille Thomas combined to shoot only 2 for 11 from the floor and only totaled four points between the two of them.
Another wild card for the Bearcats?
Freshman point guard Troy Caupain.
The first-year floor general made a key 3-pointer in the second half to put Cincinnati ahead 36-35 and has to emerge offensively if this team is going to be a factor in the American Athletic Conference.
Caupain finished with four points and two assists in 18 minutes.
"We've got guys on this team that have never been in the roles that they're in right now," Cronin said. "Ge'lawn Guyn is our starting point guard but he never played because he was behind Cashmere Wright for two years. I've got to get Shaquille Thomas and Jermaine Sanders to not be gun shy. I've got to make sure that they want to keep shooting if they missed the last shot that they took."
Despite playing at a tortoise's pace against Pitt, Cronin said after the game that he still fully intends to apply pressure on a regular basis for the rest of this season, but felt the experience of playing in the mud on Tuesday will benefit his team in the long run.
"We've got to be able to win these types of games," Cronin said. "Teams that we're playing are going to get back on defense and cut down transition opportunities. We weren't able to press tonight because we were tired and embarrassed by what happened against New Mexico and Xavier. Guys couldn't eat. We gave up 53 percent from the field in those two games. That's not who we are. You're not going to win games if you can't stop your opponent."
The Wildcats have had a dramatic season off the court; without Trier, their Final Four chances...

Porter Jr. is a projected top 10 pick but has played just two minutes all season

Our advanced computer model simulated Friday's IUPUI vs. Wright State game 10,000 times
Dawn Staley was accused of promoting an atmosphere that induced racial slurs toward Mizzou...

KU can clinch at least a share of its 14th straight Big 12 title with a win Saturday over Texas...

Larry Hartstein is a perfect 5-0 picking for or against the Utes and locked in a play for...