Cincinnati no longer unbeaten, but rises from depths of despair
It wasn't all that long ago that the Cincinnati program was in shambles. It was even more recent that many were wondering whether Mick Cronin would make it as the Bearcats head coach. Despite the loss on Thursday night to New Mexico, Cincinnati basketball has come a long way.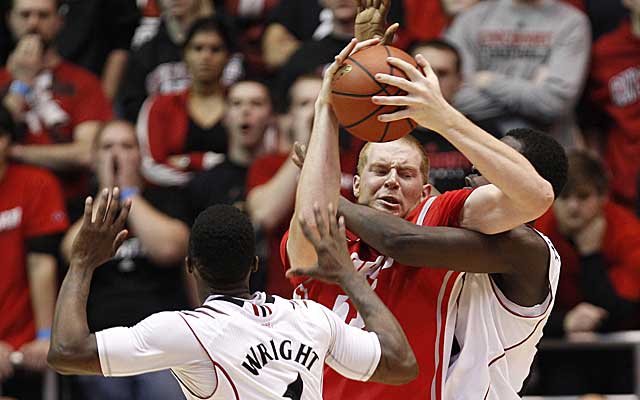 Cincinnati's Cashmere Wright (1) and Shaquille Thomas swarm New Mexico's Alex Kirk in the Lobos' 55-54 win. (US Presswire)
CINCINNATI -- It wasn't all that long ago that Mick Cronin's seat was getting toasty. Sure, he took over a brutal situation, one that forced Bob Huggins out of Cincinnati and wound up ravaging the program of productive bodies and all but one scholarship player. Cronin deserved a mulligan or two, but the natives were beginning to become restless in the Queen City after four consecutive seasons without an NCAA tournament appearance to begin the new regime.
Now Cronin has job stability and the culture has begun to revert back within the Bearcats program. The talent obviously doesn't compare to the Huggins teams of old, the ones that had NBA players rolling through at a fairly frenetic pace and 14 consecutive NCAA tournament appearances before his dismissal. However, people outside the city are once again talking about UC basketball after two consecutive NCAA tournament appearances -- and a 12-0 start heading into Thursday night's contest against a New Mexico team that arrived in Cincinnati with just one loss.
"We're nationally relevant again," Cronin said
The Bearcats entered Thursday night's game against the Lobos ranked eighth in the nation. It was the first time Cincinnati was ranked in the Top 10 in both polls in a decade. This was an opportunity to shut up the naysayers on national television, with all the college hoops diehards watching on a light night of action throughout the country. It didn't happen, though. Cronin's team came up short of remaining as one of the final five teams in the D-I ranks without a loss, and wound up on the losing end of a defensive battle to New Mexico, 55-54.
Cronin knew his team hadn't truly earned its No. 8 ranking. The Bearcats were fortunate to avoid playing UNLV in Las Vegas back in November and instead drew an Oregon team with a couple of freshmen guards and a newcomer in Arsalan Kazemi that had been with the Ducks for a matter of weeks. He understood his team was lucky to escape with a last-second win over Alabama at home, needing a game-winner from Cashmere Wright. Then there was the ugly win last week against crosstown rival Xavier in a game in which Musketeers star freshman Semaj Christon cramped up and sat on the sidelines for most of the second half.
"I knew," Cronin said of his team being overrated.
Cronin said he'll take a hard look at playing a four-guard lineup with more regularity in an effort to be able to create mismatches and put points on the board. He isn't worried about the effort or intensity on the defensive end, as the Bearcats have become one of the toughest teams to score on in the entire country, but the offensive end has been a major concern. The Bearcats didn't move the ball well on Thursday night, and Cronin admitted passing has been an issue. Cincinnati has also settled for perimeter shots and needs to be more aggressive taking the ball to the basket. Then there's the issue of the big men, who missed no shortage of point-blank layups in the loss to New Mexico.
"You can't be a Top 10 team if you can't score," Cronin said.
Bearcat fans were understandably upset after the loss, and that's a sign of how far the program has come since Cronin took over for interim coach Andy Kennedy in 2006. There were two straight 19-loss campaigns, followed by two more in which the Bearcats finished under .500 in Big East play. But then Cincinnati turned the corner in 2010-11, getting to the Big Dance and winning a game. A year ago, the Bearcats took another step, advancing to the Sweet 16.
But this team had begun to develop a false sense of who it was, forgetting that this group of mostly under-recruited kids isn't used to playing as the hunted.
"This team doesn't understand what that's like yet," Cronin said.
But now it's been humbled after its first loss -- and Cronin is optimistic he'll have his team's full attention for Monday night's Big East opener at Pittsburgh.
"I'm hoping it'll be good for us," he said.
Cincinnati is a good basketball team. It's strength is its toughness and ability to guard. It's highly unlikely there's a single future NBA player on the entire roster, and there's not one player who came into the program as a Top 50 national recruit. But these guys will be a factor in the Big East race because they rarely take plays off on defense -- and that'll keep them in just about every game.
Are they the eighth-best team in the nation? Highly unlikely, especially at this point in time when scoring has become a challenge. But Cronin is optimistic the Bearcats could become one of the top teams in the country down the line. 
"We've got talent and we play hard," Cronin said. "We can beat anyone on any given night."
As long as they find a way to put the ball in the basket.
College coaches give the edge to Michael Porter -- just barely over Miles Bridges

CBS Sports' college basketball experts polled more than 100 coaches to get their pick to win...

Marvin Bagley, if eligible at Duke this season, projects as the country's top power forwar...
The Big Ten Tournament is a week earlier than usual, so the regular-season schedule may look...

Arizona, Grand Canyon and Tulane are also in Barcelona and have reported to be accounted for...

The Kansas forward is no longer accused of walking out on an $88 tab