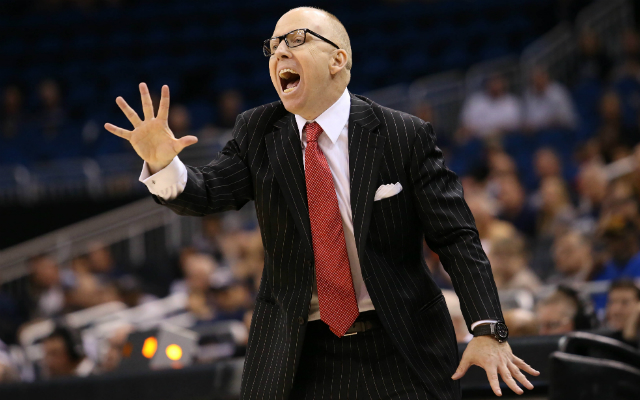 Mick Cronin has passed on a lucrative opportunity to become UNLV's next men's basketball coach and decided to remain at Cincinnati, he announced Friday afternoon.
"I would like people to try and understand after 10 years of dedicated service I chose to evaluate my career and my life," Cronin said after returning from a trip to Las Vegas, where he met with UNLV officials. "Reflecting through that process was extremely difficult, but it was something I needed to do for me personally. The city of Cincinnati and the University are special places to me and I've always said what an honor it is to be the head coach at my alma mater. This program has come such a long way in 10 years and we've still got work to do and goals to achieve. The 2016-17 season starts for me today and I can't wait for the future that lies ahead for the Bearcats and this University."
Cronin has led Cincinnati to each of the past six NCAA Tournaments.
"Mick Cronin has done the tough job of rebuilding our Bearcats program, and I am thrilled to hear he will be returning next year," said UC president Dr. Santa Ono. "I know he is hungry to build on the success of the past 10 years."
UNLV AD Tina Kunzer-Murphy also released a statement Friday.
"We brought Mick Cronin to Las Vegas to meet about our men's basketball head coaching vacancy," she said. "We appreciate his interest in the position, but he is no longer a candidate as we understand he will be staying at Cincinnati. We wish him all the best. We have many outstanding candidates that are interested in this job -- some we have already interviewed and others that we will be speaking with in the coming days. We have said all along that our target timeframe to have this search completed by is the Final Four, and we remain on track."