Classes of 2014, 2015: Ranking top 10 prospects
Who are the best players in the classes of 2014 and 2015? After July, here is how we judge the pecking order.
• 3 min read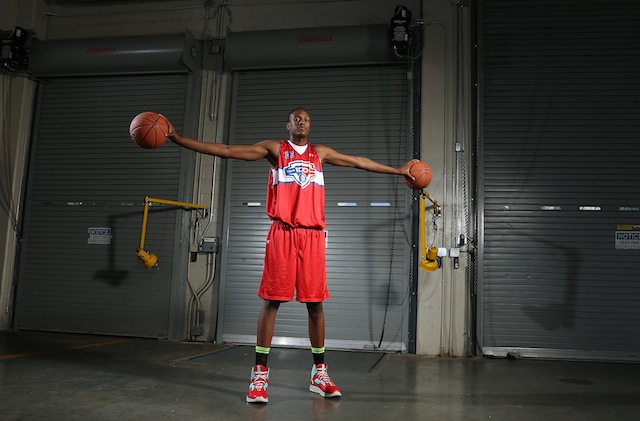 Over the past three weeks, I've been to South Carolina, Milwaukee and Las Vegas, watching hundreds of the best high school players in the country. And this was after watching them during the spring and early summer. The special thing about the July period was the head-to-head matchups. The combination of showcase games and super pools meant the best players in each class seemed to be facing off on a weekly basis. While one head-to-head game shouldn't be the defining factor in any comparisons of players, it's useful as a tiebreaker or to see certain strengths and weaknesses.
After closely watching five-star prospects over the past month, here's how I see the top 10 players in the 2014 and 2015 classes.
2014
1. Jahlil Okafor, C, 6-foot-10, Whitney Young (Ill.): He dominated with the U-19 team, then proved he was the No. 1 player on the AAU circuit.
2. Myles Turner, C, 6-10, Trinity (Texas): Emerged over the past few months as perhaps the player with the highest ceiling in the class.
3. Cliff Alexander, PF, 6-9, Curie (Ill.): Simply a physically imposing inside force. He's impossible to keep off the block and is aggressive at the rim.
4. Emmanuel Mudiay, PG, 6-4, Prime Prep (Texas): When he uses his size and strength to his advantage, Mudiay is a next-level playmaker.
5. Tyus Jones, PG, 6-1, Apple Valley (Minn.): He's a terrific passer who always seems to play under control. Carried his team at times.
6. Trey Lyles, PF, 6-10, Arsenal Tech (Ind.): Skilled inside-outside forward who is a difficult matchup. Can be impossible to stop inside.
7. Stanley Johnson, SF, 6-7, Mater Dei (Calif.): Johnson's stock kept rising during the spring and summer. Was in attack mode throughout the circuit.
8. Justise Winslow, SF, 6-6, St. John's (Texas): The first thing to notice is that Winslow is a winner and a leader. A versatile defender as well.
9. Kevon Looney, PF, 6-9, Hamilton (Wisc.): Looney had trouble against elite post players, but his inside-outside offensive game is impressive.
10. Karl Towns, PF, 7-1, St. Joseph (N.J.): Can be a matchup nightmare for opponents, given his size and touch from the perimeter.
Just missed: Justin Jackson, Chris McCullough, Kelly Oubre, Rashad Vaughn
2015
1. Malik Newman, PG, 6-3, Callaway (Miss.): Gets into the lane at will, and showed he could get hot from 3-point range. Getting better at running the show.
2. Stephen Zimmerman, C, 6-11, Bishop Gorman (Nev.): Zimmerman made his case for No. 1 during June, and backed it up in Las Vegas.
3. Ivan Rabb, PF, 6-9, Bishop O'Dowd (Calif.): Rabb runs the floor extremely well for someone his size, and is very active on the glass.
4. Diamond Stone, C, 6-10, Dominican (Wisc.): Stone looked trimmed down during July, and showed off his terrific passing ability.
5. Tyler Dorsey, PG, 6-4, St. John Bosco (Calif.): Was arguably the most impressive player in Vegas; consistently scored 30 or more.
6. Cheick Diallo, C, 6-9, Our Savior New American (N.Y.): Game-changing defender who is getting better on the offensive end. Relentless.
7. Ben Simmons, PF, 6-8, Montverde (Fla.): Simmons wasn't seen by many in July, but he's a versatile forward who can score in different ways.
8. Charles Matthews, SG, 6-5, St. Rita (Ill.): The only thing missing is more muscle. Matthews can handle, score, defend and create his own shot.
9. Skal Labissiere, C, 6-10, Evangelical Christian (Tenn.): Very raw at this point, but Labissiere blocks shots and has some offensive skill.
10. Elijah Thomas, C, 6-9, Prime Prep (Texas): When he can get position in the post, he's difficult to handle. Also runs the floor well for transition finishes.
Just missed: Derrick Jones, Carlton Bragg, Jaylen Brown, Malachi Richardson, Luke Kennard
Oklahoma and Arkansas are new additions to Sunday's Top 25 (and one)

Gary Parrish and Matt Norlander discuss a wild Saturday of college basketball

Ball left the program earlier this month and has since signed with a Lithuania professional...
Sooners beat third-ranked Shockers while Florida and FSU lost in upset fashion to unranked...

The Hoosiers grow up before our eyes, and Miller has his first signature victory as Indiana...

Trae Young, a freshman and the nation's top player, has a 21-point first half at Wichita S...