Classifying coaches can indicate success in NCAA tournament
A taxonomy of tourney coaches reveals eight classes of experience and success.
I've done several blogs on bracketscience.com about the tourney performance of individual coaches. But in the development of guidelines for picking toss-up and upset games, I tend to think about coaches in groups. You've probably read something from me about rookie coaches making their first trip to the dance. And, in the last two years, I've discovered the surprising weakness of what I call "snake-bit" coaches who have more than five tourneys under their belts but have yet to reach the Elite Eight.
I have never developed a full taxonomy of coaching types. But as I went through some of my research this year, I realized it would be good idea. I started to notice there wasn't a linear relationship between tourney experience and performance. I also discovered there were at least two variables at play in tourney coaching:
How many years a coach had been to the dance.
How successful they had been with their trips.
I measure "success" as reaching the Elite Eight. That seems like a reasonable yardstick. To get there, a coach would have to win at least one game in the second weekend of the dance, thereby demonstrating the value of his preparation. Besides, the Elite Eight represents the closest round to the top 10 percent of tourney performers.
Using tourney appearances and Elite Eight trips, I've come up with the following taxonomy of coaching types in the tourney:
Rookies: making their first trip to the tourney.
Novices: two-to-five tourney trips with no Elite Eight runs.
Prodigies: two-to-five tourney trips with at least one Elite Eight run.
Snake-bit: more than five trips with no Elite Eight runs.
Flashes: more than five trips with one Elite Eight run.
Destined: six-to-10 trips with more than one Elite Eight run.
Veterans: more than 10 trips with two-to-four Elite Eight runs.
Legends: more than 10 trips with more than four Elite Eight runs.
Now the question is which of these classes is the best tourney performer? On the face of it, that appears easy to answer -- of course, the Legends are the best performers. They already have more than four Elite Eight runs on their resumes. But remember, the past doesn't count in my analysis. Coach K's history doesn't have any bearing on the calculation of how he does this year.
One caveat -- with all due respect to Shaka Smart, who is the ultimate Prodigy, we've restricted the analysis to one through eight seeds. Smart took his VCU Rams to the Final Four as an 11 seed. But teams seeded worse than eight have low win expectations and tend to flatten out the PASE (Performance Against Seed Expectations) numbers. I'm focusing this analysis on the seeds most likely to advance in the dance.
That's not to say that you should discount Shaka. Something tells me VCU is getting a high seed this year. But if it's lower than eight, don't count the Rams out.
I did a standard PASE analysis on the eight classes of coaches for 1-8 seeds only: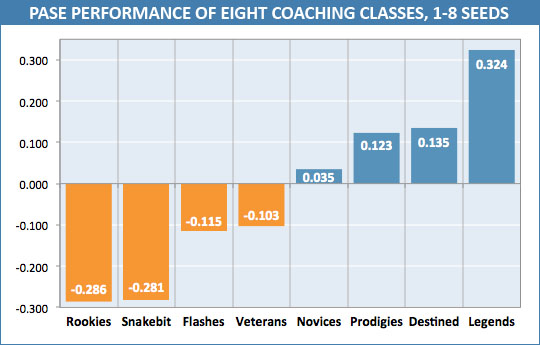 Not surprisingly, Rookies performed the worst of the eight coaching classes and Legends performed the best. But in between those extremes, there were plenty of surprises. Here's a breakdown of each coaching class.
Rookies
67 trips | 5.5 seed | 66-66, .500 | 2F4, 1CH (Fisher, Michigan 1989) | -.286 PASE
Rookies have come into the dance with the lowest average seed of any coaching class and, therefore, the lowest expectations. But they've performed the worst of the eight classes. No surprise there. Only two rookie coaches have reached the Final Four. One was Bill Guthridge, who took over a strong top-seeded North Carolina team in 1998. And the other was Steve Fisher, who got thrust into the Michigan coaching role when Bill Frieder jumped ship to Arizona State just before the tourney, prompting Bo Schembechler to famously snap, "A Michigan man will coach Michigan." Fisher went on to lead the 1989 Wolverines to the championship. Last year, there were three rookie coaches seeded 1-8: Fred Hoiberg of Iowa State, Dave Rice of UNLV and Steve Prohm of Murray State. If any make the dance this year, they'll graduate to Novices.
Novices
235 trips | 5.1 seed | 332-234, .587 | 18F4, 1CH (Smith, Kentucky 1998 | +.035 PASE
Novices are the biggest coaching class. They're the coaches who've had a taste of tourney experience but have yet to achieve success in the dance. Surprisingly, these coaches perform above seed expectations at a +.035 PASE rate-better than veteran coaches and flashes in the pan. That said, only one Novice has cut down the nets. That would be Tubby Smith in 1998. Smith inherited a Kentucky powerhouse from Rick Pitino that had won the 1996 tourney and lost in the finals in 1997. Last year, there were six Novices: Josh Pastner of Memphis, Buzz Williams of Marquette, Frank Haith of Missouri, Mick Cronin of Cincinnati, Greg McDermott of Creighton and Randy Bennett of Saint Mary's. If these guys get a tourney bid this year, they'll be hoping to become Prodigies.
Prodigies (2-5 trips, >0 E8s)
88 trips | 4.5 seed | 151-87, .634 | 13F4, 1CH (Izzo, MSU, 2000) | +.123 PASE
Prodigies are the third-best performers of the eight coaching classes. They beat expectations at a +.123 PASE clip. These are the coaches whose names always come up when there are job openings at major programs. Think Brad Stevens. Only one Prodigy has brought home a championship. Tom Izzo led his 2000 Spartans to the promised land in his third tourney appearance, one year after losing the championship game. Last year, there were two Prodigies in the tourney -- Scott Drew of Baylor and Frank Martin of Kansas State, who has gone on to take the coaching reins at South Carolina.
Snake-bit (>5 trips, 0 E8s)
97 trips | 4.7 seed | 120-97, .553 | 7F4, 0CH | -.281 PASE
The most notorious coaching class is the Snake-bit coaches. If you've spent any time on Bracketscience.com, you've probably read something from me advising you to steer clear of them. Amazingly, coaches with more than five tourney trips and no Elite Eight runs perform almost as poorly as rookies, with an underachieving -.281 PASE that's just .005 away from the results of wide-eyed newbies. Not a single Snake-bit coach has cut down the nets. There are a host of these unsuccessful tourney coaches pacing the sidelines. Last year saw nine Snake-bit coaches in the dance: Gregg Marshall of Wichita State, Mike Brey of Notre Dame, Steve Alford of New Mexico, Kevin Stallings of Vanderbilt, Leonard Hamilton of Florida State, Mark Few of Gonzaga, Fran Dunphy of Temple, Dave Rose of BYU and Matt Painter of Purdue. Mark Few will be an interesting case this year. His Zags will almost certainly garner a one or two seed. So, will you advance the Bulldogs as far as seed expectations suggest or will Few's record of past failure convince you to pencil them in for an early exit?
Flashes (>5 trips, 1 E8)
78 trips | 3.9 seed | 134-75, .641 | 12CH, 3CH (Donovan, Florida 2006) | -.115 PASE
Flashes are the group of coaches who have had one good run to the Elite Eight but haven't been able as yet to repeat the feat, despite more than five chances. Three champions have been led by coaching Flashes. Billy Donovan took Florida to the title in 2006, Gary Williams did it with Maryland in 2002 and Jim Harrick led UCLA to the championship in 1995. Despite these successes, Flashes tend to be underachievers. Their -.115 PASE ranks third worst of the eight coaching classes. Last year, there were four Flashes in the tourney: Tom Crean of Indiana, Bo Ryan of Wisconsin, John Beilein of Michigan and Georgetown's John Thompson III. If any of these four can make another deep run, they'll be a "Destined" coach, with a chance to take the helm at one of the country's elite programs.
Destined (6-10 trips, >1 E8s)
99 trips | 4.1 seed | 192-91, .678 | 16F4, 8CH (Self, Kansas 2008) | +.135 PASE Destined coaches are the one who've tasted tourney success more than once in six to 10 tourney trips. Several champions have been led by Destined coaches. The three most recent are Bill Self of Kansas in 2008, Billy Donovan of Florida in 2007 and Rick Pitino with Kentucky in 1997. Destined coaches have the second-best performance against expectations of any seed class, with a +.135 PASE that edges out Prodigies. Major programs often turn to the Destined when they make coaching changes. Thad Matta was the only Destined coach in the tourney last year. If he takes his Buckeyes deep, he'll join the ranks of Legends. If OSU falls short of the Elite Eight, Matta will wind up as a Veteran.
Veterans (>10 trips, 2-4 E8s)
122 trips | 4.4 seed | 187-119, .611 | 11F4, 3CH (Boeheim, Syracuse 2003) | -.103 PASE
Veterans have logged a high number of appearances in the tourney with just modest success. Their fate is either to become a Legend or to retire. Only three champions have been led by Veteran coaches: Jim Boeheim with Syracuse in 2003, Jim Calhoun with UConn in 1999 and Lute Olson with Arizona in 1997. Overall, Veterans are surprising underachievers in the tourney, with a -.103 PASE that compares to the performance of Flashes. Last year, there were three Veterans in the dance: Steve Fisher of San Diego State, Boeheim and Donovan.
Legends (>10 trips, >4 E8s)
110 trips | 3.3 seed | 274-99, .735 | 30F4, 11CH (Calipari, Kentucky 2012) | +.324 PASE
Legends are the coaches with both extensive tourney experience and consistent success. More Final Four entrants (30) and champions (11) come from the ranks of Legends than any other coaching class. Moreover, Legends are far and away the best performers against seed expectations, with a +.324 PASE that dwarfs the seven other groups. The three most recent tourneys were won by Legends: John Calipari last season, Jim Calhoun in 2011 and Mike Krzyzewski in 2010. In the 2012 tourney, there were six Legends: Calipari, Coach K, Tom Izzo, Rick Pitino, Roy Williams and Bill Self.
When you go to fill out your bracket this year, make sure you know where the coaches fall in these classes. While it's good to know what their individual PASE values are, it's also helpful to understand how coaches like them have performed historically.
The success of Chris Chiozza and KeVaughn Allen have the Gators ready to compete for SEC t...

FBI investigation suggests Quinerly received improper benefits from a Wildcats assistant c...
Meet the mid-major coach who refused to vote for the teams involved in the recruiting scan...

The player, now at the University of Portland, says he was injured during a workout which broke...

Please don't start with the 'Being preseason No. 1 didn't work out so well for Duke last season!'...