Coach K: People saying Duke gets all the calls is 'old stuff'
Mike Krzyzewski is tired of hearing about Duke getting all the calls -- and says no one will say anything about the foul disparity against Virginia.
• 1 min read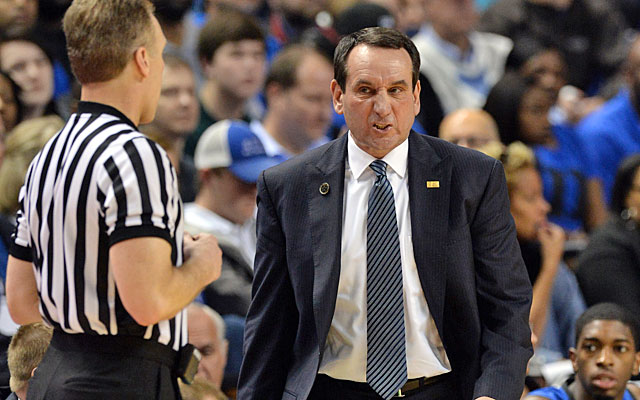 More NCAA hoops: Tournament bracket | Complete coverage of NCAAs | Latest news
One of the most common college basketball observations from casual fans is that "Duke gets all the calls."
It came to the surface again Friday evening, when Duke's Rodney Hood drew a foul on a drive to the basket in the final seconds against Clemson. At first glance, many people thought it was a questionable call -- although it seemed to be a clear foul when looking at the replay.
And then against Virginia, the Blue Devils were outshot at the free-throw line by a large margin and head coach Mike Krzyzewski was given a technical foul while not looking at the referee.
Either way, Krzyzewski is tired of hearing about how the Blue Devils get favorable calls from the referee.
"It's like old stuff," he said Monday on The John Feinstein Show on CBS Sports Radio. "We're not a state school so you don't have a press corps protecting you, you know what I mean? You're out there. That goes with the territory. Not only that, but announcers and talk shows and whatever. They will not say anything about yesterday's game. ... Obviously, there were 38 free throws to 11. There were things that, if you're trying to homer for somebody, you could homer. We don't get that at all. Ever. So that does get old.
"But I'm not going to try to start losing to get away from that."
Listen to the entire interview here. Coach K also talks about Virginia, the Midwest Region, how he's dealt with the death of his brother, and more.
CBS' college basketball experts polled more than 100 coaches to get their pick to win it a...

Marvin Bagley, if eligible at Duke this season, projects as the country's top power forwar...

The Big Ten Tournament is a week earlier than usual, so the regular-season schedule may look...
Arizona, Grand Canyon and Tulane are also in Barcelona and have reported to be accounted for...

The Kansas forward is no longer accused of walking out on an $88 tab

Cavaliers basketball coach tapes statement on behalf of his university and his city