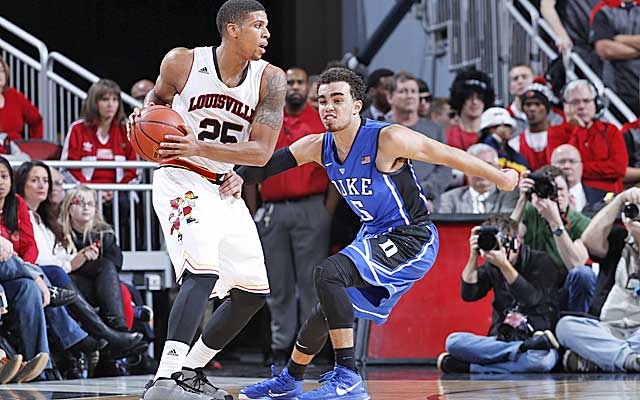 LOUISVILLE, Ky. -- The final horn sounded late Tuesday, at 11:19 ET to be exact. A normal postgame meeting followed. Then some interviews. Then Mike Krzyzewski gathered his staff in a conference room inside Cameron Indoor Stadium, and they just started talking.
No film.
They just talked and asked each other questions.
What's wrong?
What can we do?
What do we have to do?
The first question -- What's wrong? -- was simple to answer for anybody with even a surface-level understanding of the sport. An opponent had, for the second straight game, just murdered Duke with dribble-penetration while punishing the Blue Devils each time Jahlil Okafor was put in pick-and-roll situations. Consequently, Duke had gone from 14-0 to 14-2 courtesy of blowout losses to N.C. State and Miami, and Krzyzewski knew he'd soon have his first three-game losing streak since February 2007 if he didn't change something.
"Teams had gotten, I think, 36 points, 36 points, 38 points and 40 points in the paint against us in our last four games," Duke assistant Jeff Capel said. "They were spreading us out and pulling Jah away from the basket. So we just said, 'We can't let them do that anymore.' "
The staff concluded quickly one solution would be to stop extending their aggressive man-to-man defense because Duke's guards, for one reason or another, were struggling to keep attacking guards -- like the ones they had just played and the ones they were about to play -- out of the lane. But Krzyzewski took it a step farther, at some point between 2 a.m. and 3 a.m., and suggested something he'd literally never suggested before: Zone.
He suggested they commit to a 2-3 zone.
Were his assistants surprised?
"Yes and no," Capel answered. "I say, 'Yes,' just from the standpoint that, obviously, nobody thinks of Duke as playing zone. But I say, 'No,' because I know Coach is willing to adapt. ... His big thing has always been, 'It's not his way. It's whatever way is best.' "
Duke had worked on a zone defense some in the preseason but used it on fewer than five possessions through 16 games. Regardless, Krzyzewski instructed his staff such would be the plan against Louisville, then they turned out the lights and left the office just before sunrise. Capel remembers looking at the clock. It was 5:15 a.m.
****
Duke upset Louisville 63-52 here at the KFC Yum! Center on Saturday.
It was a game the Blue Devils basically led from start to finish, a game that pushed Krzyzewski's number of wins to 998, and a game in which Okafor took 10 shots, made eight and finished with 18 points and seven rebounds while solidifying his reputation as the likely No. 1 pick in June's NBA Draft. The whole thing was impressive on lots of levels. But what's most interesting isn't what Duke did as much as it's how Duke did it, and how Duke did it was by abandoning everything its 67-year-old coach fundamentally believes in.
No, Coach K does not like playing zone.
But he loves winning.
And he realized, wisely, that the best way to win a road game at Louisville, given the current state of things, was to scrap his man-to-man, borrow a page from the book of his good friend, Syracuse coach Jim Boeheim, and play a 2-3 zone after all made baskets.
The result?
Louisville barely made any baskets.
The Cardinals shot 29.5 percent overall, 16 percent from 3-point range. They trailed by double-digits at the half and by 21 in the second half. Wayne Blackshear, the best 3-point shooter on this bad 3-point shooting team, finished 0 of 5 from beyond the arc.
"This was the most open we've been, and we just could not knock down the shot," Louisville coach Rick Pitino said. "I have said that we are a little offensively challenged from the perimeter. ... We're not a great shooting team."
****
Wednesday was a mandatory off-day for Duke, per NCAA rules. So the players weren't told about the new strategy until Thursday morning during a meeting that started at 8.
"We were surprised," Okafor said. "But when Coach K tells you to do something, you do it."
So they did it.
The Blue Devils practiced zone Thursday afternoon and again Friday before flying to Louisville for Saturday's early tip. Nobody knew how it would go. All they knew is that they had to change something, and that change is the primary reason Krzyzewski is now on pace to notch his 1,000th career victory next Saturday against St. John's in New York.
Will Duke play zone against the Red Storm?
Who knows?
Either way, what we witnessed Saturday was a fine moment in Krzyzewski's career, one that should serve as a lesson for young coaches everywhere, and that lesson is this: Never stop thinking. Never stop adjusting. Never be afraid to adapt on the fly if the situation requires it, and don't ever convince yourself the way you've always done things is the proper way to keep doing things -- even if the way you've always done things has made you the winningest coach in the history of Division I men's basketball.
"Before you're ever critical, constructively, of your team, I think you have to say, 'Am I putting my team in the best position to be successful offensively and defensively?' " Krzyzewski said. "And I'm constantly working on that."
Sometimes even till sunrise.
On a weekday.
At 67.
>> Want more college hoops? Bracketology | Compare any 2 teams