Coaching Grades for 2013: Rating all the new hires in D-I hoops
With the coaching carousel winding down, it's time to grade the hires. Jeff Goodman gives props to two programs hiring ex-Dukies but isn't crazy about Tubby Smith at Texas Tech.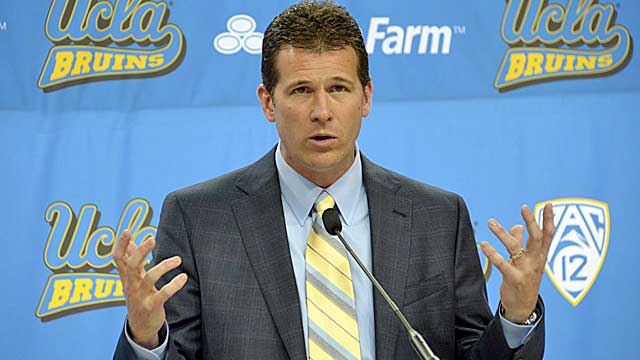 There have been 43 jobs in the Division I ranks that have changed hands -- and 40 of them have already been filled. That means it's time to hand out our annual Coaching Grades, and we'll do it for every new coach -- not just the big boys. My guess is I'll probably be accused of having a Duke bias since a couple of former Blue Devils earned high praise while a likely future Hall of Famer won't be thrilled with his grade.
Hire: Richard Pitino -- Was it a bit of a stretch? Sure. Little Richard has only been a head coach for one season, and we all know he would not have gotten the FIU gig a year ago if not for his last name. However, Richard Pitino quickly proved himself by winning 18 games at a program left in complete disarray by Isiah Thomas. Athletic director Norwood Teague and his right-hand man Mike Ellis know the coaching pool as well as anyone, and the last time these guys listened by Billy Donovan, it resulted in the hiring of Shaka Smart at VCU. Minnesota is a tough job, one of the most difficult in the Big Ten, but Pitino gives the Gophers a chance -- especially after hiring a quality staff of Dan McHale, Ben Johnson and Kimani Young.
Grade: B+
Hire: Craig Neal -- He's been Steve Alford's right-hand man for years, and helped turn the Lobos back into a program that's been nationally relevant. Neal was spurned the last couple years in his attempts to get a head coaching gig, but this has worked about as well as possible. Alford heads to UCLA and Neal takes over a team that could be favored to win the Mountain West again. There are high expectations these days in Albuquerque, but this was the right hire by administration.
Grade: B
Hire: Chris Collins -- There's a reason why the Wildcats have yet to make an appearance in the NCAA tournament. This is a difficult, difficult job. That's why it was a home run to get one of the best rising coaches in the industry. Collins has the pedigree, having played and coached under Mike Krzyzewski at Duke, and also having learned from his father -- former NBA coach Doug Collins. The younger Collins is from the area, has recruited academic guys to Duke, and has the personality/coaching ability to end Northwestern's drought.
Grade: A
Hire: Tubby Smith -- Count me as a fan of the man, but I'm just not completely buying into this one. Smith is 61, and has inherited another difficult job, this one even more daunting than the one he was fired from at Minnesota. It's difficult to get players to Lubbock, Texas, and Smith isn't exactly known for grinding it these days on the recruiting trail. Now, having said all that, was Texas Tech going to get anyone better? Smith has won a national title and more than 500 D-I games, and is almost the antithesis of the previous guy, Billy Gillispie, in his character. However, I'm just not buying that Smith will make this program relevant outside of Lubbock.
Grade: C-
Hire: Eddie Jordan -- They tried to lure Dan Hurley from Rhode Island, but this wasn't an easy job to fill in the wake of the Mike Rice saga. Jordan is an alum, so that's an immediate win for the administration. He's also been the head coach of three different NBA franchises, so there's another victory and sales tool in recruiting circles. He also retained David Cox and Van Macon, an intelligent decision. The issue now, though, is that there's not much talent in the program, and it'll take time to rebuild. Jordan's success may largely be dependent on his coaching staff.
Grade: B
Hire: Steve Alford -- It's difficult to justify bringing someone with just a single Sweet 16 appearance in 18 seasons (between Southwest Missouri State, Iowa and New Mexico) to replace Ben Howland -- who was fired despite three straight Final Four appearances. However, Brad Stevens and Shaka Smart both politely declined, and Alford is well-liked by the top AAU guys on the west coast. Alford will also have the benefit of a state that is loaded with young talent.
Grade: B-
Hire: Andy Enfield -- Listen, I like Andy Enfield. I've known him for years, and was obviously impressed by what he did at Florida Gulf Coast. However, I'm also somewhat skeptical because he caught fire for a few weeks in March. Remember, FGCU didn't even win the Atlantic Sun regular-season title. Mercer did. Pat Haden decided to win the news conference after striking out on a handful of big-name guys, and hired Enfield -- and then Enfield went out and made the right call by putting together a staff that has strong west coast ties: Tony Bland and Jason Hart. It's going to take time for Enfield to get entrenched in the area, but the good news is that there's plenty of quality talent to go around in California these days.
Grade: B-
Hire: Mike Brennan -- Honestly, I don't know Brennan all that well, so this one is tough for me to evaluate. He was with John Thompson III at Princeton from 2000-2004, but remained behind when JT3 went to Georgetown. He went to American and spent two seasons as an assistant from 2007 to 2009 before joining Thompson at Georgetown. The key for him will ultimately be whether he can recruit.
Grade: C+
Hire: James Whitford -- He's a Midwest guy who turned down the Miami (<span data-shortcode=)" data-canon="Ohio Bobcats" data-type="SPORTS_OBJECT_TEAM" id="shortcode0"> job a year ago and comes to Muncie, Ind., after the last eight years with Sean Miller -- four at Xavier and the last four at Arizona. The 41-year-old Whitford, who has some of the same characteristics of his former boss at Arizona, takes over for Billy Taylor, who was 84-99 in six seasons.
Grade: B+
Hire: Bobby Hurley -- This one caught me off-guard in a good way. When Buffalo athletic director Danny White fired Reggie Witherspoon after relative success over the last few years, I was skeptical. However, then he hired Bobby Hurley -- the former Duke star, son of Bob and brother of Dan -- and I was sold. Danny White also has some quality bloodlines, as the son of Duke athletic director Kevin White and the brother of one of the top up-and-coming head coaches, Louisiana Tech's Mike White. Bobby Hurley has learned from his brother the last few years at Wagner and Rhode Island and is ready to take over his own program.
Grade: A-
Hire: Dedrique Taylor -- He's a native Californian who played college ball in the area and has held five different assistant coaching spots on the west coast: UC Davis, Loyola Marymount, <span data-shortcode= State" data-canon="Portland Pilots" data-type="SPORTS_OBJECT_TEAM" id="shortcode0">, Nevada and, most recently, with Herb Sendek at Arizona State. Taylor has no shortage of ties in the state, is extremely well-liked and is also considered a quality X's and O's guy by those who have worked with him over the years.
Grade: B+
Hire: Reggie Theus -- Has been trying to get back into the college game for the last few years after being fired by the Sacramento Kings after 106 games at the helm. Has been an NBA assistant and even a NBDL head coach since being let go by the Maloof Brothers. He did lead New Mexico State to the NCAA tourney in 2007, and also spent time as an assistant with Rick Pitino at Louisville. It'll be interesting to see whether he can get the Matadors back to the NCAA tournament after the program has been downtrodden over the last few years.
Grade: B-
Hire: Kevin McGeehan -- He's an unassuming laid-back, grinder who fits this job perfectly. It's a private, academic school and McGeehan should thrive at the Big South school. He has been Chris Mooney's right-hand man for the past 15 years since they were at Beaver College. He's smart, can coach and will bring the Princeton system to the Big South.
Grade: B-
Hire: Ray Giacoletti -- Spent four seasons as the head coach at Eastern <span data-shortcode=" data-canon="Washington Huskies" data-type="SPORTS_OBJECT_TEAM" id="shortcode0">, then led Utah to the Sweet 16 in his first season in Salt Lake before being fired after winning just 25 games over the next two seasons. Replaced Bill Grier on Mark Few's staff at Gonzaga in 2007 and has been in the mix for several head coaching jobs over the last couple seasons. The experience of being around Few should be a major benefit to the 51-year-old Giacoletti as he gets another head coaching opportunity.
Grade: B
Hire: Greg Herenda -- He's a New Jersey native who was also an assistant at Seton Hall under George Blaney in the mid 1990s. Herenda won nearly 100 games in his five seasons with UMass-Lowell and went to the Division II tourney in each of his first four seasons. He's a quality pickup for a program in complete disarray.
Grade: B-
Hire: Joe Dooley -- Spent four years as head coach at East Carolina in the late 1990s, and has been with Bill Self at Kansas for the past decade. Turned down more money to coach at Hofstra earlier in the offseason, but inherits a job in which he can win immediately at FGCU. Dooley has learned from one of the best in the business over the past 10 years, and that'll serve him well in his second head-coaching stint.
Grade: B+
Hire: Anthony Evans -- OK, I'm not quite sure of the connection here since Evans is from New York and has been at Norfolk State for the past decade. Evans did lead the program to the NCAA tourney in 2012, the NIT this past season and maybe FIU was once again looking for a big splash. Pete Garcia failed in the Isiah Thomas experiment, but then nailed it with Richard Pitino. We'll see on Evans. He obviously did a nice job at Norfolk State and plays an exciting style.
Grade: C+
Hire: Niko Medved -- Was at Furman for seven seasons (2000-06) when the program enjoyed sustained success. Also was at Colorado State under Tim Miles and Larry Eustachy (this past season) as the Rams became a program that went to consecutive NCAA tournaments each of the past two seasons with primarily unheralded players. Colorado State went to the postseason in four of his six seasons with the program after winning a total of 16 games in 2008 and 2009. Medved is a smart coach, and should recruit well in the SoCon.
Grade: B
Hire: Mark Byington -- Was passed over for the College of Charleston job a year ago despite spending the previous nine seasons at the school as an assistant -- including a half-dozen under Bobby Cremins. Was with James Johnson at Virginia Tech this past season, but got the job at Georgia Southern largely due to the reputation he had within the Southern Conference.
Grade: B-
Grand Canyon
Hire: Dan Majerle -- I'm all for Thunder Dan, but I just don't understand why you'd fire Russ Pennell, who was 72-42 in his three seasons and won 23 games this past year. Majerle was successful in the NBA, and has a strong name around the Phoenix area from his time with the Suns. I also like his decision to hire Kentucky Wesleyan head coach Todd Lee.
Grade: B
Hofstra
Hire: Joe Mihalich -- Athletic director Jeff Hathaway wanted a veteran to get the program back on solid ground after off-court issues have hurt of late. Mihalich is a high-character guy who has been the head coach at Niagara for the past 15 years, and taken the Purple Eagles to a pair of NCAA tournaments. He was 265-203 in his tenure and should bring stability to the Pride.
Grade: B
Hire: Wayne Brent -- I've known Brent for a few years now since he has been a successful high school coach in Mississippi. He was also on Rod Barnes' staff at Ole Miss for six seasons and has no shortage of ties in the area. This is a quality hire for Jackson State -- which was 149-170 over the past decade under Tevester Anderson.
Grade: B
Hire: Jayson Gee -- He has been the associate head coach under Gary Waters for the past seven seasons and also spent three years at St. Bonaventure as an assistant. Gee was also a Division II head coach at the University of Charleston -- where he led the program to a mark of 160-55 that included six 20-win campaigns. He has also been an assistant at Ohio and Youngstown State. He takes over a Lancers program that was 8-25 this past season.
Grade: B-
Hire: G.G. Smith -- Athletic director Jim Paquette wound up hiring Tubby's son, who has been an assistant under Jimmy Patsos for the past six years, to lead the program into the Patriot League. G.G. played for his dad at Georgia and was also an assistant at Johns Hopkins, Armstrong Atlantic State and Tennessee Tech. G.G. has been a major reason why Loyola has won 62 games over the past three seasons and went to the NCAA tournament a year ago.
Grade: B
Hire: Jeff Bower -- If you are Marist and you can get a former NBA general manager/coach, you've got to feel good about yourself. Bower has no shortage of supporters in the NBA ranks, but the key will be who he winds up hiring on his staff. He takes over a Red Foxes program that was 10-21 this past season, but does return some key pieces and could be competitive in the MAAC this year.
Grade: B+
Hire: Chris Casey -- He was on Norm Roberts' staff at St. John's, and has been the head man at LIU Post and won more than 60 games over the past three seasons. He can coach, and also has done a nice job evaluating over the years with guys like D.J. Kennedy and Paris Horne. The key will be tempering expectations for Casey, especially since he didn't have a chance to keep star Juan'Ya Green -- who has transferred.
Grade: B-
Hire: Robert Jones -- Was the associate coach for the past six seasons, and has taken over on an interim basis for the season after Anthony Evans left for FIU in mid-April. Jones helped Evans build the program into one that went to the NCAA tournament and beat Missouri a year ago, and made the NIT this past season. The decision to elevate Jones from assistant to head coach worked six years ago, so why not give it a another shot.
Grade: B-
Hire: Jeff Jones -- This was shocked plenty, many of whom had pegged former Georgia and Western Kentucky coach Dennis Felton as Wood Selig's choice. Instead, it was the former Virginia coach, who had taken American to a pair of NCAA tournaments and led the Eagles to 212 victories in the past 13 seasons. Jones is 52, and it'll be interesting to see if he can bring ODU back to what it was not all that long ago under Blaine Taylor.
Grade: B-
Hire: Ron Verlin -- This was a no-brainer. Verlin has been with Bob Thomason, who announced his retirement prior to the season, for seemingly forever. Verlin has been an assistant at the school for the past 19 seasons, a stretch where the program has won seven Big West crowns and gone to the NCAA tournament five times -- including this past season. Verlin will lead the Tigers into the WCC after 42 years in the Big West.
Grade: B+
Hire: Jim Crews -- I'm not sold that the administration truly wanted Crews -- and even that Crews really wanted the job. However, after taking over under difficult circumstances following the health issues of Rick Majerus, who passed away in December, Crews led the Billikens to the A-10 regular-season and tournament titles. He enjoyed success while in a lengthy stint at Evansville, but was fired at Army after seven mostly forgettable seasons. Crews did a tremendous job this past season, but the question still remains whether he's the right man for the future of this program.
Grade: B
Hire: Dave Wojcik -- Finally gets his shot at a head coaching gig, and it comes after helping Leon Rice turn Boise State into an NCAA tournament team after just three seasons. He's worked for the late Skip Prosser, been an assistant for his brother, Doug, at Tulsa, and also worked as an assistant at Wake. The program, which is headed to the Mountain West, hasn't had much success (86-161 under former coach George Nessman), and the key for Wojcik is whether he can evaluate and recruit out on the west coast.
Grade: B-
Hire: Jimmy Patsos -- He got Loyola (Md.) turned around after being on the verge of losing his job a few years ago, and comes to Siena after an NCAA tournament bid last season. The former Gary Williams assistant is likable, sometimes flammable, but he can both coach and recruit. He'll bring energy into a program that sorely lacked it since the departure of Fran McCaffery.
Grade: B+
Hire: Matthew Graves -- Never got enough credit for Butler's incredible run to consecutive championship games, but Graves was a vital part of the program's success over the last few years. He is smart, has done a terrific job evaluating talent, and has watched and learned from Brad Stevens. He also made a terrific hire on his staff of Ronald Nored, the former Butler guard who grew up in Alabama.
Grade: A-
Hire: Murray Garvin -- Took over in early February after Tim Carter was forced out and the Bulldogs were 0-8 in the MEAC. The team finished 2-14 in league play and 6-24 overall. Garvin was an assistant at Winston-Salem State from 2008 to 2010 and also an assistant at Charleston Southern from 2004 to 2008. He was basically given a one-year deal through the 2013-14 campaign.
Grade: C+
Hire: Brad Underwood -- It won't be easy to follow Danny Kaspar, who left after 13 seasons with the Lumberjacks, but Underwood was a good choice to lead the program. He has been with Frank Martin at Kansas State and South Carolina, and has also been a successful head coach at a couple of junior college stops: Dodge City and Daytona Beach.
Grade: B
Hire: Dan Hipsher -- This isn't a knock on Hipsher, but athletic director Chris King parted ways with Ryan Marks after a 16-win campaign. This is a program that has finished .500 just four times in the past 22 seasons. It made little sense. Anyway, Hipsher has plenty of experience, but he's almost 60 years old in a difficult, difficult job. He was the head coach at Stetson back in the mid 1990s and was also the head man at Akron for nearly a decade from 1995-2004.
Grade: C
Texas State
Hire: Danny Kaspar -- He's one of the best X's and O's guys in the country, but few know it because he's been at Stephen F. Austin for the past 13 years. He has won at least 20 games in five of the past six seasons, went to the NCAA tournament in 2009 and left with a 246-141 record. This isn't a good hire by athletic director Larry Teis; it's a great one.
Grade: A
Hire: Phil Cunningham -- Was on Rick Stansbury's staff for a dozen years at Mississippi State before landing at Western Kentucky this past season. He worked with athletic director John Hartwell at Georgia State back when Cunningham was on Lefty Driesell's staff.
Grade: B-
Hire: Kareem Richardson -- This hire was basically done well before the school ever parted ways with former coach Matt Brown. Richardson was an assistant for the 'Roos in 2007-08, and also had brief stints on staff at Xavier and Louisville. Richardson's strength lies in recruiting, and he should be able to upgrade the talent at UMKC.
Grade: B-
Hire: Nick McDevitt -- Athletic director Janet Cone stayed in-house with her choice of McDevitt, who played at the school from 1997 to 2001 and has been on Eddie Biedenbach's staff ever since. The Bulldogs won three Big South regular-season titles, three tournament championships and have made four postseason trips since he joined the staff.
Grade: B+
Coach Shaka Smart doesn't expect him to be out for an extended period of time

Jackson isn't showing the Sun Devils much respect after beating KU

One AP voter must not know ASU is undefeated with wins over the Jayhawks and Musketeers
Duke and Kansas take a hit in the coaches poll

The top 10 gets a major shakeup after a wild week of upsets

The Sun Devils make a big jump and the Jayhawks slide after ASU pulls the big upset