Coaching Predictions: Where do UCLA, USC turn?
With both big Los Angeles schools now without permanent head coaches, where will they turn? We give our predictions.
by

Eye on Col Basket staff

• 9 min read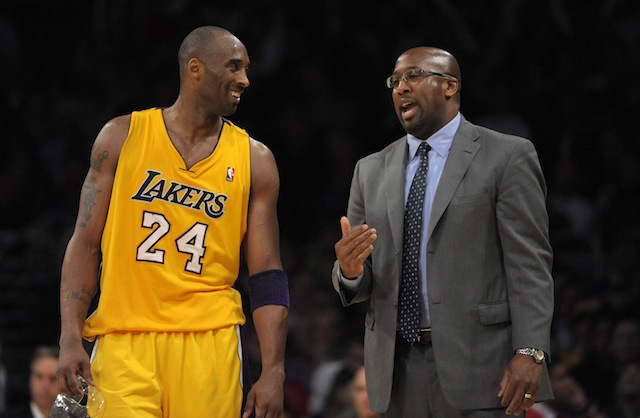 Three CBSSports.com experts -- Jeff Goodman, Gary Parrish and Jeff Borzello -- will give their insights when any high-major jobs open. Now that it's official with Ben Howland out at UCLA, we'll start things with both UCLA and USC. Here's our disclaimer: These are our opinions. We give you our dream pick and our realistic pick, two selections we would go after if we were the athletic director, and also who we each feel will actually get the job. 
Come back after every notable job opening to get our quick takes on the candidates: 
UCLA
DREAM PICK: 
More on UCLA
Related links
More college basketball coverage
Goodman: Shaka Smart (VCU) -- I'm not sold he would go across the country for this job, especially after watching Ben Howland get whacked following a regular-season title and three Final Four appearances. Remember, he turned down Illinois a year ago, and that fits his Midwest roots. However, why not take a swing at VCU's young superstar? He plays a style that would be highly entertaining out that way, has a Final Four appearance on his resume and would be able to recruit in Los Angeles. It's nice to dream about guys like Rick Pitino and Billy Donovan, but those guys aren't coming -- and Brad Stevens wouldn't mesh nearly as well as Smart out in Westwood. 
Parrish: Billy Donovan (Florida) -- There's no reason to think Donovan would actually leave Gainesville after 17 seasons. But UCLA should at least ask if he's grown tired of a spot where fans still don't really care about basketball despite the fact that he has made six Sweet 16s, five Elite Eights, three Finals Fours and two national championships. It's a long shot, obviously. But one phone call won't hurt.
Borzello: Jay Wright (Villanova). Wright has the looks, swagger and name to make Los Angeles fall in love with him. Moreover, he could feel that he's maxed out his potential at Villanova and could be looking to move. With that said, there could be questions about his ability to recruit the West Coast effectively off the bat. It might be difficult for him to immediately step in and start beating Sean Miller and co. for high-level players. Moreover, Wright has very few ties outside of the Northeast and Philadelphia area. With a daughter still in school, Wright won't move across the country. Guys like Rick Pitino, Billy Donovan, Shaka Smart and Brad Stevens are also on the unrealistic dream list.
REALISTIC PICK: 
Goodman: Lorenzo Romar (Washington) -- I understand the Washington Huskies had a down season, but trust me when I say that Romar would get nearly all of the top recruits out of the LA area if he got the job. He's also a former UCLA assistant, and plays a fast-paced style that would show well in Westwood. Romar's also extremely well-liked. Talent wins -- and Romar would clean up in this spot. 
Parrish: Shaka Smart (VCU) -- UCLA is one of the few places that wouldn't look silly approaching Smart. This is a top-tier job and, someday, I think, this 35-year-old star will leave for a top-tier job. But would he leave the comfort of VCU to move across the country and work for an athletic director who has, in his UCLA tenure, fired one coach (Steve Lavin) who made six NCAA tournaments in seven seasons (including five Sweet 16s) and another (Ben Howland) who made seven in 10 (including three Final Fours)? That, I'm not sure about.
Borzello: Buzz Williams (Marquette) -- The Marquette head coach has been to three consecutive Sweet 16 appearances, and would walk from Milwaukee to Los Angeles if offered the job. But it's unclear if UCLA thinks Williams would be a great fit in the city, especially on the recruiting trail. Williams doesn't have many ties to the area, and it's unlikely he could immediately come in and start beating out Sean Miller and Co. for high-level recruits. He will be a hot name on the coaching carousel this spring, though. 
WHO WE THINK GETS IT:
Goodman: Mike Brown -- Yes, the former Cavs and Lakers coach. Dan Guerrero would win the press conference, and Brown has plenty of California ties. He played at San Diego and his son is a guard at Southern California powerhouse Mater Dei and is being recruited by Pac-12 schools. The 43-year-old hasn't recruited in the college ranks, but has instant credibility with kids having coached LeBron and Kobe. As long as he hired the right staff, he could be extremely successful at this level. 
Parrish: Buzz Williams (Marquette) -- He doesn't have any real ties to the West Coast. But if a Texas man can flourish in Milwaukee I'm not sure why a Texas man couldn't flourish in Los Angeles, too. Williams has made five NCAA tournaments in five years at Marquette, including three consecutive Sweet 16s. The fact that his current athletic director isn't the same man who hired him (but is the same man who suspended him) could be what pushes Williams to take a job he might pass on otherwise. 
Borzello: Lorenzo Romar (Washington) -- There are several legitimate candidates, with Mark Gottfried having solid booster connections at UCLA, and Tad Boyle a rising name on the West Coast. However, Washington's Romar could be the best fit. He played in the NBA, was an assistant coach and won a national championship at UCLA, and is very well-known in California. Washington has had a couple of down years in a row, and the Pacific Northwest isn't producing the same talent it used to. Another thing to keep an eye on is Aaron Gordon. Romar has a great relationship with the unsigned top-five forward, and Gordon could take a second look at the Bruins. 
USC
DREAM PICK: 
Goodman: Buzz Williams (Marquette) -- I'm not sure Pat Haden can get him, and the Texan doesn't seem like the ideal fit in LA. Then again, he seemed like a fish out of water in Milwaukee, and he's led the Golden Eagles to three consecutive Sweet 16 appearances and five NCAA tournament berths in a row. Williams would make this program relevant. He has recruited all over the country while making stops at Texas A&M, Colorado State, New Orleans and Marquette. There's also some friction between him and athletic director Larry Williams.  
Parrish: Shaka Smart (VCU) -- USC offers lots of the same things UCLA can offer -- i.e., loads of local recruits and a beautiful arena -- but without the unreasonable expectations. That dynamic could be appealing to a certain kind of coach. Is Smart one of those coaches? No, I don't think so. But he would obviously be terrific at USC, and athletic director Pat Haden would be wise to try to convince Smart to at least listen. 
Borzello: Shaka Smart (VCU) -- People around the VCU head coach have said he might prefer to coach at a step below the traditional Blue Bloods, and USC could be a better fit in his mind. There is enough talent out in California for Shaka to start getting his HAVOC going in Los Angeles. With that said, given the rebuilding that needs to go on with the Trojans, it's difficult to see him leaving his gig behind in Richmond, Va. 
REALISTIC PICK: 
Goodman: Mike Hopkins (Syracuse assistant) -- Syracuse's coach-in-waiting grew up in SoCal and went to high school powerhouse Mater Dei before playing and coaching under Jim Boeheim. He's a terrific recruiter who has maintained his West Coast ties, and can also bring players from the East Coast. Pat Haden would win the news conference because he would be hiring Boeheim's successor. If I were Haden, I would make certain of a huge buyout to ensure Hopkins doesn't leave to go back to Syracuse when Boeheim calls it a career. The only question mark now surrounding Hopkins is whether this current Syracuse investigation will scare Haden off from hiring Hopkins. 
Parrish: Josh Pastner (Memphis) -- USC is not a better job than Memphis. But there's an argument to be made that it could be better for Pastner, who has made three consecutive NCAA tournaments but still received lots of criticism within a city that follows the Tigers intensely 365 days a year. Still, Memphis figures to be a preseason Top 25 team thanks to the return of Joe Jackson, Geron Johnson and Chris Crawford and the addition of a recruiting class that ranks second nationally. So I'm not sure a coach who just got his first NCAA tournament victory would walkaway from that to coach USC. But Haden should ask.
Borzello: Mike Hopkins (Syracuse assistant) -- Ever since his name popped up in reports a few weeks ago, the Syracuse assistant coach has been one of the primary names thrown around for the USC job. He is from California and has a very close connection with the Mater Dei program, which constantly produces high-level players. On the downside, Syracuse hasn't really recruiting the West Coast consistently in several years. 
WHO WE THINK GETS IT: 
Goodman: Josh Pastner (Memphis) -- Sure, he finally won an NCAA tournament game this season, his fourth at the helm. But Pastner has extremely high expectations and realizes he'll never live up to them. He's a Houston guy who has done a terrific job keeping homegrown talent in Memphis, but the Arizona alum and former Lute Olson assistant fits better in the Pac-12. Everyone knows that. He can make similar money and get a fresh start rather than dealing with the constant scrutiny in Memphis. 
Parrish: Mike Hopkins (Syracuse assistant) -- He's the coach-in-waiting at Syracuse. But how long will he have to wait? And how wise is it to follow a legend? The answers to those questions could be enough to convince Hopkins to take USC, if offered. And it should probably be offered provided USC is comfortable that the NCAA cloud hanging over Syracuse's program has little or nothing to do with Jim Boeheim's top aide.
Borzello: Josh Pastner (Memphis) -- Pastner has proven himself as a recruiter since taking over as the head coach of Memphis after Calipari left for Kentucky, and he won his first NCAA tournament game this season. He has numerous ties on the other side of the country, though, playing and coaching for several years at Arizona and growing up in the AAU circles of Houston. Pastner would have less pressure from his fan base at USC, and he would also still be able to get high-level prospects. More important, Pastner made a concerted effort to keep local prospects home at Memphis, and that's exactly what the new head coach at USC (and UCLA, for that matter) needs to do.
The selection committee will again reveal what it is thinking ahead of Selection Sunday

Teams not in major conferences with a shot at an at-large NCAA Tournament bids

The nation's No. 3 player will commit Saturday and here's his impact on each of his finali...
Gary Parrish and Matt Norlander also preview the weekend and Zion Williamson's announcemen...

The Sun Devils started 12-0, but since then are 2-4 after Wednesday's loss to Stanford

Andrew Jones is Texas' second leading scorer