Coaching Predictions: Who replaces Tubby Smith at Minnesota?
With Tubby Smith out at Minnesota, who is next up for the Golden Gophers?
by

Eye on Col Basket staff

• 4 min read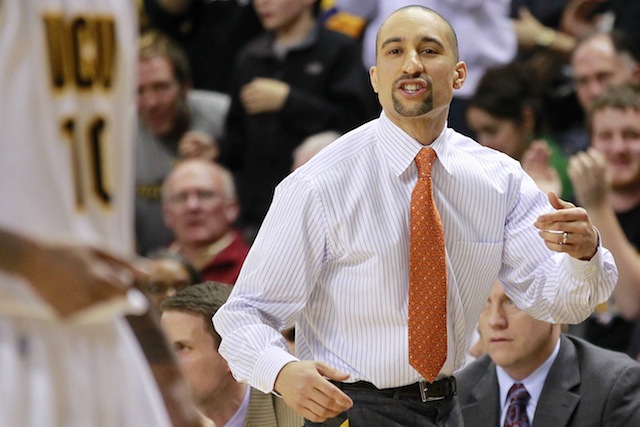 Three CBSSports.com experts -- Jeff Goodman, Gary Parrish and Jeff Borzello -- will give their insights when any of the high-major jobs pop open. We started with UCLA and USC over the weekend, and now that Tubby Smith has been fired, it's time to take a look at Minnesota. Here's our disclaimer: This is our opinion. We give you our Dream Pick and also our Realistic Pick, two selections we would go after if we were the athletic director, and also who we each feel will actually come away with the gig at the end of the process. 
Come back after every notable job opening to get our quick takes on the candidates that should be in play: 
DREAM PICK: 
Goodman: Shaka Smart (VCU) -- It's highly unlikely, but there is obviously a relationship and a trust factor. New Minnesota athletic director Norwood Teague chose to hire Smart at VCU when he was a fairly anonymous assistant coach at Florida. It obviously worked out. The issue here, though, is that Smart has already turned down better jobs -- and could also have an offer from UCLA on the table. I just don't see Smart leaving VCU for Minnesota, despite the bond he has with Teague. 
Parrish: Shaka Smart (VCU) -- Smart is the obvious top target because he's great -- and because the current Minnesota athletic director (Norwood Teague) is the former VCU athletic director who gave Smart his first head coaching job. Still, would Smart leave VCU for Minnesota when he wouldn't leave VCU for NC State or Illinois? And would Smart really pass on UCLA to take Minnesota? I doubt it. But Teague will certainly make a pitch.
Borzello: Shaka Smart (VCU) -- This is the clear first choice for Norwood Teague because of his relationship with Smart. However, it's tough to see Smart choosing Minnesota over perhaps UCLA, especially when he's turned down so many jobs in the past couple of seasons. With that said, Teague is close with Smart, and as a result, Minnesota could have a better chance than most think.
REALISTIC PICK:  
Goodman: Buzz Williams (Marquette) -- This one may also be somewhat of a stretch, but Williams has a close relationship with Teague and senior associate AD Mike Ellis and has a strained relationship right now with Marquette AD Larry Williams. Is it a better job?  Probably not, but I'd make a hard run at Williams -- who is now making his fifth NCAA appearance in five seasons at the helm and also his third consecutive Sweet 16. 
Parrish: Buzz Williams (Marquette) -- Williams would be terrific and should get a call from Teague, who is well liked by basketball coaches in general. This is important because Marquette's athletic director (Larry Williams) is not the man who hired Williams but is the man who suspended Williams for a game this season, which obviously didn't sit well with the coaching star. Might Williams enjoy working for a more basketball-friendly boss? Teague would be wise to at least ask.
Borzello: Gregg Marshall (Wichita State) -- Marshall is only a couple of days removed from knocking off Gonzaga in the Round of 32 and advancing to the Sweet 16. He's going to be a hot name in the coaching carousel this spring, as he has won consistently at both Winthrop and Wichita State, rattling off at least 25 wins in four straight seasons with the Shockers. I think Buzz Williams and Xavier's Chris Mack also get calls, but Marshall could be the one to jump if offered.
WHO WE THINK GETS IT:
Goodman: Andy Enfield (Florida Gulf Coast) -- The new rising star in the business was in the Villa 7 program, which was run by Teague and senior associate athletic director Mike Ellis. These guys know him well. He plays an exciting brand of basketball, is a hot name and has done remarkable things in his brief tenure at Florida Gulf Coast. 
Parrish: Flip Saunders (television analyst) -- Sometimes these hires are as much about reinvigorating a fan base as anything else, and Saunders is somebody who would excite Minnesota supporters. He's an alumnus. He's a big name. He's a current analyst but coach at heart who probably wants to be coaching. College basketball has never made much sense for him in the past, but it might now. And while I realize he has no experience coaching at the NCAA level, neither did Iowa State's Fred Hoiberg before he returned to his alma mater. That's working out OK, isn't it?
Borzello: Ben Howland (former UCLA coach) -- This could be an intriguing pick. Howland was fired at UCLA over the weekend, despite leading the Bruins to the Pac-12 regular-season championship this season. He clearly knows how to win at the highest levels, going to three straight Final Fours from 2006 to 2008. Of course, Howland is also now out of a job -- and is therefore on the market. Could Norwood Teague make a run at Howland? He has a national name and reputation, and Minnesota is a good job -- there is no direct competition within the state, and the Golden Gophers are able to recruit the surrounding areas. Howland is a West Coast guy, but he won consistently at Pittsburgh, and would likely do the same at Minnesota.  
The player, now at the University of Portland, says he was injured during a workout which broke...

Please don't start with the 'Being preseason No. 1 didn't work out so well for Duke last season!'...

A look at some of the biggest name coaches in new places in 2017
The Big Ten will start playing 20 conference games a season earlier than the ACC

Pitino appeared on ESPN to discuss his ousting and the lie detector test he passed

The subpoenas are related with the FBI's ongoing investigation into corruption within the...