College Basketball Conference Previews: Atlantic 10
Last season was a banner one for the A-10, which sent five programs to the Big Dance. How good can it be this year with a lot of unpredictability in this league?
• 15 min read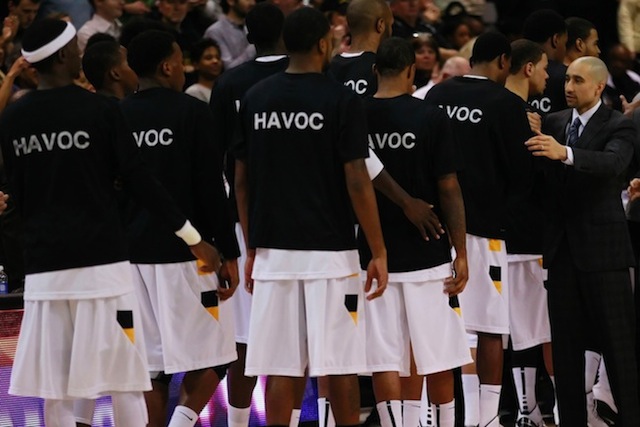 Last season was arguably the best for the Atlantic 10 in league history. It sent a conference-record five teams to the NCAA tournament (in case a foggy mind needs a refresher, they were VCU, La Salle, Temple, Saint Louis and Butler, which was a one-and-done in this league and is now in the Big East). But it's going to be hard for this conference to repeat in power from a year ago. Not only did Butler leave for the new Big East, but Xavier headed out of town for that conference, too. Temple also peaced out, having left for the American Athletic Conference. Charlotte jettisoned for Conference USA.
It wasn't a total loss; the league gets George Mason into the fold, a respectable program with a Final Four to its name and the ability to keep up with this league going forward. The preseason in the Atlantic 10 seldom brings a crystal ball of reliability. Few conferences, major ones, have been as dicey as this one to forecast over the past decade.
That said, here's a preview of one of the most curious leagues in college hoops.
Coach's Take

"I'm really intrigued to see Saint Louis because I thought (Kwamain) Mitchell was a great player. And not only was he a great player for his four years, and even though they were greatly balanced scoring, I'm interested to see how that goes for them, not having him. I'm interested to see St. Joe's because (Carl) Jones was a very good scorer, but the question's now there at point guard. How will they do without him? La Salle, who I think everyone agrees will be very good, but (Ramon) Galloway was truly a great player, had a ton of confidence. He brought them a lot of confidence as a team. I think he had a great impact on the team. To me, we look at returning starters and previous year's record, but you look at which guys are NOT returning, that's more intriguing."
On VCU:
"I think (Darius) Theus was a tremendous player, and I think what he did well was play with a great pace on offense. Even though they move really fast, they were efficient and calm on offense. It's often hard to find that piece on offense [like Theus]. So I don't think you just plug in another guy, even though (Briante) Weber's a great defender and he'd be a guy who, when they need to, can he come in and run a slower, half-court offense? That's not their only question mark, but probably a big one, because they don't have a true point guard."
Opinion on the three best players in the league:
"(Juvonte) Reddic at VCU, Dwayne Evans and Chaz Williams."
Projected Order of Finish
  Perhaps it's my mid-'90s nostalgia at play here (has anyone else been constantly listening to the In Utero 20th anniversary release?), but I am taking a chance and going with the Minutemen to eke out the regular-season A-10 title. I think they'll end up having the league's player of the year in point guard Chaz Williams, who's something of a tiny tank and a fantastic distributor and defensive player in addition to leading the team in scoring last season. Oh, and nabbing more than four rebounds/game. Dude is like 5-7 (there is no way he's 5-9, as he's listed) and just gets it done. Inspiring player. Around him, Derek Kellogg's team will work by pushing tempo. UMass was one of the fastest teams in the country last year, playing out to 71 possessions per game, a top-10 rate. Jesse Morgan has left this group, and he was an impact player, but it could be additoin by subtraction. Look for junior center Cady Lalanne to have a big year, and for Western Kentucky transfer Derrick Gordon to complement Williams in the backcourt.
  The popular pick to win the league, and I can't fault that logic. The Rams and their trademark HAVOC defense have become a legitimate threat to just about any team in college basketball. Shaka Smart already has his team in shape ahead of most others (did you miss the most recent Navy SEAL training video?) and I can't help but feel this year's team could have the best defense ever under Smart. So why take them second? The inverse: I think the offense dips a smidge from its top-20-in-KenPom ranking that happened last year, knowing all too well the production will remain healthy in large part because of the transition opportunities built into HAVOC. Troy Daniels and Darrius Theus were crazy-efficient players, and they're the two big ones that are gone. Elsewhere, still a lot of firepower. Juvonte Reddic is the big man who fits in nicely among the burners like Treveon Graham, Briante Weber (master ball thief), Rob Brandenberg and Melvin Johnson. The Rams are going to be fast, aggressive, fun, create chaos -- and ultimately win/lose a few ugly games. They finished at 27-9 last year. I'll forecast something close to 25-10 this season when it's all played out.

La Salle

  The Salle! The Explorers surprised many last season when they finally broke through, not only in reaching the NCAA tournament, but making a run to the Sweet 16. The team was guard-oriented, extremely adept spreading the floor and creating offense without giving up turnovers. Gone from last year's team? Ramon Galloway, the most important player. But everyone else will be in the mix, meaning Tyreek Duren, Tyrone Garland, Jerrell Wright and Sam Mills will be big factors. The projected starting lineup is comprised of seniors and juniors. John Giannini has built something that looks like more than a flash in the pan. I don't think La Salle will have the size or top-tier defense in the A-10 to win the league outright, but I could see this team being one or two off the pace as it heads into the postseason.

George Mason

  When our massive prediction matrix for the 11 biggest conferences went live last week, the two biggest reactions I got involved the Atlantic 10. The first was George Mason in my No. 4 slot, the second was me picking Saint Louis to finish sixth. We'll get to the latter in a few, but as for Mason, call it nothing but a hunch and a chance. The Atlantic 10 has proven to be as unpredictable as any other league in the past five years. On this day one year ago it was believed St. Joe's was going to win the league. I didn't think they were NCAA tournament-worthy, let alone winning the A-10. It wound up SJU fell well short of competing. Call it a luck guess -- or just the A-10 doing what it does. In entering this conference via the CAA, George Mason could have the advantage of not having other league coaches know its tendencies all too well. The Patriots were a middle-of-the-road team in many respects last year, but they bring everybody back who matters. Paul Hewitt has coached over- and underachieving teams. In fact, they usually swing one way or the other. I think it's an upshot season for his crew.
  The Spiders usually don't stay down in this league for too long, so I've got Chris Mooney's team making a run at an at-large bid this season. Richmond was an irregular team last year, consistently winning two, losing three, winning three, dropping two. Look for that pattern to end in 2013-14, with Richmond breaking the 20-win barrier for the first time since the team made the NCAAs in 2010-11. The Spiders probably won't have a star, but Cedrick Lindsay, Derrick Williams and Kendall Anthony combined last year for 35 points/game. Up it to 40 this year. The Spiders can score, and the defense -- which was 145 last year on KenPom.com -- will likely improve as well. Consider that this year's A-10 won't be as terrific as last season. 

Saint Louis
 Every year I go against the grain with a few picks -- because what fun is walking with the herd? Saint Louis was a team last year that at one point became chic to select into the Elite Eight -- and Final freaking Four. They were a drain to play for everyone, thought to be the most taxing team in the nation to prep and then go up against. It was a great year for SLU, and a lot of that is going to carry over into this season. So why am I picking them so low? Well, it's all relative. I think SLU at No. 6 represents the base line for possible tourney bids for this conference. I also think it's going to be a close race, and SLU will wind up three games behind, max, in the L column. I'm going low because I really, really liked what Cody Ellis and Kwamain Mitchell brought to last year's team in terms of leadership, scoring and motivation. I thought they were so critical for a group that was playing for the late Rick Majerus, who died last December. Jim Crews' real challenge will be to replicate last year's gel and keep being the best defense in the conference. Jordair Jett and Dwayne Evans will lead the charge. Can't wait to see this team.
  I think Dayton is still a year away from making its first NCAA tournament under third-year head coach Archie Miller. Archie's the brother of Sean, who coaches Arizona. Both are poised to run programs for decades. Miller's biggest question will be replacing Kevin Dillard, a do-it-all guard for Dayton the past few years. The Flyers are growing into the program Miller wants -- and he's equal parts patient and demanding -- and fruits of that should show this season, when Dayton is expected to become more respected defensively. On offense, Miller has a deeper group but no true threat. Vee Sanford (12.3 PPG) is the leading returning scorer. Center Matt Kavanaugh (sat all of last year due to suspension) and Ohio State transfer Jordan Sibert are incoming wild cards who could make the Flyers better than I expect. Just gotta see it.

George Washington
  What team has the greatest variance forecast for 2013-14? In the A-10, I think it's the George Washington Colonials. The team brings in Maurice Creek -- who had an injury-riddled career cut short at Indiana -- and if he performs like Isaiah Armwood did last year with GW -- after coming over from Villanova -- then this team could be this year's La Salle in the league. Mike Lonergan will have a team that will score -- but will it shoot well? That was a struggle last season, and it could carry over depending on how sophomore point guard Joe McDonald plays. He's the wild card in the equation. Armwood's going to lead the team in scoring and rebounding, most likely. I'm interested to see if Lonergan will pare his players' minutes and hope to have a tight rotation, or opt to use at least nine players for 12 or more minutes per game, like he did last year. Best case, this team takes fourth in the league. Worst? Tenth.

St. Joseph's 
The Hawks were the preseason pick a year ago, but it never came together for a group that didn't win more than four games in a row and wasn't as good with the ball as they appeared. This year the Hawks should have three seniors in the starting lineup, led by Langston Galloway, one of my favorite players in the league. His fellow elder statesmen are Ronald Roberts, Jr. and Halil Kanacevic. Even with that solid trio, I can't help but feel this year's team will still be shy of really good on O. The defense is another challenge, because SJU did not turn teams over at all last year, and in this league that's really a priority for the teams that wind up near the top. Some habits will have to be reversed in order for the Hawks to compete.  
The Rams are getting there. You probably won't find one person in media who doesn't believe Dan Hurley won't turn this team into one that's NCAA tournament-worthy by the end of 2015. But they're not there yet. Rhode Island is still transforming, and this season the Rams' first goal is to get into double digits in the win column. Rhody won eight last year, managing just three victories in the league. The team's most efficient scorer, Andre Malone, is gone, and so senior guard Xavier Munford is likely going to take a big chunk of minutes, points, and possessions for the Rams. He's the only senior on the team. Sophomore Jordan Hare is a player that will look good next year and could be all-league by the time he's a senior. Another youngster, freshman guard E.C. Matthews, could be one of the best freshmen in the conference.
 The Bonnies could struggle to score. Eric Mosley. Demitrius Conger. Chris Johnson. Three names most outside of the A-10 may not remember, but they were the three leading points-getters for Bona last season, and they're all gone now. Mark Schmidt is a very good game manager, and in fact his team made up for its lack of D for how good the offense was last season. But with so much production gone (the aforementioned three also combined for more than 10 boards and six assists per game), I think it's going to be a year where this team will be lucky to not finish bottom three.  Senior forward Matthew Wright should lead the team in minutes and points.
  Second-year coach Jim Ferry, knows the rebuild at Duquesne is going to take time. (And it's been a long time coming; Duquesne hasn't made the NCAAs since 1977.) Most importantly, the university has put in a lot of money into improving facilities and making Duquesne a much more attractive destination for recruits than it was as recently as three years ago. This season will see the Dukes bringing in nine new players, the most important factor could very well be Tra'Vaugn White, a junior-college transfer who led the country in scoring last season. The Dukes will run and optimize possession totals. They'll be fun, but they'll struggle. Ideally, this program is two years out from competing for an NCAA bid. Ferry got Long Island back to the NCAAs after a long drought, and there's supreme confidence that process will be mimicked here.
  Fordham seems destined to finish near/at the bottom of the league again because the Rams have to replace Chris Gaston, a guy I really liked and thought was responsible for much of what Fordham was able to muster in a 7-24 season a year ago. Branden Frazier is a senior point guard who should be reliable, but the Rams are young and this league is still really good, so I fear Tom Pecora's in for more tough sledding in the season ahead. It's not a rebuild job, as four starters return, but do they have the talent to win four games in this league? I'm not so sure.
Our Preseason All-Atlantic 10 Team
G: Tyreek Duren, La Salle
G: Chaz Williams, Massachusetts
G: Briante Weber, Virginia Commonwealth
F: Juvonte Reddic, Virginia Commonwealth
F: Dwayne Evans, Saint Louis
Our Preseason Atlantic 10 Player of the Year

Chaz Williams, Massachusetts
 One coach told me he's been waiting for Williams to be more of a good player who can screw things up for his team -- but it's just never come. His style is entertaining, call it Russ Smith-lite (though that's not nearly fair or accurate in many respects), but it's also undeniable that small guards who do it all are enticing at any level. When they're productive despite the size disadvantage AND the best player on their team/in the conference? Rare and awesome.
Our Preseason Atlantic 10 Newcomer of the Year
E.C. Matthews, Rhode Island

If Rhody makes noise, Matthews could likely be the reason. We had him ranked in the '60s overall in the class of 2013 at the time of his signing with URI last November. He's a well-built point guard who's a proven winner at the high school level (helped his team win a Michigan state title for the first time in almost 30 years) and is poised to be a minutes-getter off the bat.
Our Preseason Atlantic 10 Coach of the Year
Derek Kellogg, Massachusetts
Not only because I think they'll win the league, but he'll make his first NCAA tournament as a coach -- and get UMass back to the Big Dance for the first time since 1998.
Three Numbers to Know
7.4: I mentioned how five teams made the NCAAs from this league a year ago. A fine achievement in and of itself, but it wasn't just that they made it, but how well they played last season in getting there. The A-10's average seed among those five teams was 7.4. This was not a league playing on the fringe.
28.5: That was VCU's defensive turnover percentage last season, easily putting them at the top of college basketball in that statistic. The Rams were relentless, and I'd be shocked if they weren't top-five again this year.

20: It's been 20 years since this league has gone through a season where every one of its teams ended the year with at least 10 wins. I think that 2013-14 will see that happen again.
CBSSports.com Staff Atlantic 10 Predictions
The Tar Heels, No. 4 in the CBS Sports Top 25 (and one), are 10-1 after beating Tennessee.

Oklahoma and Arkansas are new additions to Sunday's Top 25 (and one)

Gary Parrish and Matt Norlander discuss a wild Saturday of college basketball
Ball left the program earlier this month and has since signed with a Lithuania professional...

Sooners beat third-ranked Shockers while Florida and FSU lost in upset fashion to unranked...

The Hoosiers grow up before our eyes, and Miller has his first signature victory as Indiana...