College Basketball Conference Previews: Big East
The Big East has a new look this year, and there are plenty of teams that could make a run at the title. Jeff Borzello takes a look at the league, with Marquette on top.
• 10 min read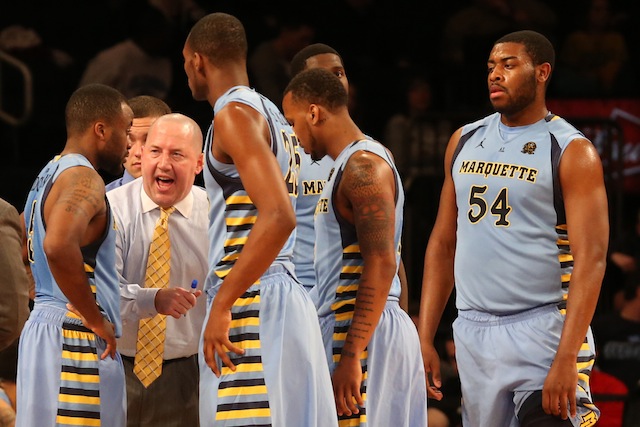 Well, this certainly isn't your father's Big East.
Out are Syracuse, Pitt, Notre Dame, Louisville, Connecticut and four others – replaced by Butler, Xavier and Creighton. There are no longer any football-driven conundrums  – it's 10 basketball schools joining together to form a league that ended up better than most people had initially predicted.
While some of the pageantry and history of the conference departed with the old teams, that's not to say the cupboard is anything close to bare in the "new" Big East. The big-name coaches are still here, from Buzz Williams and John Thompson III to Jay Wright and Steve Lavin. The talent is still there, with only two teams not returning at least three starters – with one of those teams being preseason favorite Marquette.
Here's a preview of the Big East:
Coach's Take 
"The perception [of the league] has changed, but I think the recruiting in our league has been very good so far in 2014. How we do as a league in the non-conference will determine where we stand nationally. I think Creighton is making the biggest jump in terms of conference level. They have to adjust to the grind of the Big East schedule compared to the Missouri Valley. Xavier has Big East-level talent already and has always played a challenging schedule. Butler is rebuilding a little bit, so that is their adjustment. I think St. John's and Providence have really loaded up. Traditionally, they have been second-level Big East teams, but they should be making a huge jump. It's wide-open. I think there are eight teams that could win the league."
Projected Order of Finish
Since Buzz Williams took over at Marquette before the 2008-09 season, the Golden Eagles have won at least 22 games in each season and won at least one NCAA tournament game in four of the five seasons. The past two years, Marquette has received a No. 3 seed and made it to the second weekend – falling one game short of the Final Four last season. Despite the loss of three starters, expect most of the aforementioned trends to continue. Frontcourt stalwarts Davante Gardner and Jamil Wilson are both back, ready for bigger roles. The key will be the impact of the freshmen perimeter players. Duane Wilson and JaJuan Johnson were both four-star guards, and they will push Derrick Wilson and Todd Mayo for starting spots right off the bat. Four-star small forward Deonte Burton is another key pickup. This team could be even more explosive than a year ago.
It's only one player, but departed All-American Otto Porter is going to be impossible to replace. One candidate to fill his shoes was Greg Whittington, but the lengthy forward tore his ACL and could miss the entire season. As a result, John Thompson III will have to make other adjustments in order to ensure the Hoyas don't miss a beat without Porter. The backcourt is in good hands with Markel Starks and Jabril Trawick, while starting bigs Mikael Hopkins and Nate Lubick are also back. The two key players are sophomore guard D'Vauntes Smith-Rivera and UCLA transfer Josh Smith. Smith-Rivera has to become a go-to option on the perimeter, while Smith needs to stay in shape – and stay on the court.
The Bluejays make the move from the Missouri Valley to the Big East, and there are obviously some doubts about Greg McDermott's program. Creighton has had one of the 10 best offenses in the country the past two seasons, and the return of All-American Doug McDermott and do-it-all guard Grant Gibbs means the Bluejays will continue humming at that end of the floor. What will turn Creighton into a conference championship will come on the other side of the court; the Bluejays need to improve defensively and be more physical against some of the bigger teams in the Big East. McDermott can fill in the rest of the gaps on his own.
Last season wasn't supposed to be the year Villanova got back to the NCAA tournament, but wins over Louisville and Syracuse in late January gave the Wildcats enough momentum to receive an at-large berth. With four starters back from that team – as well as a solid crop of newcomers – Jay Wright has this team primed to contend for loftier goals. Sophomore Ryan Arcidiacono will have less pressure on him this season, with Rice transfer Dylan Ennis capable in the backcourt. Scoring forward JayVaughn Pinkston and Darrun Hilliard are both double-figure scorers. The key will be sophomore center Daniel Ochefu; he needs to effectively replace Mouphtaou Yarou.
In terms of pure talent, the Red Storm might have the most loaded roster in the conference. There's depth and athleticism all over the place, with Steve Lavin capable of using a variety of looks depending on the matchup. D'Angelo Harrison and JaKarr Sampson are the top returnees, and top-40 freshman Rysheed Jordan could be the type of player to take this team to the next level. Chris Obekpa is arguably the nation's best shot-blocker. Of course, almost this exact roster – with the exception of Jordan – went just 17-16 a year ago and couldn't score consistently against quality teams. Can Lavin get this team clicking on offense?
Everyone was surprised at Xavier's campaign in 2012-13. The Musketeers weren't supposed to do much of anything in the Atlantic 10, but they flirted with the NCAA tournament bubble in March and won 17 games. Chris Mack gets most of his key parts back, and getting back to the NCAA tournament is certainly an attainable goal. Point guard Semaj Christon should become a truly national name as one of the most unguardable players in the country, and Western Michigan transfer Matt Stainbrook will provide an interior presence. If the role players – namely Dee Davis, Justin Martin, Isaiah Philmore, Myles Davis, Jalen Reynolds, etc. – can be factors, Xavier could surprise on an even higher level this season.
Injuries and attrition were two of the main storylines during Ed Cooley's first two seasons at Providence, but the former Fairfield head coach has turned around the Friars very quickly – and he is already building for the future, with a top-notch recruiting class in store for 2014. As for this season, the loss of Vincent Council will hurt – but sophomore Kris Dunn will get his chance to break out at point guard. Bryce Cotton is one of the more underrated guards nationally, despite averaging nearly 20 points last season. LaDontae Henton and Kadeem Batts are productive up front. So what's missing? The Friars shot terribly last season and struggled with depth, among other things. Freshman swingman Brandon Austin is a do-it-all type of player who could be the difference.
Heading into the summer, it looked like business as usual for the Bulldogs. Sure, Rotnei Clarke and Andrew Smith were gone from last season, but Roosevelt Jones was primed for a breakout campaign and Brad Stevens was going to coax 25 wins out of the role players. It's the Butler Way. That changed very quickly. First, Stevens left Butler for the greener pastures of the Boston Celtics. Next, Jones suffered a wrist injury that will force him to miss the season. As a result, new head coach Brandon Miller is left with a depleted roster in a new conference. Not exactly what the Bulldogs are used to. Khyle Marshall and Kellen Dunham are the top returnees, but the roster as a whole certainly does not reflect an NCAA tournament team.
First, the negatives. The Pirates are coming off a 15-18 season in which they lost 16 of their final 19 games, had one of the worst turnover percentages in the country, and finished just one game removed from the cellar of the Big East. Additionally, a double-figure scorer transferred out of the program and there wasn't a huge influx of talent. Then why the optimism in South Orange? To put it simply, health. A Seton Hall roster without injuries has a good amount of talent, and enough pieces to win some games in the Big East. Fuquan Edwin is a terrific two-way player, and Gene Teague and Brandon Mobley are solid up front. Brian Oliver and Haralds Karlis both started double-digit games last season. The key will be at the point guard spot, where Texas transfer Sterling Gibbs, freshman Jaren Sina and sophomore Tom Maayan will fight over the position.
The Blue Demons haven't won more than 12 games in any of the last six seasons, and being picked to finish at the bottom of the new Big East doesn't bode well for them this year either. Guard Brandon Young and forward Cleveland Melvin form one of the most prolific scoring duos in the country, but that's about where the fun stops for Oliver Purnell's troops. The Blue Demons have been atrocious on defense since Purnell took over in Chicago, and the up-tempo system has only resulted in high-scoring losses. There needs to be improvement this season – and there are some pieces. Freshman Billy Garrett Jr. will make an impact, while Purdue transfer Sandi Marcius should help inside. Another plus? Their future arena looks pretty cool.
Our Preseason All-Big East Team
Our Preseason Big East Player of the Year
Arguably the most consistently productive player in college basketball, McDermott enters the season with some doubting whether he can continue to put up big numbers against stiffer competition. Well, in games against Wisconsin, California, Cincinnati and Duke, the 6-foot-8 senior forward averaged 28.0 points and 9.3 rebounds. Can he do that twice a week this winter? We say yes.
Our Preseason Big East Newcomer of the Year
Duane Wilson, Marquette
There are multiple options from the Golden Eagles' perimeter, with JaJuan Johnson and Deonte Burton also entering the collegiate ranks, but Wilson could step in at the point guard position and be a difference maker. Derrick Wilson was solid off the bench last season, but Duane Wilson is a playmaker that finds ways to get into the lane and create for himself or teammates.
Our Preseason Big East Coach of the Year
Buzz Williams, Marquette
The Golden Eagles could enter the season as the league favorite, but it won't be an easy trip to the league title. He will have to integrate three freshmen into the rotation, and figure out a way to replace three starters. The winner of this conference will have a couple of losses, and in that case, the league champion might also produce the Coach of the Year.
Three Numbers to Know
0: That's the number of five-star prospects entering the Big East this season. The highest-rated player is four-star guard Rysheed Jordan.
8: That's the number of seasons in a row Butler has won at least 20 games. With Brad Stevens gone and a depleted roster, can Brandon Miller keep it going?
2007: That's the last time Georgetown advanced past the first weekend of the NCAA tournament. Could this season end that streak? 
CBSSports.com staff Big East Predictions
It appears he's more than happy to pay up, given the circumstances

Lithuania seems ready for the Ball era to begin

The Sun Devils make a big jump and the Jayhawks slide after ASU pulls the big upset
Arizona's big man from the Bahamas balled out against two talented teams

Coach Shaka Smart doesn't expect him to be out for an extended period of time

Jackson isn't showing the Sun Devils much respect after beating KU