College Basketball Conference Previews: SEC
Which teams in the SEC will be able to hang with Kentucky? Gary Parrish goes over each team to see who can stay close to the Wildcats.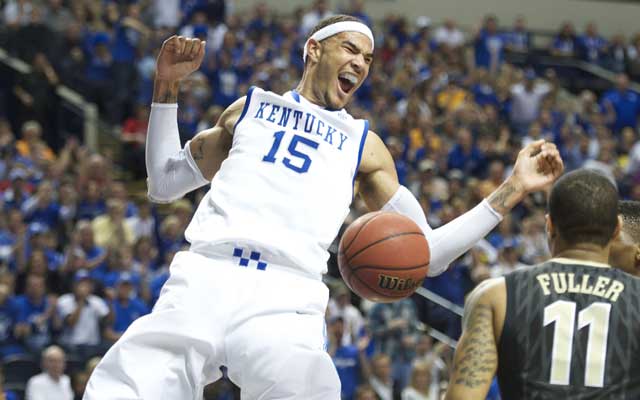 Would it be wrong to put five Kentucky players on the All-SEC team?
I know it would never be voted that way.
But, still, would it be wrong?
I ask because I genuinely believe that Kentucky might have the SEC's best player at all five traditional positions, which is a testament to the recruiting class John Calipari just enrolled. It's also why the Wildcats are the obvious pick to win the league.
But which schools will be UK's biggest challengers?
Can anybody seriously push the Wildcats?
Here's a preview of the SEC:
Coach's Take
"Everybody is going to pick Kentucky. You should. What [John Calipari] has there is crazy. But don't sleep on Florida, and I don't even care if Chris Walker gets eligible. I don't think they need him because they're so deep up front, and the guards are good enough. Billy [Donovan] can with a championship with this team. I really believe that."
Projected Order of Finish
  Undeniable NBA talent is the most important ingredient to winning any kind of championship in this sport, and nobody has more undeniable NBA talent than Kentucky. The Wildcats are blessed with a pro point guard (Andrew Harrison), a pro shooting guard (Aaron Harrison), a pro wing (James Young), two pro forwards (Julius Randle, Alex Poythress), and three pro bigs (Willie Cauley-Stein, Dakari Johnson, Marcus Lee). So good luck, John Calipari, trying to find minutes for everybody. That said, the coaches who are really going to need luck are the ones who have to try to match Kentucky player for player because nobody can match Kentucky player for player. The stated goal in Lexington is to not only win a national title but also try to win every single game on the schedule. And though perfection is not something I'm likely to predict (for this or any other college basketball team ever), you'd be wise to avoid dismissing it as impossible because it's a realistic goal for a roster loaded with this many diverse and future millionaires.
  A combination of nice recruits and impactful transfers have the Gators as a consensus top-10 team despite losing their top three scorers -- Mike Rosario, Erik Murphy and Kenny Boynton -- from a group that made the Elite Eight. The best returning player is Patric Young, who has averaged 10 points and six rebounds each of the past two seasons. He's not great but he is solid. A frontcourt consisting of Young, Will Yeguete, Virginia Tech transfer Dorian Finney-Smith and South Carolina transfer Damontre Harris should be terrific, and then, don't forget, McDonald's All-American Chris Walker will likely enroll in December. Pair all that with a backcourt of Scottie Wilbekin (whenever he's officially reinstated), McDonald's All-American Kasey Hill and Rutgers transfer Eli Carter, and it's simple to see why Billy Donovan is in a position to make his fourth straight Elite Eight and, perhaps, advance to the Final Four for the fourth time in a career that is already Hall-of-Fame worthy.
  Cuonzo Martin walked into a big shadow when he replaced Bruce Pearl at Tennessee, and it's still not guaranteed that he'll ever match the success of his predecessor, who made six NCAA tournaments in six seasons and, at one point, had the Vols ranked No. 1 nationally. But there's no denying that Martin seems to have things headed in the right direction. A core of Jordan McRae, Jarnell Stokes and Jeronne Maymon provide the Vols with three all-league-caliber veterans, and heralded prospect Robert Hubbs is probably the best NBA prospect of the bunch. Tennessee seemed to have a hole at the point guard position once Trae Golden was removed from the program. But the Vols landed Memphis transfer Antonio Barton in the offseason, and so they have a starting five that should take Martin to his first NCAA tournament in his third season in Knoxville.
  Frank Haith will work with an almost entirely different core of players for the third straight season at Missouri but should still be able to make the Field of 68 for a third time in three years. The reason is because of the return of Jabari Brown, Earnest Ross and Tony Criswell, the enrollment of a heralded recruiting class highlighted by four-star prospects Johnathan Williams III and Wes Clark, and the addition of Jordan Clarkson -- a transfer from Tulsa who can really play. Clarkson averaged 16.5 points two years ago as a sophomore at Tulsa. He might be able to match that number this season even against stiffer competition, and if he does the Tigers will finish in the top third of the SEC … provided they get adequate point guard play in the absence of Phil Pressey.
  This Alabama team isn't going to be what it could've been because Trevor Lacey -- the only Crimson Tide player to start every game last season -- transferred to North Carolina State this summer, and because Devonta Pollard -- a former five-star recruit -- got caught up in a kidnapping scheme and withdrew from school. That's a pair of one-time heralded Alabama signees who are now out of the program earlier than anybody could've reasonably anticipated, and it's a setback as Anthony Grant enters his fifth season in Tuscaloosa. But there's still enough on the roster -- like Trevor Releford, Rodney Cooper and Levi Randolph -- to keep Alabama in the top half of the SEC, and, if things break properly, Grant could find himself in the NCAA tournament for the second time in three seasons.
  Johnny Jones has long had a reputation of an elite recruiter, and it was just a matter of time before he landed the type of job where he'd be able to consistently prove it and win big because of it. Jones got that job -- the LSU job -- after the 2011-12 season, immediately started recruiting … and now look. He just enrolled a promising freshman class highlighted by McDonald's All-American Jarell Martin, and the return of his top two scorers from last season -- Johnny O'Bryant III and Anthony Hickey -- has the Tigers positioned for a breakthrough season that might come this year but should definitely come next year. At the latest. Especially if Martin and O'Bryant don't bounce to the NBA after this season.
  Andy Kennedy has stated on the record that his polarizing star, Marshall Henderson, will miss some games because of off-season incidents, most notably multiple failed drug tests that garner a suspension. How many games? That remains undetermined. But, either way, Henderson will be in uniform again well in advance of the start of the SEC schedule, which means he'll be shooting from everywhere and, almost certainly, antagonizing opposing fans, too. Yes, the senior guard will miss Murphy Holloway, Reginald Buckner and Nick Williams from last season's team that won the SEC Tournament. But Henderson alone should keep Ole Miss competitive … and really, really interesting.
  I'm not exactly sure what I expected from Mike Anderson when he left Missouri for Arkansas, but I will say this: I thought he'd already have the program elevated in a way that's yet to happen. The Hogs were ninth in the SEC two years ago, seventh last season; now they're picked to again finish seventh, and, if accurate, that means Anderson will miss the field of 68 for the third straight year, which would have Arkansas finishing short of the Sweet 16 for the 18th consecutive season. Isn't that just crazy? Seriously, Arkansas is a historically nice program that won a national title under Nolan Richardson in 1994 and played for another in 1995, which is why I'm still baffled by this lengthy absence from the national conversation. But Anderson did enroll a pair of elite frontcourt prospects in Bobby Portis and Moses Kingsley. So perhaps that overdue turnaround will arrive, eventually.
  The combination of Billy Gillispie and Mark Turgeon helped establish Texas A&M as a legitimate basketball program while leading the Aggies to six consecutive NCAA tournaments from 2006 to 2011. But the transition to Billy Kennedy (and the SEC) hasn't been nearly as smooth. Texas A&M is just 11-25 in league games under Kennedy, and there's no obvious reason to project the Aggies to make the Field of 68 this season now that Elston Turner and Ray Turner are gone. That's a combined 26.7 points and 9.2 rebounds per game that must be replaced, and I'm not sure there's enough in the way of new additions to offset things.
  Mark Fox was excited, when I spoke to him around this time last year, about the idea of basically coaching the same core for the subsequent two seasons because all but one relevant player was either a freshman, sophomore or junior. On paper, it made sense. But that plan went awry when Kentavious Caldwell-Pope established himself as an elite scorer and quality shooter (while leading Georgia to a 9-9 league record) and applied for early entry into the 2013 NBA Draft, where he was selected in the lottery. So now what? Sure, every other player who averaged at least 20 minutes per game is back, but there isn't a proven scorer on the roster, and, again, these guys were only 9-9 in the SEC with Caldwell-Pope. Can they really be better without him?
  A personality as strong as Frank Martin was never going to be able to transition smoothly from Kansas State to South Carolina while inheriting somebody else's roster; he needs his type of guys to succeed. So it shouldn't have been too surprising when four players -- most notably Brian Richardson -- transferred after Martin's first season, and that Martin was forced to restock the roster with seven freshmen, some of whom (like four-star recruit Sindarius Thornwell) will obviously be asked to make instant impacts. They'll be aided by the additions of Villanova transfer Tyrone Johnson (in December) and two-sport standout Bruce Ellington (whenever he finishes playing football for Steve Spurrier). But what's happening at South Carolina is more about the future than the present. So don't expect the Gamecocks to this season get their first win in the NCAA tournament since 1973.
  Kedren Johnson, Kevin Bright and Sheldon Jeter combined to start 69 games last season and were supposed to be the core around which Vanderbilt became relevant again this season. They were three of the Commodores' top six players, three standouts from a team that won eight SEC games, three important pieces in a program that was expected to return its top nine scorers. Kevin Stallings, for obvious reasons, was optimistic. But then Johnson was suspended from school, Bright signed a professional contract and Jeter transferred. And now improving on last season doesn't seem nearly as likely as it did before -- although it should be noted that Stallings is still regarded as one of the SEC's top coaches, and he could easily steal some games at Memorial Gym that pushes the Commodores higher in the standings than they're projected here.
  Rick Ray inherited a mess of a program and giant rebuilding job in April 2012, and he's still very much in the process of cleaning up and restocking. Jalen Steele and Wendell Lewis, holdovers from the previous staff, are both out of the program despite the fact that each still had a year of eligibility remaining, and it's hard to imagine Mississippi State won't be better for it … in the longterm. But the short-term will be tough. There's just not much SEC-talent on the roster right now, and it's difficult to win in the SEC without SEC talent.
  Tony Barbee parlayed a nice run at UTEP into the Auburn job in March 2010, but winning in the SEC has proved much more difficult than doing it in Conference USA. His three seasons have been marred by transfers, dismissals and even allegations of a point-shaving scandal, and Barbee might need to avoid another season in which he loses more than twice as many SEC games as he wins to keep the critics somewhat silent. To be clear, he has a tough job and has caught some ridiculous breaks; I'm sympathetic to the circumstances. But it's impossible to ignore the fact that Jeff Lebo was removed after five losing records in the SEC in six seasons, meaning it's fair to wonder if Barbee will be on shaky ground if there isn't noticeable improvement this season that can be translated into hope for the future.
Our Preseason All-SEC team
G: Andrew Harrison, Kentucky
G: Marshall Henderson, Ole Miss
G: Jordan McRae, Tennessee
F: Julius Randle, Kentucky
F: Willie Cauley-Stein, Kentucky
Our Preseason SEC Player of the Year
Julius Randle, Kentucky
  Randle is an aggressive and explosive power forward who can step away from the basket but is better dominating around it. On a team of future pros, he's the best prospect. If anybody besides Kansas freshman Andrew Wiggins is the first pick of the 2014 NBA Draft, it'll probably be him.
Our Preseason SEC Newcomer of the Year
Julius Randle, Kentucky
Randle is, like most of Kentucky's top talent, a freshman. Did I mention that yet? If not, now you know … and understand why he's the Newcomer of the Year, too.
Our Preseason SEC Coach of the Year
John Calipari, Kentucky
Last season was a rough season for a variety of reasons as Calipari failed to make the Elite Eight -- or even the NCAA tournament -- for the first time as Kentucky's coach. But there's no reason to think another disappointing year is on tap. Calipari has the pro point guard he was missing last season. So he should win at least 30 games for the seventh time in the past nine seasons, and he might just make a serious run at 40 victories.
Three Numbers to Know
6: That's the number of McDonald's All-Americans John Calipari signed from the Class of 2013. It's a record.
9: That's the number of losses Auburn took last season in games that were separated by just one possession in the final two minutes. Turn those around, and Tony Barbee will have turned things around.
10: That's the number of 2013 McDonald's All-Americans who are now on SEC campuses. Six are at Kentucky. Two are at Florida. Arkansas and LSU got one each.
CBSSports.com Staff SEC Predictions
The Wildcats are no longer undefeated after losing to NC State

Brey's team overcame a 16-point deficit to top Wichita State in the Maui finale

No. 13 Irish led for only 22 seconds, but a pair of clutch free throws lifted them to a Maui...
Freshman overcomes plenty before he even puts on a jersey and then sparks signature win for...

Officials didn't buy the flop, but the Mastadons player gets an A-plus for his acting effo...

It's early, but the Vols appear to finally be heading in the right direction