College Basketball Conference Previews: West Coast
Will Gonzaga cruise to another title? They won't be as good as last year, but we think the Zags and BYU are the only ones with a chance to win the WCC.
• 11 min read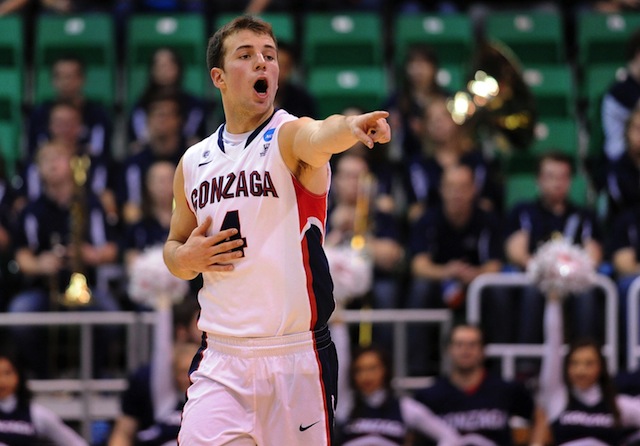 The WCC is a 10-team league for the first time in its history. New to the fold is Pacific, formerly of the Big West. The Tigers feel like a WCC program, so it should be a good marriage. So ... what else is new? Well, the team at the top is probably going to be the good ol' Gonzaga Bulldogs yet again. All us folk here at CBSSports.com are forecasting a Bulldogs regular-season championship again. Check the table of predictions at the bottom.
But even if we think Gonzaga's going to get theirs again, it stands to reason they'll be a step down from last year. Elsewhere around the league, it's looking like the WCC could be better, overall. Saint Mary's will take a step back, but San Diego, Santa Clara, San Francisco and Portland could fall within a few inches of each other. And BYU will be right there with Gonzaga if Tyler Haws puts up more than 21/game. Late Thursday nights in January and February are going to be entertaining, I think.
Here's our look toward what the West Coast Conference will put on display this season.
Coach's Take

"Overall ... there won't be a gap between the top and the bottom that's as big as [last year]. The perennial powers, Gonzaga, BYU, Saint Mary's, have question marks. The lesser programs have more experience rosters returning. Saint Mary's: very good coach, very solid program, but essentially have lost the maestro in (Matthew) Dellavedova. With BYU, can you replace Brandon Davies? With Tyler Haws, is there any more upisde? Can he play better than what he has shown?"
"The league is so laser-focused with basketball. There's no train wrecks. With BYU and Gonzaga, they got it going pretty good and they'll be pretty comparable. I could be overly optimistic. Saint Mary's is interesting. I'm not sure. Dellavedova was unbelievable, one of my favorite college basketball players. Overall it's going to be a better league because everyone's moved in the right direction."
Toughest to scout and play against outside of Gonzaga, Saint Mary's and BYU:
"San Diego and Santa Clara."
Opinion on the four best players in the league:
"Pangos, Haws, Ireland, Dickerson."
Projected Order of Finish

Gonzaga
 Yes, again. We think Gonzaga, again, is going to win this league, something Mark Few has done in the regular season 13 times in his 14 seasons with the program. There are some departures; Kelly Olynyk turned into a first-round draft pick last season. No fear, though, because Sam Dower and Przemek Karnowski are two big men who should be able to fill most of the production Olynyk provided last season. Experienced guards like Kevin Pangos, Gary Bell and David Stockton are reliable and have moments of flash, but consistency will be huge because Harris and Olynyk were safety valves for production last year. The aforementioned big boys will have to get more minutes and dodge foul trouble, and rebounding is a key question with them. Overall, it's a Gonzaga team that won't be as well-rounded as last year, but it should clearly be the best in the WCC once more.
The Cougars are entering their third season as WCC members, having gone 22-10 and finished third and second respectively in the prior to campaigns. Dave Rose -- who beat pancreatic cancer in 2009 and had a recurrence of cancer this summer; the man is an inspiration and a badass -- has a team with a lot of offensive options and only one key loss in Brandon Davies. (The Cougars lost two players to transfers, both juniors, Raul Delgado and Agustin Ambrosino, but neither was vital last season.) Junior wing Tyler Haws led the league in scoring last year, and he'll be minimally top-three in that category again, barring injury. The Cougs are responsible with the ball -- Matt Carlino is a dark horse pick for one of the nation's best point guards -- and one of the tougher matchups in the league due. And then there's Eric Mika, a freshman big who could be good enough to be all-conference by year's end. I'd be shocked if the team doesn't get to 20 wins by the start of the WCC tournament.

San Diego

The Toreros lose no one to transfer and will have a popular player for college hoops diehards in Johnny Dee, a guy with a name that's right out of a 14-year-old's feel-good youth basketball book. He and Chris Anderson will be a great backcourt, and that's why I've got USD No. 3 here, because the guard situation is good and only falls shy of two other teams in the league: Gonzaga and BYU. The Toreros are also formidable inside, playing four guys 6-9 or taller, an advantage that's not common in this conference. A big man's name to know: Jito Kok, who improved as the year went on in 2012-13. In general, there aren't too many holes to fill for San Diego, and the team was trending up through conference play and into the league tournament last year.
 The Gaels were so good last year because Matthew Dellavedova was a near-impeccable point guard. Delly's gone now, though, and while Brad Waldow, Stephen Holt and Beau Levesque are back (and viewed as the team's three best returnees), I and other coaches in the league are curious as to how Dellavedova getes replaced. To be fair, Gaels coach Randy Bennett has earned his keep by replacing key guards and keeping SMC at the top of this league. I still think they'll be good, but just not as good. The offense was 13th overall in adjusted offensive production in KenPom last year. No way that can be maintained without Delly. Waldow is a 6-9 big who is good enough to make the WCC First Team. I'm thinking SMC will generally play closer to the basket and still be a slow-paced team.
Few realize that Kerry Keating and the Broncos have been top four in this league in five of the past seven years, and only Gonzaga and Saint Mary's top SCU in WCC winning percentage during Keating's six-year stint at the school. The team's a total wild card this year, and I'm buying higher on them due to past performance under Keating. There's no doubt the offense will take a dent, though, because Kevin Foster is gone. Massive hole to fill, if not downright impossible. Foster was a shoot-first, -second and -third player. He's not the only key loss; the exits of seniors Marc Trasolini and Raymond Cowels III mean Santa Clara is without three of its most potent scorers in school history. Check the stat near the bottom of this preview for just how much the Broncos have to replace. Fortunately, offensive talent is still in the mix. Evan Roquemore will absolutely be the new star here, and junior guard Brandon Clark should keep the ship from veering too far into the WCC's bottom half.
Wherein I vow to you not to make a joke or reference -- outside of the one I'm doing here -- to "Portlandia." With that out of the way, what can the Pilots produce this season? Well, know they've got Eric Reveno, one of the broader-thinking minds in the game, running the show. He's entering his eighth season with the program, coming over from the success of Stanford during the Mike Montgomery years. But it hasn't translated to one NCAA tournament berth yet, and this year seems a tough task to get there. The team needs an offensive identity, and I think big improvement is coming there. The Pilots lost only one senior and one insignificant player to transfer. The offense is bound to improve, and 6-11 junior Thomas van der Mars should become a legitimate big man in the WCC. Ryan Nicholas and Kevin Bailey (a senior and a junior, respectively) were the leading scorers on the team last year, and I think they'll combo for more than 30 points per game in 2013-14. David Carr and Alec Wintering are challenging each other for the starting point guard spot, and they'll be solid there no matter who plays. Keep an eye on junior college transfer Bobby Sharp, too.
The Dons (a top-10 nickname in D-I hoops) bring a lot back to a team that rebuilt itself, went 7-9 in the league and had a legit forward force in Cole Dickerson. But USF has perenially underachieved in this league, so much to the point that it's become frustrating.  The Dons got by on offense and beating up on weaker WCC teams last season. I expect the WCC in general to be better top to bottom this season than last, and that's also factoring in why I've got this team lower than all of my colleagues. Outside of Dickerson, Cody Doolin and De'End Parker will be factors that make the Dons potential spoilers to the big boys in the league. Putting USF this far down is my proof that this conference is set to be better this year than last.

<strong><em>Pacific</em></strong><br />
Veteran team. The Tigers are new to the conference, coming over after spending more than four decades in the Big West. It's a huge change all around, as longtime coach Bob Thomason left the school last season after 25 years there. The Tigers were almost always a good team under Thomason over the past decade and a half. Now, in a new league, it's a big tougher and there is a lot for new coach Ron Verlin to adjust to. But in terms of overall adjustment, the program won't see much shift -- because Verlin was an associate head coach to Thomason for the past 19 years. Because of the consistency in the coaching staff, Pacific lost not players to transfer. The team lost five seniors, and so forward Tony Gill could be the best of the group coming back.
It's going to be Anthony Ireland all the time. He'll probably have a heck of a year, but what can LMU do around him? It did nothing last season, losing 12 straight to close out the WCC regular-season campaign before making a run in the league tournament and threatening to make the NCAAs as a 12-22 team before falling by 20 to Gonzaga in the title game. The Lions were anemic on offense outside of Ireland last year, and most of those players are back. There are some who believe the incoming class of freshmen can give this group a big boost -- like, top-half-of-the-WCC boost -- but I have to see it. 
Little tough to feel bad about a school whose campus is this. It's looking like a ninth straight losing season for the Waves, who should get good production out of sophomore forward Stacy Davis. Nikolaus Skouen is a senior guard who was among the most efficient per-possession scorers in the country last year. Coach Marty Wilson is in his third year, going from 10 to 12 wins from 2012 to 2013. Two more coming this year? Tough task.
Our Preseason All-WCC Team
G: Kevin Pangos, Gonzaga
G: Tyler Haws, Brigham Young
G: Anthony Ireland, Loyola Marymount
G: Johnny Dee, San Diego
F: Cole Dickerson, San Francisco
Our Preseason WCC Player of the Year

Kevin Pangos, Gonzaga

I almost took Anthony Ireland over Kevin Pangos, but I don't think Ireland (who I think will lead the league in scoring, beating out Tyler Haws at BYU, who did it last year) will be able to win the award if his team isn't sniffing the NCAA tournament. So Pangos it is, and I pick him in part because he had a great offseason. I also know he'll be the focal point of Gonzaga's offense this year. The Bulldogs coaches are expecting at least 17/game from him. He's tougher than he looks and has expanded his game. He's not just a pull-up shooter. Pangos will be the face of a Gonzaga club that's going to be fun to watch and at times score at will.
Our Preseason WCC Newcomer of the Year
Eric Mika, Brigham Young

The BYU freshman is an elite big from the class of 2013, and he'll be playing one year before taking a two-year mission. Mika is 6-9 and could be close to 230 pounds by the time the season comes around. (He was 220-ish when he declared to BYU.) Can run the floor well and rebounds tremendously well.
Our Preseason WCC Coach of the Year
Bill Grier, San Diego

When Few wins another regular-season title, it'll probably be a bit ho-hum. But Grier, who I think has a team that can be entertaining and steal some games, will be rewarded for what he trudged through with the point-shaving scandal a couple of years back. San Diego never fully went into the gutter despite the bad press and obvious setbacks. This is the Toreros' first true chance since Grier took the team to the tourney in 2008 for them to get back.
Three Numbers to Know
6.6: The number of losses per season Gonzaga has averaged in Mark Few's 14 years there. A remarkable number, among the fewest losses per season for any coach during that stretch.
1.7: NCAA tournament bids for this conference per year over the past decade. Going forward, that number should creep two 2.0, as the WCC has set itself up to be a multi-bid league year in and year out going forward.

4,000: Between the losses of Foster, Trasolini and Cowels III, Santa Clara loses more than 4,000 points in production, the greatest loss in point producers in the nation.
CBSSports.com Staff WCC Predictions
CBS' college basketball experts polled more than 100 coaches to get their pick to win it a...

Marvin Bagley, if eligible at Duke this season, projects as the country's top power forwar...

The Big Ten Tournament is a week earlier than usual, so the regular-season schedule may look...
Arizona, Grand Canyon and Tulane are also in Barcelona and have reported to be accounted for...

The Kansas forward is no longer accused of walking out on an $88 tab

Cavaliers basketball coach tapes statement on behalf of his university and his city