College basketball: Looking back at season's first half
Have you been too focused on college football to keep up with college basketball? No worries. Here's basically everything you need to know right now.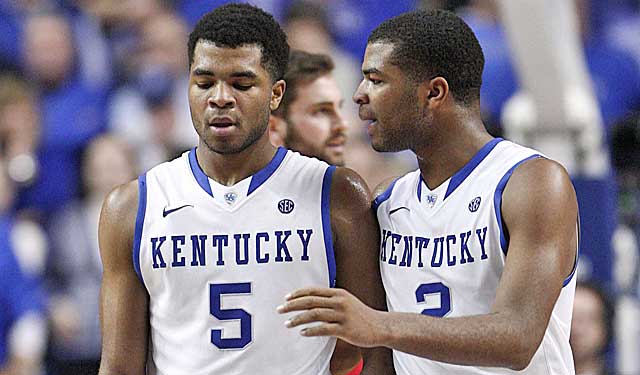 The college football season ended late Monday with Florida State's win over Auburn. So casual sports fans will suddenly start focusing more heavily on ... the NFL, probably. Let's not lie to each other. But, that said, college basketball now has one less thing to compete with for attention, and I know some of you might be behind on the happenings in the sport.
If so, no worries.
I can catch you up right now.
Here are 10 things you need to know about what's happened so far.
Let's call it the CBSSports.com Midseason Look Back.
1. Kentucky is no longer the nation's consensus No. 1 team: John Calipari's Wildcats were No. 1 in the preseason AP and Coaches polls, but they aren't in the top 10 of either poll now. That's the result of UK losing three of its first 11 games thanks to, among other things, shaky point guard play and poor shooting from the perimeter. The good news is that the three losses are to Michigan State on a neutral, Baylor on a neutral and at North Carolina, meaning the Wildcats still haven't lost a home game or any game to an opponent that isn't likely to end up in the Field of 68. Plus, they beat Louisville. The bad news is that, well, there are three losses on the resume already, and that's three more than some projected this roster filled with heralded prospects would take all season.
2. Andrew Wiggins has been really good but not overwhelming: I'm not sure any freshman in history has entered college basketball with more hype -- and, by extension, more pressure -- than Wiggins. So he was always going to experience a backlash, and that backlash has been fierce. The 6-foot-8 wing hasn't been consistently overwhelming, I admit. But, it should be noted, I predicted that in the preseason when I wrote, on Sept. 26, that Wiggins will "blend in at times -- mostly because he's surrounded by other future lottery picks." For whatever reason, some folks didn't pay attention to that part of that story, which is why they're now asking, over and over again, what's wrong with Wiggins. The answer: Nothing, really. Truth be told, sure, I'd love to see him attack more consistently and relentlessly. But the 18-year-old Canadian is still averaging a team-best 15.8 points and 5.4 rebounds, and he's still projected by most to be the No. 1 overall pick in June's NBA Draft. So the term "disappointing" is very relative and probably unfair.
3. There are six undefeated teams remaining: Though Kentucky's quest at a perfect season ended Nov. 12, that dream is still alive for six programs -- namely Arizona (15-0), Syracuse (14-0), <span data-shortcode= State" data-canon="Ohio Bobcats" data-type="SPORTS_OBJECT_TEAM" id="shortcode0"> (15-0), Wisconsin (15-0), Iowa State (13-0) and Wichita State (15-0). Five of those schools were ranked in the top 24 of the preseason Top 25 (and one). The lone exception is Iowa State, which was picked fourth in the preseason Big 12 poll.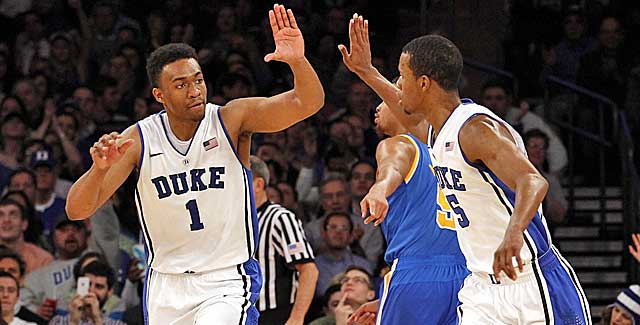 4. Jabari Parker has been both awesome and benched: Parker's enrollment at Duke was slightly overshadowed by Wiggins' arrival at Kansas, but the Blue Devils' elite shotmaker has pretty much erased any perceived gap between the two. After talking to NBA scouts, it appears Parker is now the biggest threat to replace Wiggins atop draft boards. The Chicago native is averaging a team-best 20.4 points and 7.7 rebounds while shooting 51.2 percent from the field and 42.9 percent from 3-point range. He's been mostly terrific -- even though he was benched in the closing minutes of Saturday's 79-77 loss at Notre Dame.
5. Chane Behanan could not stop violating university policies: Louisville's odds of repeating as national champions took a hit last week when Rick Pitino announced that his starting power forward has been dismissed from the team, and for real this time. That means three of the five players who started for the Cards in last season's title game are no longer enrolled, and, by the way, Louisville is still looking for its first quality win.
6. Mitch McGary's back is hurt: McGary was so awesome in last season's NCAA tournament that most NBA scouts started to identify him as a lottery pick. But the Michigan big decided to pass on that and return for his sophomore season, and now, barring a surprise, he's out for the season with a back injury. It's a development that's unfortunate for both McGary and the Wolverines. It doesn't mean that McGary was wrong to do what he did. It just means that the decision hasn't worked out the way anybody planned or hoped.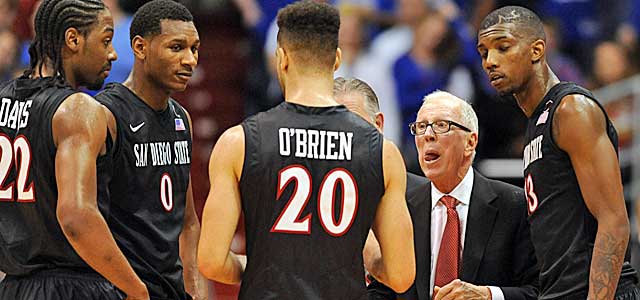 7. San Diego State is better than anybody predicted: The Aztecs have been consistently good under Steve Fisher, but this was supposed to be a down year -- a season in between the final year of Jamaal Franklin and the first year of a heralded recruiting class. But never mind all that. SDSU is 12-1, ranked 13th and coming off a win at Kansas. The lone loss is a single-digit loss to top-ranked Arizona. So this doesn't seem like a down year at all.
8. North Carolina might be the weirdest team ever: The selection committee is each year given a detailed breakdown of every team's so-called resume with wins and losses placed in boxes to make the data relatively easy to digest. It's sometimes called a "nitty-gritty" report, and I tell you that to tell you this: North Carolina is going to have a strange "nitty-gritty" report. According to the RPI, UNC has wins over No. 12 Michigan State, No. 17 Kentucky and No. 32 Louisville but losses to No. 63 Texas, No. 65 Wake Forest, No. 82 Belmont and No. 100 UAB. That might be the most erratic resume I can remember through 14 games. The committee will have a tough time seeding Roy Williams' Tar Heels.
9. P.J. Hairston's college career is over: Speaking of the Tar Heels, their leading returning scorer, Hairston, was suspended for the early part of the schedule and is now considered permanently ineligible, meaning he'll never play for UNC again. That's the result of the junior wing A) accepting impermissible benefits, and B) not being honest with investigators about the impermissible benefits he accepted. And it's just the latest in a string of off-the-court/off-the-field headlines that've tarnished UNC's athletic department, to some degree.
10. Doug McDermott is still terrific: McDermott is on his way to becoming the first three-time consensus First Team All-American since North Carolina's Tyler Hansbrough, and he might win the national scoring title, too. He's averaging a career-best 24.7 points and 7.5 rebounds through 14 games, and he has Creighton off to a 2-0 start in the Big East. Also worth noting: McDermott is enhancing his reputation with NBA scouts. Sure, there are still questions about his ability to guard at the next level, and, I suppose, those will never go away. But now, more than ever, just about everybody agrees that there's going to be a spot in the NBA for this 6-foot-8 forward who is creative around the basket and a top-shelf shooter away from it, and McDermott's rise from a mid-major recruit to stardom really is one of the best college basketball stories in recent years.
Gary Parrish and Matt Norlander discuss the latest in college basketball

The university also maintains that Pitino was appropriately fired

Price only made it nine games into his third season
The Wildcats won't play another currently ranked team until Jan. 10

The BC fan has a ton of apparel and gear headed his way after this putt

Durant's made a habit of making sure his alma mater is set with the latest customized gear