College basketball preseason: 10 that will benefit from new rules
The new college basketball rules cracking down on hand-checking could have a serious impact for a few prominent teams and players.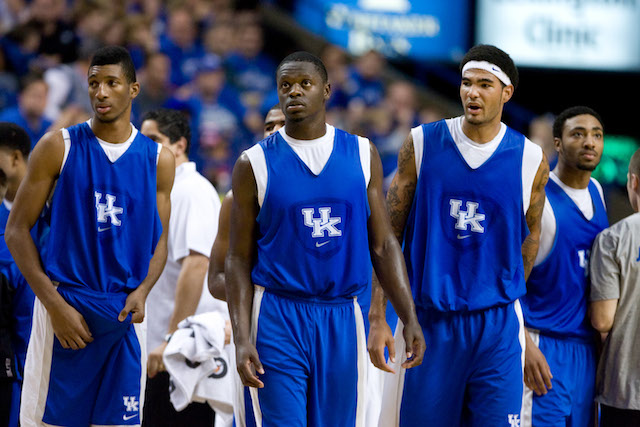 The new rules this season in college basketball calls for less contact on the perimeter. Here's 10 teams that will benefit from "freedom of movement". In no particular order.
Kentucky: John Calipari first used the dribble-drive motion offense when he was at Memphis and you can bet he'll go back to those principles this season with the Kentucky Wildcats . Kentucky Wildcats has two dynamic breakdown guards in freshmen Andrew and Aaron Harrison , but the real guy to watch for the Wildcats with these new rules is Julius Randle . A linebacker on roller skates, the 6-9 Randle will play plenty of point forward this season for Kentucky in addition to posting up on the low block. With the ball in his hands on the break and at the beginning of possessions, Randle is going to be virtually impossible to stop. Think of the bulls in Pamplona, Spain running downhill. Would you want to get in the way?
Villanova: Small ball has become a way of life on the Main Line under Jay Wright and it will return again this season for the Villanova Wildcats . Villanova has the look of a team that attacks the rim at will thanks to its plethora of options in the backcourt. Ryan Arcidiacono , Darrun Hilliard II , and Rice transfer Dylan Ennis (out til December with hand injury) will all be difficult to stay in front of, but the Wildcat that could most benefit from the rule changes is Jayvaughn Pinkston. At 6-5, Pinkston can play all five positions on the floor and should be able to regularly get to the free throw line either facing the basket or posting up. Pinkston is also in the best shape of his college career, and now possesses the type of elusiveness that will make him a difficult matchup anywhere on the offensive side of the floor.
Marquette: The Marquette Golden Eagles weren't a great three-point shooting team last night but still managed to reach the Elite Eight under Buzz Williams. Why? They were an exceptional penetrating team that was always accurate around the rim. Williams always stresses the value of "paint touches" to his team and you'll see that even more this season. Marquette has one of college basketball's biggest interior forces in Davante Gardner and it will be near impossible for defenses to contain him without the use of a hand check. Look for fellow big man Chris Otule to also benefit.
UConn: Shabazz Napier and Ryan Boatright form potentially the nation's quickest backcourt, and it's not out of the realm of possibility that each of those players could get to the free throw line between 10 and 12 times per game with the rule changes. Another player to watch for Connecticut Huskies with the "freedom of movement" philosophy is DeAndre Daniels . The 6-9 forward really came on during the end of last season and averaged 21.3 points and 9.0 rebounds per game during the Huskies' final four games of last season. Incredibly skilled and offensively gifted, Daniels excelled down the stretch last year for UConn because he couldn't be guarded by traditional power forwards.
Louisville: Rick Pitino has gone on record and said he's never had as many quality guards as he's going to have this season. Russ Smith was a nuisance to keep out of the paint before hand checking was outlawed, and he's going to be even tougher to contain now. Newcomers Chris Jones , Terry Rozier , and Anton Gill will also be incredibly tough to stop as the Louisville Cardinals are likely to play at a breakneck pace.
Duke: Two NBA scouts have told CBSSports.com that the Duke Blue Devils have been the most impressive team they've seen this preseason and the main reason why is the pieces they have offensively. Duke possesses three big-time offensive threats in Rasheed Suliamon, Jabari Parker , and Mississippi State transfer Rodney Hood and each member of that triumvirate will be a bigger threat to score now thanks to more "freedom of movement". Mike Krzyzewski has made a conscious effort to accelerate the pace during early season practice and Suliamon, Parker, and Hood should all be the beneficiaries.
Oregon: The addition of Houston transfer Joseph Young gives the Oregon Ducks of one of the deepest back courts in college basketball. Veterans Dominic Artis (currently suspended), Johnathon Loyd, and Damyean Dotson are all experienced players and Detroit transfer Jason Calliste adds a capable producer on the collegiate level. Dana Altman has been known to speed up the game when possible and he'll need to do that with this group. Oregon has the potential to be incredibly hard to contain off the dribble, but it's important they keep that mindset and don't opt to settle for jump shots.
Memphis: Josh Pastner has several players on his roster that should be smiling right about now. The Memphis Tigers will likely regularly use a four-guard alignment with Joe Jackson , Michael Dixon, Chris Crawford , and Geron Johnson that should spread opponents out and open up driving lanes. Another person to watch for Memphis with the rule changes? Sophomore big man Shaq Goodwin . Goodwin will likely start the game as Memphis' sole interior presence and should be awfully tough to stop in the low post without the use of an arm bar or hand check.
La Salle: Don't be surprised if Tyrone Garland winds up leading the Atlantic 10 in scoring. The 6-1 guard averaged 13.1 points per game last year as a junior and now will become La Salle Explorers 's primary perimeter offensive scoring threat after Ramon Galloway's graduation. Like a cheetah in the open floor, Garland should be able to get opposing defenses into foul trouble early in games with his penchant for always being in attack mode. Garland's teammates Tyreek Duren and Sam Mills should also get more opportunities with the rule changes defensively.
Xavier: No player is more excited about the term "freedom of movement" than Semaj Christon . A relentless penetrating guard, Christon only took 28 three-point shots last season as a freshman because most of his offense came off the dribble. Now a sophomore, Christon should be one of the top scorers in the Big East after averaging 15.6 points per game last season. Xavier Musketeers freshman Brandon Randolph , a consensus Top 100 recruit, should also be a factor with less hand contact allowed on the perimeter.
Thousands of fans were turned away (even LeBron!) from the LaMelo Ball-Zion Williamson sho...

"Four Sides of the Story" also takes a look at Tiger Woods' first PGA tournament and the role...

Indiana's Archie Miller and Mizzou's Cuonzo Martin have been killing it on the recruiting...
Duke's much-anticipated Allen-Duval connection is off to a hot start already

It'll be Miller vs. Miller if the Hoosiers and Wildcats can finalize the proposed series

Wisconsin's Ethan Happ has made only two jumpers in his career, but is adding a long-range...