College basketball preseason: 15 under-the-radar breakout players
Colorado's Xavier Johnson and Florida State's Devon Bookert make the list of breakout players who start 2013-14 under the college basketball radar.
• 4 min read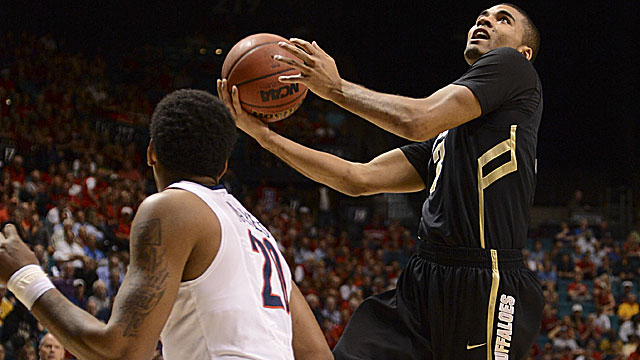 There are certain college basketball breakout candidates who have already grabbed a bit of the spotlight as 2013-14 gets set to begin, and there are others that even some hoops junkies don't know about yet. For their benefit, below we took a look at 15 under-the-radar guys primed to have big years. In no particular order...
Xavier Johnson, F, Colorado: 6-6 lefty is like a volcano -- he can erupt at any time. With Andre Roberson in the NBA, look for Tad Boyle to regularly use Johnson as an undersized power forward who can exploit mismatches thanks to his overall skill level. An accurate three-point shooter as a freshman (43.9%), Johnson has the ability to torch opponents inside and out. He could wind up being one of the better players in the Pac-12.
Kadeem Jack, F/C, Rutgers: Bouncy big man averaged 5.7 points and 4.7 rebounds per game last year as a sophomore in just 18.2 minutes per contest. If first-year coach Eddie Jordan plays Jack 26-28 minutes a game, the 6-9 junior immediately turns into a walking double-double. Jack's emergence could be the difference in whether or not Rutgers will be a potential surprise team in the AAC.
Devon Bookert, G, Florida State: If we learned anything from the Seminoles last season, it's that they were a better basketball team down the stretch when Bookert was their primary point guard. The debate is officially over -- this is Leonard Hamilton's floor general. Armed with good size at 6-3, Bookert should run Florida State's team with the poise of a veteran while regularly setting the table for scorers like Aaron Thomas, Ian Miller, and Montay Brandon.
Cam Wright, G, Pitt: The Panthers need a double-figure scorer to emerge on the perimeter on Wright looks like the guy most likely to fit the bill. After only averaging 4.3 points per game season as a sophomore, the 6-4 Wright has been one of Pitt's best players during the preseason.
Winston Shepard, F, San Diego State: Steve Fisher loves length and athleticism, and that's just what Shepard brings to the table. While he's not a great shooter, the 6-8 wing has the ability to fill up the box score and become a lock-down defender. Don't be surprised if Shepard emerges as the Aztecs' best all-around player.
Timajh Parker-Rivera, F, Towson: The Tigers need a big man to replace Bilal Dixon at center and Parker-Rivera is the guy. Bigger and stronger than he was last year as a freshman, the 6-8 sophomore should start up front for Pat Skerry's team next to do everything forward Jerrelle Benimon.
Challe Barton, G, Oregon State: The Beavers were a better basketball team down the stretch of last season when they made Barton their primary point guard and moved Ahmad Starks off the ball. Since then Starks has transferred to Illinois and Barton has officially gotten the keys to the car in Corvallis. Oregon State has the talent to be a surprise team in the Pac-12, but they'll need a strong season from Barton to have any chance of climbing the league standings. Just based on expanded minutes and possessions, Barton's production should have a serious lift.
Buddy Hield, G, Oklahoma: With the departures of Steven Pledger, Romero Osby, and Amath M'Baye, Hield is officially the go-to guy in Norman. The 6-4 guard should emerge as one of the better scorers in the Big 12 as a sophomore after averaging 7.8 points per game as a freshman.
Shannon Scott, G, <span data-shortcode= State" data-canon="Ohio Bobcats" data-type="SPORTS_OBJECT_TEAM" id="shortcode0">: The Buckeyes need everyone in their rotation to score more this season after the departure of Deshaun Thomas and Scott should have an opportunity to take a major step forward. A role player during his first two years in Columbus, this should be the year where Scott emerges as a legitimate threat on both sides of the ball.
Retin Obasohan, G, Alabama: 6-1 guard averaged 8.1 points per game in three NIT games last season and could have a bigger role after Trevor Lacey's decision to transfer to NC State. Obasohan scored 14 points and grabbed six rebounds in the Crimson Tide's win over Stanford last March.
Gabriel Olaseni, C, Iowa: Fran McCaffery raved about Olaseni's progress all summer and he should be a pivotal defensive piece for Iowa in reserve. At 6-10, Olaseni gives the Hawkeyes a legitimate backup center for Adam Woodbury and is an active big man who can run the floor. The London, England native blocked seven shots in Iowa win's over Illinois last season.
Frank Kaminsky, F, Wisconsin: After only averaging 10.3 minutes per game last season, Kaminsky will be one of the Badgers' primary frontcourt players. All eyes are on Sam Dekker in Madison but Kaminsky should also be in line for a big-time year. Players who wait their turn always deliver under Bo Ryan. Expect Kaminsky to be no different.
Ross Travis, F, Penn State: Travis is the second leading returning rebounder (7.4 RPG) in the Big Ten, and looks primed to take a big step forward offensively as a junior. The 6-6 forward displayed a soft touch around the basket during a recent practice in State College and should average in double figures after putting up 7.0 PPG last season. 
Musa Abdul-Aleem, G, South Florida: Talented shooting guard only played nine games last season due to a foot injury but could play a big role in the Bulls' potential success in the AAC. A long range threat with serious range, Abdul-Aleem could very well be the missing piece for South Florida on the perimeter next to Anthony Collins and Victor Rudd.
Jordin Mayes, G, Arizona: 20 pounds lighter than he was last season, Mayes needs to regain the form he showed as a freshman when he shot 45.3% from three-point range. The biggest question mark surrounding the Wildcats this season is outside shooting and that's just what Mayes can provide. The opportunity is there for this 6-3 senior to have a memorable end to his college career. 
Calipari threw major shade at Duke and the coaching staff's recruiting pitch

Brown is the No. 2 center in the Class of 2018 and a big get for the Bruins

The Sooners are on a two-game losing streak but still rising on one AP ballot
Vegas legend Kenny White has nailed 3 straight UNC picks and just made a play for Monday's...

Josh Nagel has almost two decades of handicapping experience and locked in a play for Monday's...

The Wildcats stumbled to an 0-2 record this week and fell out of the top 25