College basketball preseason: 5 teams that could overachieve
Penn State and Oklahoma are among the below-the-radar teams that could show some life in 2013-14.
• 6 min read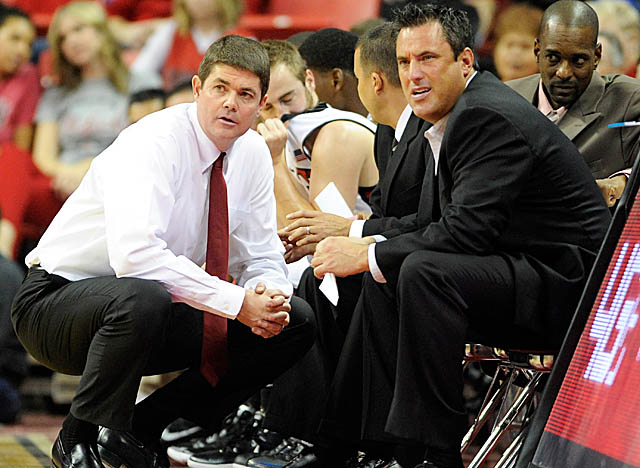 Looking for a few squads that could wind up being better than people anticipate this season? Check out our list below as we take a look at five teams that could overachieve in 2013-14. In no particular order...

Oklahoma: The Sooners lost three starters from last year's team that won 20 games and reached the NCAA Tournament but they do return their secret weapon -- Lon Kruger. The veteran coach always gets his teams to play to the maximum of their ability and that should be the case again with Oklahoma.
Sophomore guard Buddy Hield will likely emerge as one of the better scorers in the Big 12 and Isaiah Cousins could become a secondary offensive option after his move to the wing. Je'lon Hornbeak and freshman Jordan Woodard will be counted on to provide steady point guard play, and Gonzaga transfer Ryan Spangler is primed to average close to a double-double after a productive redshirt year.
The real wild card for this team? 6-7 senior Cameron Clark. Kruger plans to use the veteran as an undersized power forward next to Spangler and if he regularly produces at a high level, the Sooners should challenge for an NCAA bid for the second consecutive season.

Seton Hall: The Big East is sleeping on the Pirates.
Kevin Willard has his most complete roster since arriving in South Orange and a borderline first-team all-conference player in versatile wing Fuquan Edwin. Burly big man Eugene Teague is down 30 pounds since the end of last season and should be a load for defenses to handle on the block.
The healthy returns of Brandon Mobley and Patrik Auda will give this team two capable options at power forward, and newcomers Jaren Sina and Sterling Gibbs give Seton Hall a fresh look in the backcourt. It's tough to win big with two unproven guards, but Sina plays with more maturity than most freshman and Gibbs is finally embracing who he is. A shooting guard trapped in a point guard's body, the transfer from Texas should be a double-figure scorer for the Pirates and provide Seton Hall with another capable perimeter threat next to Edwin.
Another thing to keep in mind with this team? With all the teams in the Big East now set to play each other twice during the regular season, Willard's penchant for intense scouting and preparation could be an X-Factor. A terrific tactician, Willard's ability to execute game plans and come up with new schemes could be more lethal in a round-robin type format.

Penn State: Do the Nittany Lions have the best backcourt in the Big Ten? They're definitely in the conversation.
The combination of Tim Frazier and D.J. Newbill gives Penn State two high-level guards that can attack the rim and get into the paint at will. With the new rules in college basketball set to allow more "freedom of contact", look for Pat Chambers to have his guards regularly look to attack early in the shot clock in an effort to get to the free throw line with more regularity.
Junior forward Ross Travis is the Big Ten's second leading returning rebounder after averaging 7.4 rebounds per game last season and looks primed to emerge as a double-digit scorer this year as a junior. Frazier's injury last November could have forced this team to pack things in but Chambers instilled a culture of playing hard that led to a slew of competitive games and a late season win over Michigan.
Now the question is, can this program take the next step? If Miami (OH) transfer Allen Roberts can make two three-point shots per game and help the Nittany Lions get back some of the spacing they lost when Jermaine Marshall transferred to Arizona State, it will be a major security blanket for both Frazier and Newbill. Those two along with Pitt transfer John Johnson (eligible in December) and freshmen Graham Woodward and Geno Thorpe will comprise Penn State's perimeter, one that's going to have to carry this team if they hope to make a jump in the Big Ten. Travis is one capable front court piece, but Chambers needs a breakthrough season from one of his sophomore big men -- Donovan Jack or Brandon Taylor -- in order to really climb the Big Ten standings.
Penn State shouldn't be expected to compete for an NCAA bid this season, but there's a good bet they're going to be an absolute nuisance to play in a league in which several teams lost key contributors from a season ago.

UNLV: The Runnin' Rebels lost an exhibition game to Dixie State last Friday. They also lost four starters -- Anthony Bennett (NBA), Mike Moser (transferred to Oregon), Katin Reinhardt (transferred to USC), and Anthony Marshall (graduated) -- from last year's team that reached the NCAA Tournament. Dave Rice's squad doesn't have the same talent it did a year ago, but there's still enough left over in Sin City to do some serious damage in the Mountain West.
Unlike last season, the Runnin Rebels have several pure point guards on their roster, headlined by starter Deville Smith who began his career at Mississippi State. Bryce Dejean-Jones should be more of a primary focal point for UNLV on the perimeter after Reinhardt's departure, and Khem Birch appears ready for a bigger role after only playing half of last season. UConn transfer Roscoe Smith is a skilled forward who was a starter on a team in 2011 that won a national title, and freshmen Chris Wood, Kendall Smith, Jamal Aytes should all add depth along with Fresno State transfer Kevin Olekaibe.
Last year, everyone expected the Runnin' Rebels to immediately jell and it never happened. That shouldn't be the case this year. Rice will likely press more early on with this group thanks to expanded depth, and that should give him time to decide which lineups work and which ones don't. This is going to be a work in progress due to so many new faces, but the pieces are in places for UNLV to eventually come together. It's just going to take the one thing the that most people in Las Vegas don't have -- patience.

Vanderbilt: The Commodores were dealt a tough hand this fall when two of their perimeter starters -- Kedren Johnson and Kevin Bright -- left the program. Bright went back to his native Germany to play professionally while Johnson will miss the entire 2013-14 season due to suspension. Nevertheless, things move forward for Vanderbilt and they still have enough pieces on their roster to be a surprise team in the SEC.
Tulsa transfer Eric McClellan will inherit point guard responsibilities from Johnson and Dai-Jon Parker will anchor the off-guard spot as a junior. Dores coach Kevin Stallings will likely feature Rod Odom regularly at small forward, and veteran big men Shelby Moats, Josh Henderson, and James Siakam will all be counted upon to provide defense and rebounding up front. Stallings has said 6-10 freshman Damian Jones has a chance to be "the best post player he's ever coached", and he'll be one of Vanderbilt's key reserves along with senior guard Kyle Fuller.
The Dores don't have the buzz entering the season that many anticipated, but that doesn't mean they should be discounted. Stallings is one of the most innovative offensive minds in the sport, and he'll find ways to get his players into spots on the floor where they can be successful. If Odom has an All-SEC type season and Fuller and Jones can be regular factors in reserve, this could be a sneaky good team that may wind up winning between 16 and 18 games.
The selection committee will again reveal what it is thinking ahead of Selection Sunday

Teams not in major conferences with a shot at an at-large NCAA Tournament bids

The nation's No. 3 player will commit Saturday and here's his impact on each of his finali...
Gary Parrish and Matt Norlander also preview the weekend and Zion Williamson's announcemen...

The Sun Devils started 12-0, but since then are 2-4 after Wednesday's loss to Stanford

Andrew Jones is Texas' second leading scorer