College Basketball Preview: Top 10 backcourts in the country
Which team has the best set of guards in the country? It's shaping up to be a battle between new AAC rivals: Memphis or Louisville.
• 3 min read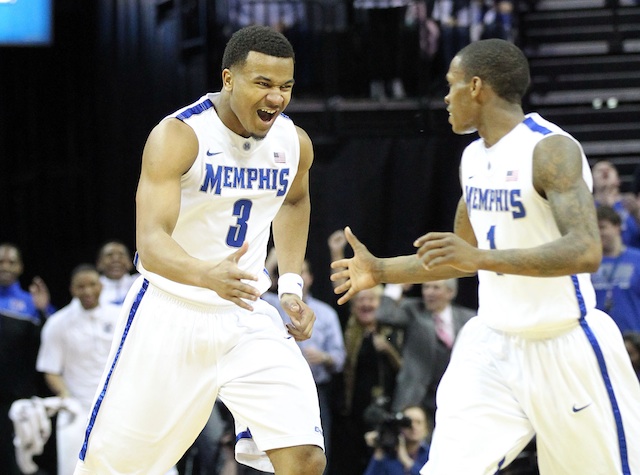 More College Basketball: Season preview | Top 25 (And One) | Conference predictions
Guards are the lifeblood of the modern college basketball team – without a good perimeter attack, you're not going anywhere. That's why it's normal to see most teams rolling with a three-guard attack these days.
For this ranking, we're going with straight backcourts – not perimeter groups. You won't see Andrew Wiggins or Rodney Hood or Jabari Parker or Luke Hancock or Wayne Blackshear. They are included in frontcourts. Colleague Matt Norlander and I debated the top backcourts in the country back in September, so I mostly took those rankings – with a few tweaks to adjust for recent news. Well, recent news and my own opinion.
Guards: Joe Jackson, Geron Johnson, Chris Crawford, Mike Dixon, Markel Crawford
Comment: Once Dixon got his waiver to play immediately for Memphis, the Tigers vaulted to the top of the backcourt rankings. They have a little bit of everything: ball-handling, defense, scoring, shooting. I wouldn't be surprised to see Josh Pastner play four guards in big moments.
Guards: Russ Smith, Chris Jones, Terry Rozier, Anton Gill, Kevin Ware
Comment: If Memphis is No. 1, Louisville might as well be 1A. The Cardinals are relying heavily on newcomers – but those newcomers are big-time. Jones was the best junior college player in the country, while Rozier was a five-star prospect. Oh, and Smith is back as an All-American.
Guards: Marcus Smart, Markel Brown, Phil Forte, Stevie Clark
Comment: It starts with Smart, obviously. He's a Player of the Year candidate, and a future lottery pick. But don't overlook the rest of the group. Brown is a tremendous athlete, but I think he's underrated nationally as a scorer. Forte can stretch a defense, while Clark brings confidence.
Guards: Shabazz Napier, Ryan Boatright, Omar Calhoun, Lasan Kromah
Comment: This is a scary thought: the Huskies might have the fourth-best backcourt in the country – and third-best in their own conference. Napier is an All-America candidate, while Boatright is explosive. Calhoun is a nice third option, and Kromah provides quality depth.
Guards: Dominic Artis, Damyean Dotson, Joseph Young, Jason Calliste, Johnathan Loyd
Comment: With Young getting a waiver to play immediately, the Ducks vaulted into the top five. Dana Altman has an embarrassment of riches on the perimeter this season, with the return of starters Artis and Dotson – and the additions of transfers Calliste and Young. So many weapons.
Guards: Andrew Harrison, Aaron Harrison, James Young, Jarrod Polson, Dominique Hawkins
Comment: Talent-wise, this might be the best guard trio in the country. It just remains to be seen how well they fit together – and depth could be an issue. However, both Harrisons are big-time scorers, while Young brings perimeter shooting and length defensively.
Guards: Jerian Grant, Eric Atkins, Pat Connaughton, Demetrius Jackson, Steve Vasturia
Comment: This is another team that could play four guards at key moments. Grant and Atkins play off each other extremely well, with both players capable of being playmakers. Connaughton is a very good perimeter shooter, and Jackson was a five-star prospect. Coaches are high on Vasturia.
Guards: Keith Appling, Gary Harris, Travis Trice, Denzel Valentine
Comment: If Harris can stay healthy and Appling consistent, this could be far too low of a ranking. As it stands, Harris might be the best pure shooting guard in the country, and Appling has his moments. Valentine brings versatility, while Trice showed he is more than serviceable.
Guards: Quinn Cook, Rasheed Sulaimon, Andre Dawkins, Matt Jones, Tyler Thornton
Comment: As a perimeter attack, the Blue Devils might be No. 1. However, excluding Hood and Parker, Mike Krzyzewski still has one of the best backcourt groups in the country. Cook is a solid point guard, and Sulaimon could emerge as a star. The bench brings options and shooting.
Guards: Derrick Marks, Anthony Drmic, Jeff Elorriaga, Mikey Thompson, Igor Haziomerovic
Comment: I've been pushing the Boise State bandwagon since April, so I might as well stick to it. The Broncos roll with four guards at a time, and Marks and Drmic are two of the best. Elorriaga is a flat-out shooter, with Thompson and Haziomerovic can cause matchup problems.
Others: Colorado, Harvard, Gonzaga, Kansas, Ohio State, Florida, St. John's
Kentucky has thrived with one-and-done players, but Cal wants high school players to be able...

Ayton, Young and every NBA Draft entrant in between

Gary Parrish and Matt Norlander also discuss the Memphis-Kentucky recruiting battle for James...
The Cavaliers got a massive boost with Hunter's decision to stay in Charlottesville

If Azubuike leaves for good, Kansas will lose all five of its 2017-18 starters

The 2017-18 NCAA Tournament has concluded, but coaches are still being hired in new places