College Basketball Preview: Top 10 frontcourts in the country
There are several loaded frontcourts across the landscape, but which is the best? Kentucky and Kansas both make a great argument.
• 4 min read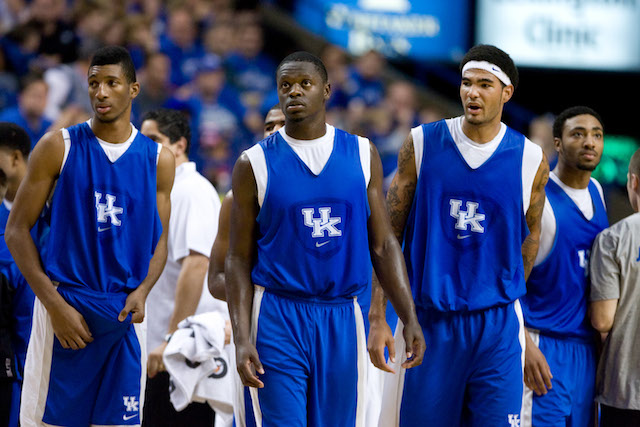 More College Basketball: Season preview | Top 25 (And One) | Conference predictions
While college basketball is indeed a guard's game these days, teams can't be one-dimensional and get to the Final Four. Just look at last season's title game. Russ Smith and Peyton Siva led Louisville, but Gorgui Dieng and Chane Behanan came up big when it mattered. Michigan had Trey Burke, but didn't make its championship game run without Mitch McGary's NCAA tournament performances.
On Thursday, we looked at the best backcourts in the country. Now it's time to break down the nation's top frontcourts. Remember, our backcourt rankings didn't include small forwards and other perimeter-based frontcourt guys – so you'll see the Jabari Parkers and Andrews Wigginses (Wigginses?) and Rodney Hoods over here.
Players: Julius Randle, Willie Cauley-Stein, Alex Poythress, Dakari Johnson, Marcus Lee, Derek Willis
Comment: With possibly five future first-round picks in this lot, it's tough to pick against the Wildcats. Randle is an All-American, while Cauley-Stein is ready to become a dominant big man. Poythress and Johnson could be huge assets if they buy into being role players.
Players: Andrew Wiggins, Perry Ellis, Joel Embiid, Tarik Black, Jamari Traylor, Landen Lucas
Comment: By the end of the year, this could be the best group in the land. We've talked enough about Wiggins, and Ellis might be the No. 1 breakout player in the country. Throw in lottery pick Embiid and experience with Black, and Bill Self has all the ingredients for a stud frontcourt.
Players: Aaron Gordon, Brandon Ashley, Kaleb Tarczewski, Rondae Hollis-Jefferson, Matt Korcheck
Comment: If Grant Jerrett had not transferred, this group would be in the mix for No. 1. As it stands, the Wildcats will have to settle for No. 3. Gordon is a matchup nightmare, and Ashley and Tarczewski will battle to see who can be a bigger breakout star. Hollis-Jefferson is fun to watch.
Players: Jabari Parker, Rodney Hood, Amile Jefferson, Josh Hairston, Semi Ojeleye, Alex Murphy, Marshall Plumlee
Comment: The Blue Devils might play four perimeter players most of the time, but with Hood and Parker representing the frontcourt, they won't be missing anything in the paint. Those two could be All-Americans by the end of the year, while Jefferson leads a rotation of post players.
Players: Mitch McGary, Glenn Robinson III, Jordan Morgan, Jon Horford, Mark Donnal
Comment: It obviously starts with McGary and Robinson, two players who could have gone to the NBA last spring and been first-round draft picks. Can Robinson III be a full-time small forward? Can McGary be consistent? If the answer is "yes" to both, the Wolverines are loaded up front.
Players: Isaiah Austin, Cory Jefferson, Royce O'Neale, Ricardo Gathers, Ishmail Wainright, Taurean Prince
Comment: In terms of pure talent and depth, this ranking might be a bit low in a few months. Austin and Jefferson were both ranked among our top 40 players, and both players could be better this year. Getting O'Neale cleared to play immediately was a huge coup for the Bears.
Players: Luke Hancock, Wayne Blackshear, Chane Behanan, Montrezl Harrell, Stephan Van Treese, Mangok Mathiang
Comment: Obviously, this ranking hinges on whether Behanan is available for the majority of the season. If he comes back in December, it will be entirely justified. If not, well, the Cardinals could struggle down low. Harrell is ready for a big season, while Hancock and Blackshear form a terrific wing duo.
Players: C.J. Fair, Jerami Grant, Rakeem Christmas, Baye Keita, DaJuan Coleman, Tyler Roberson
Comment: There's an All-American candidate in Fair, a breakout prospect in Grant – and tons and tons of depth. That's certainly a recipe to be one of the 10 best frontcourts in the country. Jim Boeheim will need one of the returning big men to step up, but Roberson will contribute too.
Players: Patric Young, Dorian Finney-Smith, Will Yeguete, Damontre Harris, Chris Walker
Comment: There are plenty of questions about Florida's roster heading into the year, but this group at full strength could be top five in terms of talent. We know what we're getting with Young, but Finney-Smith and Harris are quality transfers. Getting Walker at the semester break could be huge.
Players: Justin Anderson, Akil Mitchell, Mike Tobey, Anthony Gill, Evan Nolte, Darion Atkins
Comment: This one might be under-the-radar, but I'm huge on the Cavaliers' bandwagon this season. Tobey is ready for a huge year, Gill could be a pro, while Anderson and Mitchell were both very good a season ago. Nolte and Atkins provide terrific depth for Tony Bennett.
Others: Tennessee, New Mexico, Michigan State, Marquette, Iowa, Colorado, UCLA, North Carolina
No. 2 Arizona and No. 18 Purdue are each 0-2 in the Battle 4 Atlantis, and they'll play each...

It's rare to see two incredibly gifted big men going head to head this early in a college hoops...

The Wildcats are no longer undefeated after losing to NC State
Brey's team overcame a 16-point deficit to top Wichita State in the Maui finale

No. 13 Irish led for only 22 seconds, but a pair of clutch free throws lifted them to a Maui...

Freshman overcomes plenty before he even puts on a jersey and then sparks signature win for...