College Basketball Preview: Top non-league games before Jan. 1
We are now just days away from the start of college basketball's regular season, and I realize you're probably so distracted by football that you haven't had a chance to comb through everybody's schedules to figure out when and where the best non-conference games will be played. No worries. That's why I'm here.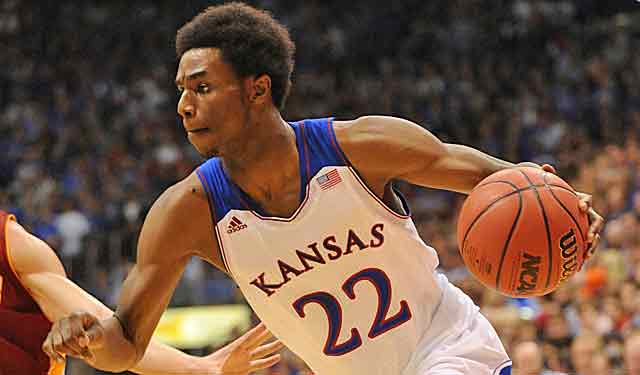 We are now just days away from the start of the regular season, and I realize you're probably so distracted by football that you haven't had a chance to comb through everybody's schedules to figure out when the best non-conference games will be played.
No worries.
That's why I'm here.
What I did this morning is compile a list of the best games we're guaranteed to see before the calendar turns to 2014, and below is that list. Keep in mind that several other non-league showdowns will likely materialize in bracketed tournaments -- most notably Duke-Arizona in the NIT Season Tip-Off and Louisville-North Carolina in the Hall of Fame Tip-Off. But I decided to not deal with projected matchups and instead focus just on matchups that are cemented and guaranteed to happen.
So here are those matchups.
Adjust your calendars accordingly.
1) The Champions Classic on Nov. 12 at the United Center
Yes, I know, the Champions Classic is not a non-conference game as much as it's a non-conference event. But it is a doubleheader with games being played within 30 minutes of each other inside the same building, and anybody attending one of the games will see both. Thus, I'm listing them collectively and at the top of this list. The first game is No. 1 Kentucky vs. 2 Michigan State in what will be the earliest 1-2 matchup in history ... and that's actually the undercard. The headliner is No. 4 Duke vs. No. 5 Kansas -- mostly because it'll provide a matchup between freshmen Jabari Parker (Duke) and Andrew Wiggins (Kansas), two wings who have both already been Sports Illustrated cover boys.
Add it up, and the doubleheader will feature four schools ranked in the top five of the preseason AP poll, the prospects who are projected by CBSSports.com to go first (Wiggins), second (Kentucky's Julius Randle), third (Kansas' Joel Embiid) and fourth (Parker) in June's NBA Draft, and 14 of the top 30 picks in those same projections. That's why this is, I believe, the best scheduled double-header in the history of the regular-season. I secured my credential months ago. Can't wait to get to the United Center. Should be a fun night.
2) No. 1 Kentucky vs. No. 3 Louisville on Dec. 28 at Rupp Arena

I get a lot of pushback each time I write this, but I believe it so much that I'm comfortable writing it again. So here goes: Duke and North Carolina might be college basketball's best historical rivalry, but it's not the best right now because Kentucky-Louisville is the best right now. The reason starts with the personal rivalry between Rick Pitino and John Calipari but extends to Pitino's history as the Kentucky coach, the genuine hatred between the fan bases, and the fact that we're dealing with the sport's past two national champions. It really is terrific. And it'll be on a big stage again just before the New Year.
3) No 2. Michigan State vs. No. 12 North Carolina on Dec. 4 at the Breslin Center
The eligibility issues that are clouding UNC's preseason will presumably be over by early December, clearing the way for both programs to be at full strength in what should be the top game of the 2013 Big Ten/ACC Challenge. A frontcourt matchup between Adreian Payne (Michigan State) and James Michael McAdoo (North Carolina) should be interesting -- not to mention P.J. Hairston (North Carolina) vs. Gary Harris (Michigan State) or Branden Dawson (Michigan State). Or both.
4) No. 5 Kansas vs. No. 10 Florida on Dec. 10 at the O'Connell Center
I love on-campus games way more than neutral-site games, and what I really love is on-campus games between two nationally relevant programs with future Hall of Fame coaches. That's exactly what we have here. It'll be KU's Bill Self (one national title) vs. UF's Billy Donovan (two national titles) on the Florida campus with the Florida students right on top of them. The Kansas bigs (Perry Ellis, Tarik Black, Joel Embiid) banging with the Florida bigs (Patric Young, Dorian Finney-Smith, Damontre Harris) will be enough to bring several NBA scouts to Gainesville.
5) No. 4 Duke vs. No. 7 Michigan on Dec. 3 at Cameron Indoor Stadium
The reigning national runners-up will visit Durham as part of the Big Ten/ACC Challenge, and what's interesting is that it'll be the second hostile environment of the season for the Wolverines even though the game will be played in early December. Two weeks earlier, they'll also play at Iowa State. That'll be tough. This should be tougher.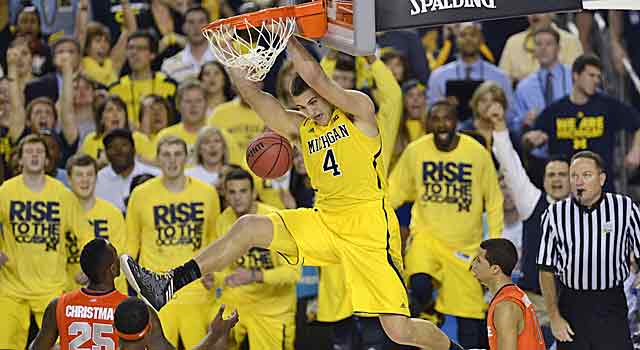 6) No. 7 Michigan vs. No. 6 Arizona on Dec. 14 at the Crisler Center
Mitch McGary (Michigan) and Aaron Gordon (Arizona) on the court together means two projected lottery picks will be on the court together. Either way, it wouldn't be too surprising if we watch these two teams play in the middle of December and then again in early April.
7) No. 1 Kentucky vs. No. 12 North Carolina on Dec. 14 at the Dean Smith Center
So Dec. 14 is shaping up to be a nice day of college basketball, huh? Arizona-Michigan (on CBS, it's worth noting) will start things with a noon tipoff. Then UK-UNC comes roughly five hours later in what will be the first true road test for John Calipari's young Wildcats. Also on Dec. 14: No. 5 Kansas vs. No. 23 New Mexico in Kansas City. So it looks like I have a decision to make about where to spend that Saturday.
8) No. 8 <span data-shortcode= State" data-canon="Oklahoma Sooners" data-type="SPORTS_OBJECT_TEAM" id="shortcode0"> vs. No. 13 Memphis on Nov. 19 at Gallagher-Iba Arena
Memphis has received a lot of attention this preseason because of the strength of its backcourt that features four guards who have averaged double-figures in points at the Division I level. But it's worth noting that Oklahoma State has three guards who averaged double-figures in points last season, and one of them (Marcus Smart) is widely considered to be the nation's best guard.
9) No. 17 Marquette vs. No. 20 Wisconsin on Dec. 7 at the Kohl Center
I'm not sure if folks across the country properly appreciate the Marquette-Wisconsin in-state rivalry, but it's terrific and one led by two of college basketball's most reliably successful coaches in Buzz Williams (Marquette) and Bo Ryan (Wisconsin). Those two men have combined to make 17 consecutive NCAA tournament appearances, and neither Marquette nor Wisconsin has ever missed the Field of 68 with its current coach. That's a remarkable run.
10) No. 4 Duke vs. No. 22 UCLA on Dec. 19 at Madison Square Garden
Steve Alford inherited a nice roster and has a good team that I believe is actually a little underrated in the preseason AP poll. He'll take his Bruins east to New York City just before Christmas and put them on a stage that'll force the nation to pay attention to a Pac-12 school. A win over Duke is certainly possible if Jordan Adams gets going.
----- TEN OTHER NON-LEAGUE GAMES BEFORE JAN. 1 WORTH CIRCLING -----
Brey's team overcame a 16-point deficit to top Wichita State in the Maui finale

No. 13 Irish led for only 22 seconds, but a pair of clutch free throws lifted them to a Maui...

Freshman overcomes plenty before he even puts on a jersey and then sparks signature win for...
Officials didn't buy the flop, but the Mastadons player gets an A-plus for his acting effo...

It's early, but the Vols appear to finally be heading in the right direction

Shittu is the highest rated Vandy commitment since .. Darius Garland, who committed last w...