College Basketball Previews: Indiana is cream of the crop in Big Ten
The Big Ten featured one of the most competitive races in the country last season, ending with three teams tied atop the standings. This year could be even better as the Big Ten is clearly the best conference in the land heading into the season.
• 9 min read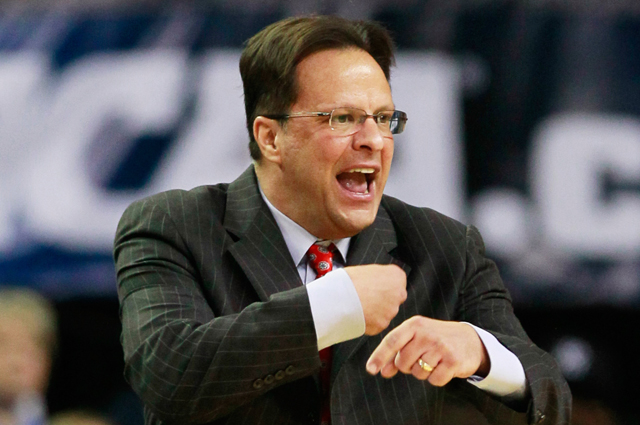 Tom Crean has led Indiana back into the national title picture (Getty)
The Big Ten featured one of the most competitive races in the country last season, ending with three teams tied atop the standings. This year could be even better -- as the Big Ten is clearly the best conference in the land heading into the season. There are up to four top-10-caliber teams at the top of the league, a couple of other NCAA tournament types, and then a few sleepers. The bottom of the conference needs some work, but the cream of the crop in the Big Ten could be the story of the season this year. 
Last year's regular-season winners: Michigan, Michigan State, Ohio State

Last year's tournament winner: Michigan State

Conference tournament: March 14-17 (United Center, Chicago)

Five best nonconference games

1. North Carolina at Indiana (ACC-Big Ten Challenge, Nov. 27)
2. NC State at Michigan (ACC-Big Ten Challenge, Nov. 27)
3. Kansas vs. Michigan State (Champions Classic, Nov. 13)
4. Kansas at Ohio State (Dec. 22)
5. Ohio State at Duke (ACC-Big Ten Challenge, Nov. 28)

What I like: Race at the top, stars returning to school and young talent. Why: The Big Ten is simply loaded at the top of the conference this season. Indiana leads the way being ranked No. 1 in the country. But don't forget about the teams chasing the Hoosiers this year. Michigan brings back one of the best backcourts in the country, Michigan State still has Tom Izzo and a deep stable of talent, while Ohio State has two of the nation's best players in Aaron Craft and DeShaun Thomas. Indiana might be the most complete team in the country, but the Hoosiers won't run away with the league.

Tthe league wouldn't have been as strong if its top players didn't stick around for another season. Cody Zeller returned, and now looks like the favorite for Player of the Year; Trey Burke changed his mind at the last minute, and decided to come back to Ann Arbor; Thomas didn't take advantage of his strong March performance and head to the NBA. Guys like Tim Hardaway Jr. and Christian Watford also returned.

The top of the league is going to be strong for a while. Just look at some of the best players in the league. Zeller and Burke are both sophomores, and there is a long list of players ready to step in as freshmen. Yogi Ferrell, Gary Harris and Sam Dekker will all have impacts, as will Michigan's Glenn Robinson III and Mitch McGary. Don't forget about Iowa's Adam Woodbury, either. Purdue's Ronnie Johnson could start, too.

What I don't like: Bottom of the conference, loss of veteran stars, and fall news. Why: After the top six of the league, there are plenty of question marks facing the rest of the teams. Iowa returns a lot, but the Hawkeyes haven't had consistent success in a long time. Purdue is banking on a group of young post players to produce early, while Northwestern needs to find scorers to surround Drew Crawford. Illinois and Nebraska both have new coaches, and Penn State needs a lot of help around Tim Frazier. The upper half of the league is the best in the country, but it remains to be seen which team from the rest of the group steps up.

Even though the league brings back superior talent, it lost a lot of the players who were the faces of the league the past few years. Ohio State said goodbye to Jared Sullinger and William Buford; Michigan State lost Draymond Green; Purdue (and Jeff Goodman) bid farewell to Robbie Hummel; Wisconsin star Jordan Taylor is gone; Northwestern's John Shurna used up his eligibility; Illinois has to replace emerging star Meyers Leonard; Iowa lost Matt Gatens.

Even with all the hype surrounding the league heading into the season, most of the fall news wasn't very positive. At Minnesota, there was the Trevor Mbakwe legal decision and the DUI for assistant coach Saul Smith. Wisconsin had injuries to Josh Gasser and Mike Bruesewitz. Michigan suspended Burke for a game, and Jon Horford suffered an injury. Northwestern suspended starter JerShon Cobb. Even Indiana took a hit with the injury to shooting forward Derek Elston. More than anyone else in the country, the top of the Big Ten can't wait for the season to arrive.

Player of the Year will be: Cody Zeller, Indiana. The preseason National Player of the Year, Zeller is poised to dominate this season. If not for Anthony Davis a year ago, Zeller would have received even more attention for his freshman-season exploits, when he averaged 15.6 points and 6.6 rebounds. He failed to reach double-figures in scoring just four times. He pushed his averages to 16.7 points and 8.7 boards in the NCAA tournament. Zeller is efficient and should be even better this season.

The next best five: 
DeShaun Thomas, Ohio State
Trey Burke, Michigan
Aaron Craft, Ohio State
Trevor Mbakwe, Minnesota
Tim Frazier, Penn State

And the five after that:
Tim Hardaway Jr., Michigan
Christian Watford, Indiana
Branden Dawson, Michigan State
Brandon Paul, Illinois
Keith Appling, Michigan State

Best freshman: Yogi Ferrell, Indiana. This came down to Ferrell, Wisconsin's Sam Dekker and Michigan State's Gary Harris -- but Ferrell will start at point guard for the No. 1 team in the country. He needs to make an impact. Ferrell is quick and tough, and he knows how to get the ball to the Hoosiers' cadre of scorers.
BEST GUESS ON FIRST TO WORST
1. Indiana Hoosiers
With the most complete team in the country, Tom Crean's rebuilding effort has the Hoosiers back to being one of the nation's powerhouses. Preseason Player of the Year Cody Zeller anchors the interior, while Christian Watford leads a host of secondary options. The key will be Yogi Ferrell, a freshman who will be asked to run the show from Day 1.
2. Michigan Wolverines
This isn't your typical John Beilein-coached team. There are more athletes than shooters, and it will be interesting to see how everything meshes. Trey Burke and Tim Hardaway Jr. form a terrific backcourt, and Glenn "Tre" Robinson could be one of the biggest impact freshmen in the country. Mitch McGary has to make plays inside, though.
3. Michigan State Spartans
There's no question about it: The loss of all-around stud Draymond Green is an enormous loss. But it's tough to doubt Tom Izzo -- and there is certainly talent on the roster. Keith Appling is emerging at the point, and Branden Dawson should be healthy. Derrick Nix and Adriean Payne are solid down low, plus Gary Harris is a great two-way player. Who is the playmaker?
4. Ohio State Buckeyes
The Buckeyes have pieces up and down the roster, but there is plenty to replace with Jared Sullinger and William Buford both gone. Aaron Craft and DeShaun Thomas give Thad Matta two of the 15 best players in the country, though, with Thomas expected to become a big-time scorer. Which of the role players or newcomers will step up? It could be LaQuinton Ross.
5. Wisconsin Badgers
The Badgers are one of the more interesting teams to project heading into the season. Starting point guard Josh Gasser tore his ACL, while forward Mike Bruesewitz is also out for the start of the season. Ryan Evans and Jared Berggren are two leaders, though, and freshman Sam Dekker could be primed for a major impact. Plus, Bo Ryan teams just don't finish outside the top 25.
6. Minnesota Golden Gophers
Most of the news surrounding Minnesota leading up to the season was negative: Trevor Mbakwe's trial and Saul Smith's DUI arrest. With that behind them, though, the Gophers will look to build on their NIT run last season. Rodney Williams broke out late, and Mbakwe should be back and healthy. Andre and Austin Hollins are a year more experienced. Tubby Smith's troops need to stay healthy.
7. Iowa Hawkeyes
Look for the Hawkeyes to be a potential surprise team this season. They finished above .500 last season, including wins over Michigan State, Indiana, Michigan and Wisconsin (twice). Aaron White is an underrated forward, while freshmen Mike Gesell and Adam Woodbury should step in immediately and make an impact. Trips to Carver-Hawkeye won't be fun.
8. Purdue Boilermakers
The Boilermakers have a ton of questions heading into the season, but also a good amount of talent. They could be one of the more unpredictable Big Ten teams throughout the campaign. Ronnie Johnson will run the show as a frosh, and Terone Johnson could break out. The questions reside down low, where a long list of players will look to separate themselves.
9. Illinois Fighting Illini
Despite undergoing a coaching change and losing their first-round post player, the Fighting Illini aren't going to be pushovers. Talent was never a question under Bruce Weber; consistency and leadership were the major problems. New head coach John Groce has options inside and out, led by Brandon Paul and D.J. Richardson. Who produces in the post?
10. Northwestern Wildcats
The Wildcats might have missed their window to reach their first NCAA tournament. John Shurna is gone, and JerShon Cobb is suspended for the season. That leaves most of the scoring burden on Drew Crawford's shoulder; someone else needs to help him out. There are plenty of newcomers, but none are can't-miss prospects.
11. Penn State Nittany Lions
The Nittany Lions had their moments last season, but they were simply outmanned and outgunned most of the year. Tim Frazier is one of the most productive players in the country, while Southern Miss transfer D.J. Newbill and Jermaine Marshall will also help on the perimeter. Unfortunately, the frontcourt is young and undersized.
12. Nebraska Cornhuskers
Tim Miles will make the Cornhuskers competitive at some point; the former Colorado State head man is one of the more underrated coaches around. It won't be this year, though. Nebraska has just one starter back from a team that struggled its way to a 4-14 Big Ten campaign. Which of the newcomers will emerge as a consistent contributor?
Previously in previews:
No. 2 -- Big East 
No. 3 -- Big 12
No. 4 -- SEC
No. 5 -- ACC
No. 6 -- Pac-12
No. 7 -- Atlantic-10
No. 8 -- Mountain West
No. 9 -- Missouri Valley
No. 10 -- Conference USA
No. 11 -- West Coast
No. 12 -- Western Athletic
No. 13 -- Colonial
No. 14 -- Horizon League
No. 15 -- The Ivy League
No. 16 -- Summit League
No. 17 -- MAC
No. 18 -- Atlantic Sun
No. 19 -- Sun Belt
No. 20 -- MAAC
No. 21 -- Patriot League
No. 22 -- Ohio Valley
No. 23 -- Big West 
No. 24 -- SoCon
No. 25 -- NEC
No. 26 -- Big South
No. 27 -- Southland
No. 28 -- Big Sky
No. 29 -- America East
No. 30 -- MEAC
No. 31 -- Great West
No. 32 -- SWAC
Northern Colorado will be on probation through 2020 due to academic and recruiting violati...

You might not see a projected NCAA Tournament bracket quite like this one anytime soon

The Wildcats, once written off after a three game skid, appear poised to enter Pac-12 play...
The Ducks are riding a three game winning streak yet are slight underdogs against the Bulldogs...

The Hurricanes are one of only a handful of unbeaten teams left in college hoops

The Bearcats are fresh off a convincing win over previous unbeaten Mississippi State