College Basketball Previews: Murray State favored to take Ohio Valley title
The Ohio Valley Conference has been Murray State's for the past three years. And it still might be.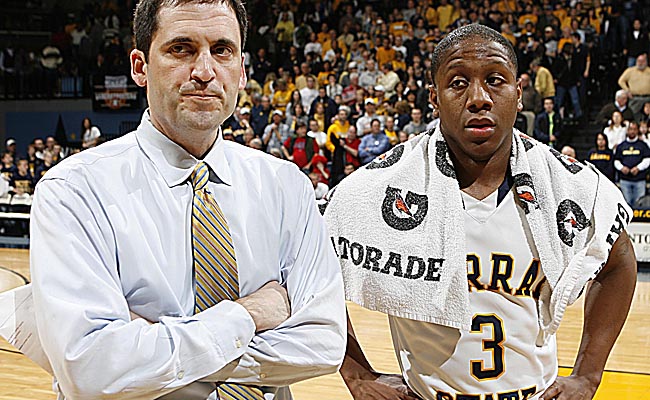 Murray State PG Isaiah Canaan and coach Steve Prohm can lead the Racers back to the NCAA tournament. (US Presswire)
The Ohio Valley Conference has been Murray State's for the past three years.
And it still might be.
But the addition of Belmont has the potential to make things more interesting than things have been recently because it's a development that brings another relevant basketball program into the league.
Murray State has made the past three NCAA tournaments; Belmont has made the past three.
Now these two programs are in the same league and most likely competing for the same automatic bid, meaning there's probably only one spot in the Field of 68 reserved for either Steve Prohm or Rick Byrd.
Forced to pick, let's give the edge to Prohm.
He's the Murray State coach who led the Racers to a 31-2 record in his first season after replacing Billy Kennedy.
Prohm rejected overtures from at least one power-conference school (Mississippi State) after last season and opted to remain in the OVC.
His All-American point guard, Isaiah Canaan, also returned to campus.
He'll be good again. And Ed Daniel should have a breakthrough year that allows the Racers to secure the OVC's automatic bid this season … unless, of course, Belmont does.
Coach's take
"This should be a three-team race between Murray State, Belmont and Tennessee State. NBA prospects Isaiah Canaan and Robert Covington -- along with Belmont's Kerron Johnson -- are capable of leading their teams to NCAA tournament wins. I really do think the OVC champ will have a chance to advance in March."
The league's best
Preseason Ohio Valley Player of the year Isaiah Canaan, Murray State. CBSSports.com First Team All-American resisted the urge to enter the NBA draft. He should lead the Racers to another NCAA tournament.

 
Robert Covington, Tennessee State. Averaged 17.8 points and 7.8 rebounds last season while leading TSU to an 11-5 OVC record. He was the main reason that Tennessee State upset Murray State in February.

 
Ed Daniel, Murray State. Last season's stats don't put Daniel on this list, but his performance at this summer's LeBron James Skills Academy does. The 6-foot-7 forward was impressive against some of the nation's top college players.

 
Jud Dillard, Tennessee Tech. One of the best rebounding guards in the country. The 6-foot-5 senior averaged 8.5 boards per game last season.

 
Kerron Johnson, Belmont. New guy in the league who should post big numbers from the start. Johnson could be what keeps Murray State out of the NCAA tournament.

 
Numbers to know
9 That's the current number of schools that call themselves former OVC members. Among the group -- Louisville.
23 That's the number of consecutive games that Murray State won to start last season. It'll be tough to repeat that act considering the Racers play a November tournament featuring Baylor and Colorado.
28.5 That's the number of wins that Belmont has averaged over the past two seasons. The Bruins won 30 games in 2010-11 and 27 games last season.
Previously in previews:
No. 23 -- Big West
No. 24 -- SoCon
No. 25 -- NEC
No. 26 -- Big South
No. 27 -- Southland
No. 28 -- Big Sky
No. 29 -- America East
No. 30 -- MEAC
No. 31 -- Great West
No. 32 -- SWAC
For more college basketball news, commentary and discourse, follow @EyeonCBB and @GaryParrishCBS on Twitter. And be sure to like us on Facebook.

Duke, which held the previous record of 32 set in 1950, took to Twitter to congratulate the...

The Wildcats have had a dramatic season off the court; without Trier, their Final Four chances...

Porter Jr. is a projected top 10 pick but has played just two minutes all season
Our advanced computer model simulated Friday's IUPUI vs. Wright State game 10,000 times

Dawn Staley was accused of promoting an atmosphere that induced racial slurs toward Mizzou...

KU can clinch at least a share of its 14th straight Big 12 title with a win Saturday over Texas...