College Basketball Previews: Princeton, led by Ian Hummer, is new Ivy League favorite
It was supposed to be Harvard and everyone else, but that all changed in September when Crimson stars Kyle Casey and Brandyn Curry withdrew from school after being involved in an academic scandal.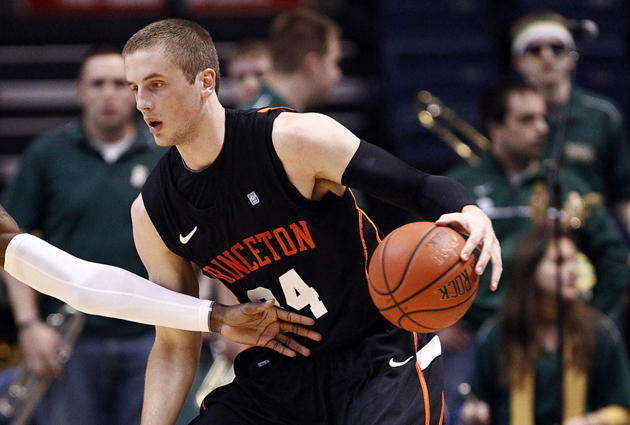 Princeton forward Ian Hummer hopes to lead the Tigers to the Ivy League title this season. (US Presswire)
It was supposed to be Harvard and everyone else, but that all changed in September when Crimson stars Kyle Casey and Brandyn Curry withdrew from school after being involved in an academic scandal at the school involving about 125 other students and athletes. The Crimson can still win the league again, but it'll be difficult without its most talented player and point guard -- both of which decided to pull of out school in order to retain their final season of eligibility in 2013-14.
Now Princeton might move into the position as the preseason favorite with a group that's led by senior forward Ian Hummer -- who averaged 16.1 points, 7.3 rebounds and 3.2 assists in league play. The Tigers, under second-year coach Mitch Henderson, will need a guard to emerge and replace Douglas Davis.
Harvard could still challenge, but coach Tommy Amaker will rely heavily on a bunch of inexperienced-yet-talented young players. Guys like Steve Moundou-Missi, Christian Webster, Wesley Saunders, Jonah Travis and Kenyatta Smith will all get an opportunity for expanded roles without Casey, Curry and Keith Wright and Oliver McNally, who graduated after last season.
Columbia coach Kyle Smith returns one of the top inside-out duos in the league in senior guard Brian Barbour and big man Mark Cisco. In fact, the Lions return all five starters, which could make them contenders. New Brown coach Mike Martin takes over an eight-win team but one that has four starters back. He also adds Tucker Halpern, who averaged 12.6 points and 4.5 boards two years ago before missing last season due to illness. Cornell will build around last year's Freshman of the Year, Shonn Miller, while Penn coach Jerome Allen must find a way to replace all-everything guard Zack Rosen.
Look for Yale, which lost all-league big man Greg Mangano, and Dartmouth, which will need to find ways to score, to battle to avoid the cellar.
Coach's Take
"Harvard would have been the clear-cut favorite, but not anymore. In fact, I'd be surprised if they win the league. They lost four starters from last year's team -- and they just have too much youth and inexperience. I'm honestly not sure who will win the league. I think it's wide open. Ian Hummer probably makes Princeton the favorite now, but there are three or four teams that all have a shot."
The league's best 
Numbers to Know
66. It took Harvard 66 years before the Crimson went to the NCAA tournament last season. Tommy Amaker's team lost to Vanderbilt in the second round.
30. That's the age of new Brown coach Mike Martin when he took over the program last April. Martin is a Brown alum and spent the past six seasons as an assistant at Penn.
5. The number of overall victories for the Dartmouth program in each of the past three seasons.
Previously in previews:
No. 16 -- Summit League
No. 17 -- MAC
No. 18 -- Atlantic Sun
No. 19 -- Sun Belt
No. 20 -- MAAC
No. 21 -- Patriot League
No. 22 -- Ohio Valley
No. 23 -- Big West 
No. 24 -- SoCon
No. 25 -- NEC
No. 26 -- Big South
No. 27 -- Southland
No. 28 -- Big Sky
No. 29 -- America East
No. 30 -- MEAC
No. 31 -- Great West
No. 32 -- SWAC
For more college basketball news, commentary and discourse, follow @EyeonCBB and @GoodmanCBS on Twitter. And be sure to like us on Facebook.
Arizona, for no good reason, doesn't have to play at USC or UCLA this season

We look at the 'Major 7' leagues and give you the best of what's to come in conference play...

Louisville's coach predicts a change is coming to the NBA's one-and-done rule by 2019
Multiple former players of Lonergan's alleged verbal abuse and inappropriate remarks

When Miller left for Indiana, there was cause for concern in Flyerland; a top-100 signee says...

The Hoyas will spend their non-league schedule playing mostly nobodies -- as will most big...