College Basketball Previews: UCLA, Arizona are back in the Pac-12 this season
Yes, there really is a Pac-12. I know it hasn't seemed like it for the past few years, but now Arizona and UCLA have loaded up -- and there are other dangerous teams in the league that should make it a four or even a five-bid conference come tournament time.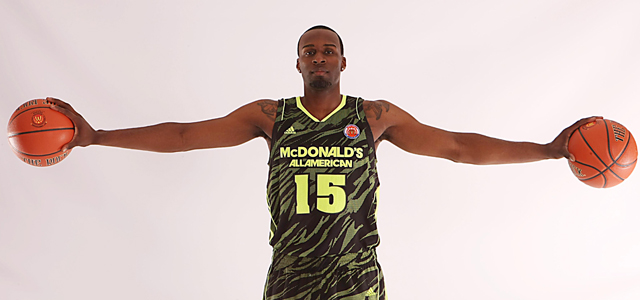 If approved the by NCAA, Shabazz Muhammad could lead UCLA to a Pac-12 title and deep into March Madness (Getty)
Yes, there really is a Pac-12. I know it hasn't seemed like it for the past few years, but now Arizona Wildcats and UCLA have loaded up -- and there are other dangerous teams in the league that should make it a four or even a five-bid conference come March.
West Coast basketball is on the rebound. Sean Miller has brought Arizona basketball back with the help of a star-studded recruiting class. Ben Howland has done the same in Westwood, thanks to a loaded crop of freshman. While these two programs have to carry the torch -- and will do so this season -- there are other teams capable of making some noise. USC will have a completely different look with everyone healthy and the addition of key pieces. Colorado Buffaloes still has one of the nation's most underrated players in Andre Roberson , and Tad Boyle has brought in a couple of quality young big men. This could be Johnny Dawkins' best team since taking over at Stanford Cardinal -- and Washington Huskies won't have the star power from a year ago, but the Huskies could be a better overall team.
Will the Pac-12 be what it was back in 2008 and 2009, when a half-dozen teams earned a spot in the NCAA tournament? Probably not. However, it'll be improved from what it has been over the last three seasons -- when it's received just a total of eight bids.
Last year's regular-season winners: Washington
 
Last year's tournament winner: Colorado
 
Conference tournament: March 13-16 (MGM Grand, Las Vegas, Nev.)
Ten best nonconference games:
1. Missouri at UCLA (Dec. 28)
2. San Diego State at UCLA (Dec. 1)
3. Florida at Arizona (Dec. 15)
4. Texas vs. UCLA in Houston (Dec. 8)
5. San Diego State at USC (Nov. 25)
6. Stanford at NC State (Dec. 18)
7. Creighton at California Golden Bears (Dec. 15)
8. UNLV at California (Dec. 9)
9. California at Wisconsin (Dec. 2)
10. USC at New Mexico (Dec. 5)
What I like:
1) UCLA and Arizona are back -- This league needs these two programs to be great. Not good, but great. Both have been down in the last few years -- and that's why the league has taken a significant hit as well. The Bruins have loaded up with arguably the nation's top freshman class and Arizona has also added a terrific group. The Pac-12 will be relevant nationally this season because UCLA (as long as Shabazz Muhammad is cleared by the NCAA) and Arizona will be nationally relevant. That means resume wins are on the table for everyone else.
2) Arizona's young frontline -- Sean Miller and his staff landed three of the elite big men in the country: Brandon Ashley , Grant Jerrett and Kalez Tarczewski. A year ago, he started 6-foot-6 Jesse Perry in the middle. Now he can go 6-foot-8, 6-foot-10 and 7-foot. These guys aren't just talented; they are also high-character kids as well. Fans in Tucson will love these guys for as long as they opt to stick around.
3) Pauley Pavilion -- It was a dump. Plain and simple. Now UCLA's home building has had a major face-lift and, by the looks of it, Pauley is now a place of pride for this storied program. Not bad timing, either, as the Bruins are loaded with talent this year.
What I don't like:
1) Shabazz Muhammad's situation -- The NCAA is investigating the talented UCLA freshman wing -- and the sad aspect is that he had nothing to do with the two financial guys who have been involved with his family. Muhammad is a killer on the court -- and who knows how long we'll get to see him this season. It's likely he'll miss some time, but we'll see how long the NCAA whacks him with as far as a punishment is concerned.
2) Coaching Insecurity -- We've done our list of Coaches on the Hot Seat -- and believe it or not, half of the dozen we listed nationally reside in the Pac-12. For one reason or another, the following guys need to win this year: Howland (UCLA), Herb Sendek ( Arizona State Sun Devils ), Kevin O'Neill (USC), Ken Bone ( Washington State Cougars ), Craig Robinson ( Oregon State Beavers ) and Johnny Dawkins (Stanford).
3) Tad Boyle doesn't get enough credit. Talk about a heck of a coach. This guy won at freakin' Northern Colorado and then led the Buffs to the NCAA tournament -- after winning the Pac-12 tourney -- last season.
Player of the Year will be:
Shabazz Muhammad, UCLA -- This is obviously pending he doesn't miss too many games this season. Muhammad is a big, strong and athletic wing who is ultra-competitive. His presence completely changes the Bruins and what Howland is able to do on both ends of the floor.
The next best five:
Mark Lyons , Arizona
Andre Roberson, Colorado
Brock Motum , Washington State
Allen Crabbe , California
Kyle Anderson , UCLA
And the five after that:
Grant Jerrett, Arizona
Jio Fontan , USC
C.J. Wilcox , Washington
Chasson Randle , Stanford
Solomon Hill , Arizona
Best freshman: Shabazz Muhammad, UCLA -- We've talked enough about him already, but he's the real deal. Can score, defend and also bring much-needed toughness to the Bruins.
BEST GUESS ON FIRST TO WORST
1. Arizona Wildcats
Mark Lyons is the key to the 'Cats success. He's got all sorts of weapons, but he needs to utilize them instead of worrying about scoring.
2. UCLA Bruins
It's all about Shabazz Muhammad. If he doesn't miss extensive time, the Bruins will compete with anyone. If he's out a while, though, it'll be tough for Howland & Co.
3. Stanford Cardinal
This is Johnny Dawkins' best team since he arrived in Palo Alto. Chasson Randle took little time to emerge as a star -- and now if Dwight Powell can do the same, the Cardinal can make some serious noise.
4. USC Trojans
A year ago, Kevin O'Neill's team was ravaged by injuries. Now the Trojans are healthy and add a talented wing scorer in J.T. Terrell.
5. Washington Huskies
Terrence Ross' departure will hurt. Tony Wroten's will not. Now there will be more cohesiveness with C.J. Wilcox, Abdul Gaddy, Aziz N'Diaye and Scott Suggs leading the way.
6. California Bears
The loss of Jorge Gutierrez was as significant as any in the league from a year ago; Now it's Allan Crabbe's team, but he needs help.
7. Colorado Buffaloes
Is there a more underrated player-coach duo in America than Andre Roberson and Tad Boyle? No chance. The Buffs also have a talented freshman big man in Josh Scott.
8. Oregon Ducks
Dana Altman just threw last year's group together. This one should have more chemistry and should be led by Kyle Singler's little brother, E.J.
9. Oregon State Beavers
If Craig Robinson hadn't lost Jared Cunningham early to the NBA, the Beavers would have a chance to finish in the top couple of spots. They still have enough talent to do so, but it'll be much tougher without their athletic guard.
10. Arizona State Sun Devils
Herb Sendek needs for transfer Evan Gordon (Eric's brother) and freshman point guard Jahii Carson to be good. No, he needs them to be better than just good.
11. Washinton State Cougars
It's basically Brock Motum and a bunch of unprovens. Luckily, Motum is one of the best players in the league.
12. Utah Utes
Talk about a rebuilding effort. You've got to feel for Larry Krystkowiak, who has just two players back of note from last year's dismal six-win team.
Previously in previews:
No. 7 -- Atlantic-10
No. 8 -- Mountain West
No. 9 -- Missouri Valley
No. 10 -- Conference USA
No. 11 -- West Coast
No. 12 -- Western Athletic
No. 13 -- Colonial
No. 14 -- Horizon League
No. 15 -- The Ivy League
No. 16 -- Summit League
No. 17 -- MAC
No. 18 -- Atlantic Sun
No. 19 -- Sun Belt
No. 20 -- MAAC
No. 21 -- Patriot League
No. 22 -- Ohio Valley
No. 23 -- Big West 
No. 24 -- SoCon
No. 25 -- NEC
No. 26 -- Big South
No. 27 -- Southland
No. 28 -- Big Sky
No. 29 -- America East
No. 30 -- MEAC
No. 31 -- Great West
No. 32 -- SWAC
For more college basketball news, commentary and discourse, follow @EyeonCBB and @GoodmanCBS on Twitter. And be sure to like us on Facebook.
The Big Ten Tournament is a week earlier than usual, so the regular-season schedule may look...

Arizona, Grand Canyon and Tulane are also in Barcelona and have reported to be accounted for...

The Memphis transfer has denied the allegation
Cavaliers basketball coach tapes statement on behalf of his university and his city

Gary Parrish and Matt Norlander discuss all things Marvin Bagley and his immediate future

Which version of Grayson Allen will show up for Duke and other questions for every ranked...