College Basketball Previews: With NBA-prospect Tony Mitchell, North Texas is favored in Sun Belt
It is ridiculously rare that a talent like Tony Mitchell is playing college hoops at the Sun Belt level. He is No. 7 on our Top 100; many think he's the best combination of talent and athleticism playing in college basketball today.
• 6 min read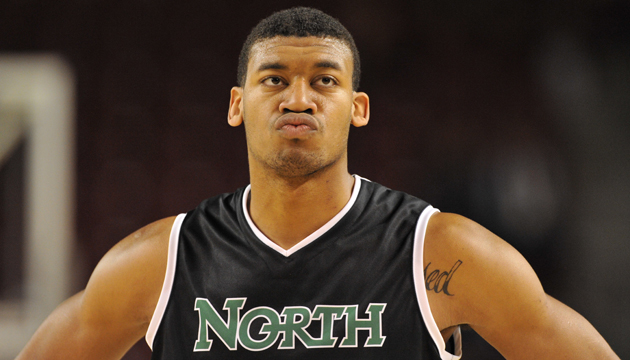 North Texas forward Tony Mitchell could easily be an NBA lottery draft pick after this season. (US Presswire)
What awaits the Sun Belt over the next four and a half months should amount to a special year in this conference. Yeah, you see small leagues get lucky every now and then and have a star with NBA potential. Sometimes the player is good enough to be a lottery pick, like Damian Lillard in the Big Sky last season.
But it is ridiculously rare that a talent like Tony Mitchell is playing college hoops at the Sun Belt level. He is No. 7 on our Top 100, and many think he's the best combination of talent and athleticism playing in college basketball today -- better than anyone at Kentucky, Carolina, UCLA or Kansas. And he's living life at North Texas. Huh? Well, Mitchell initially committed to Missouri but was ultimately ruled academically ineligible and landed at North Texas, where he eventually started his career last December.
North Texas will be an interesting team to watch this season beyond Mitchell (14.7 points and 10.3 rebounds per game last season), who is a near-guarantee to win Player of the Year in the league and earn a spot on national All-American teams. The school lost its coach, Johnny Jones, to LSU. So Mitchell and new coach Tony Benford (former Marquette assistant) will be league favorites thanks to help from Chris Jones, a solid fellow sophomore. He'll run the 1. Oklahoma State transfer Roger Franklin Jr., academically cleared forward Justin Patton and long-bomber Jordan Williams fill out what is one of the most formidable favorites of any mid-major league.
Elsewhere, Middle Tennessee State stands out as a team with a chance to win the league. The Sun Belt is split into two divisions, as you can see, and the Blue Raiders will be the opposing pillar to the Mean Green. Middle Tennessee has 10 of its 12 players back from last season, putting coach Kermit Davis in a position that he has never been in before. Bringing back eight of his top nine scorers gives him an opportunity to do what the team failed last year: make the NCAAs.
Those who dutifully followed my Non-BCS Power Pyramid remember Middle Tennessee was really good. It won 25 games in total and had a league-best 14-2 record. But the Blue Raiders hit a bad lull at season's end, falling to rival Western Kentucky in the regular-season finale. And in the first game of the conference tourney, Arkansas State finally played like the team it was expected to be.
Middle Tennessee State will have a hell of a time this year, though. They'll be ready for the conference's most anticipated game -- a New Year's Eve showdown between UNT and MTSU at MTSU -- thanks to a non-con slate that includes Ole Miss, Vandy, Florida, Belmont and Akron. It's one of the most impressive scheduling jobs of any team that won its league last year.
Beyond those two, it's hard for me to make a case for any other team. Last year Arkansas State was picked to win the West but underachieved. Still, it brings back four of five starters. It should be in the mix, at least near the top. Florida International brings in a new coaching face, Richard Pitino, after the inexplicable Isiah Thomas experiment ended after three years.
The other big change in the Sun Belt is a lack of Denver. The Pioneers jettisoned to play in the pyre that is the re-branded WAC. Too bad -- with them in the hopper, it would've been really, really interesting. Plus, Denver was considered one of the tougher scouting reports in the league.
Looking down the line, Western Kentucky should be solid and is one of those always-there teams, the rising tide that helps all boats for the league sort of thing. South Alabama is probably the most improved team in the league. Florida Atlantic will have a tough time climbing to the top of the league standings, but if it happens, Greg Gantt will be the reason. The lefty guard stands a good chance at breaking through to make the all-league first team.
Coach's take
"The league is definitely better, but especially at the top. North Texas is going to be loaded. We'll see how they do without Johnny. Mitchell is the most athletic guy in college basketball, bar none. Rebounds as good as anyone. He's a freak. ... You look [at the East] and it's pretty good. FIU even has the recruits to compete despite losing its coach. On the other side, Arkansas-Little Rock is one of the most physical teams out there. Player-wise, I look at who the four-year starters are. Marcos Knight is one who stands out. He's tough, physical, maybe the best perimeter shooter in the league. Incredible rebounding guard, too, and a good team guy."
The league's best

Numbers to know
12.5: This league is one of the oldest and most experienced, in terms of coaching. The average Poobah has 12.5 years of experience behind him, and that's when you include newbies Pitino and Benford, who are first-time head coaches.
0: The number of times that North Texas has had a Player of the Year in this conference since it joined in 2001. And here's a nice little twist: Mitchell is likely to win it -- then North Texas is leaving as of July 1 for Conference USA.
.457: Western Kentucky's win percentage last season. In other news, Western went to the NCAA tournament after getting hot in the league tourney. I understand why leagues have these postseason tournaments in order to create urgency, but damn if they don't hurt the league's chances at getting victories that truly matter. Middle Tennessee would've been much better served last year by getting a bye into the title game. At the very least, the small leagues should aim to do this. If this were to happen again this year, what a disaster that would be.
Previously in previews:  
No. 20 -- MAAC
No. 21 -- Patriot League
No. 22 -- Ohio Valley
No. 23 -- Big West 
No. 24 -- SoCon
No. 25 -- NEC
No. 26 -- Big South
No. 27 -- Southland
No. 28 -- Big Sky
No. 29 -- America East
No. 30 -- MEAC
No. 31 -- Great West
No. 32 -- SWAC
For more college basketball news, commentary and discourse, follow @EyeonCBB and @MattNorlander on Twitter. And be sure to like us on Facebook.
CBS Sports HQ Daily Newsletter
Get the best highlights and stories - yeah, just the good stuff handpicked by our team to start your day.
Please check the opt-in box to acknowledge that you would like to subscribe.
Thanks for signing up!
Keep an eye on your inbox for the latest sports news.
Sorry!
There was an error processing your subscription.
The Blue Devils Hall of Famer believes the corruption trial is a 'blip'

The Kansas coach wanted Adidas' help, in part, because he believed Nike was helping Duke and...

The government's case has had its skeptics, but from inside the courtroom this trial very much...
Sister Jean was just inducted into the 2018 Illinois Senior Hall of Fame

The Red Storm should now be expected to make the NCAA Tournament

The 6-foot-4 junior will be sidelined for an undetermined amount of time