Colorado is good and Kansas is ... young and still developing
Colorado's win over Kansas on Saturday showed that the Jayhawks are still a work in progress, and it served as a reminder that winning early with elite freshmen isn't as simple as some of us think.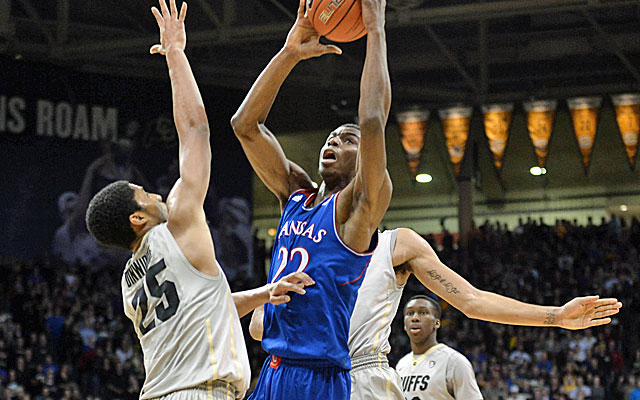 The truth is that Kansas was lucky to even be in a position to force overtime given the way the previous 39 minutes unfolded (and the fact that its best big was on the bench with five fouls). But that no longer mattered with 2.9 seconds remaining because, at that point, the score was improbably tied, and the Jayhawks appeared on their way to OT at Colorado.
Then Askia Booker caught an inbounds pass about 60 feet from the rim.
Then he took three dribbles
Then he -- and this is where it got a little weird -- Eurostepped 30 feet from the basket to free himself from Frank Mason before launching a running 3-pointer that sank at the buzzer. Just like that, overtime was spared, the game was over and KU had lost for the second time in three games. Final score: Colorado 75, No. 6 Kansas 72. The court was predictably stormed.
"It felt great," Booker said when asked, during a televised interview immediately afterward, whether he thought the shot was good when it left his hands. "It might've been one of the best shots, feeling-wise, that I had all night."
OK then.
So what to make of this development?
For starters, it suggests Colorado will be a factor at the top of the Pac-12. The Buffaloes are 9-1 with wins over Kansas and Harvard. The lone loss is a season-opening loss to Baylor, and though that looked questionable on that night, it doesn't look questionable anymore considering Baylor is 8-1 with wins over Kentucky and Dayton (in addition to the win over Colorado) with a lone loss to a Syracuse team that's No. 3 in the Top 25 (and one).
In other other words, Baylor is good.
And Colorado is good.
Both are probably better than most realized when they played Nov. 8.
As for Kansas, well, I guess we should've listened a little better when Bill Self insisted his team had a "long way to go." To be clear, the Jayhawks are still good enough right now to beat good opponents; they've already beaten Duke and almost won at Colorado, after all. But there's an undeniable and massive gap between where this team is and where it could conceivably be in March, mostly because four of KU's most important players are freshmen.
Forget the starting lineup.
Kansas' best lineup is as follows:
That looks a lot like Kentucky's best lineup, which is:
I bring this up because I spent Friday night watching Kentucky lose to Baylor and Saturday afternoon watching Kansas lose to Colorado, and a lot of the things that bothered the young Wildcats also bothered the young Jayhawks, most notably confusing zone defenses employed by Baylor's Scott Drew and Colorado's Tad Boyle. If nothing else, those two games in a span of 24 hours made me realize that Anthony Davis and Michael Kidd-Gilchrist -- and a veteran sprinkled here and there -- spent the 2011-12 season making something look easy that just isn't easy. That Kentucky team, highlighted by two incredible freshmen, has distorted what we think is reasonable to expect from talented teams that are young, and I freely admit that I'm among the biggest guilty parties in this regard.
I've forever thought Kansas and Kentucky will be great.
And I still do.
But I probably should stop referring to them as great in the present tense because, in the present tense, they're just two talented rosters coming off losses to the schools picked third in the Big 12 and Pac-12. Like Self said, there's a long way to go. But the good news is that there's plenty of time to get there even with folks like me rushing the process.
Gary Parrish and Matt Norlander discuss the latest in college basketball -- including Kansas'...

Porter Jr. has reportedly been cleared for basketball activities but isn't set to return any...

Van Gundy spoke out against the governing body and called the one-and-done rule 'racist'
The Spartans finished the regular season with 12 consecutive wins

The Wildcats could look like a completely different team come Selection Sunday

Southern California also helped its NCAA Tournament selection hopes