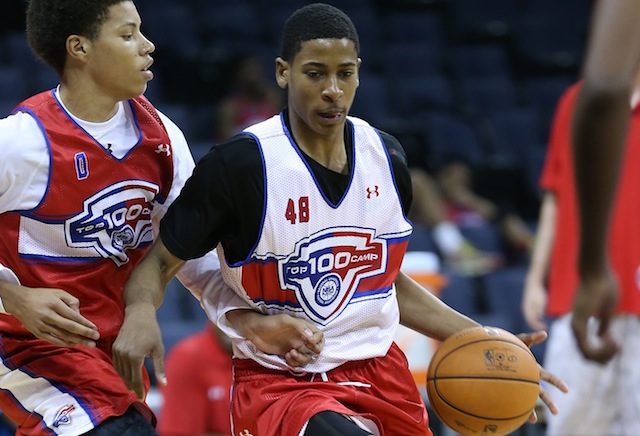 No one expected Charles Matthews to commit this early in the process.
The five-star junior gave no inclination that he was ready to make a decision – and then suddenly his father tweeted Monday night that an announcement was coming. When reports surfaced later that Kentucky head coach John Calipari visited Matthews at St. Rita (Ill.) that day, it all made sense.
On Wednesday morning, the dots officially connected: Matthews committed to Kentucky, becoming the Wildcats' first commitment in the 2015 class.
"When I graduate from St. Rita, I will be a student-athlete at Kentucky," Matthews said at a Wednesday morning press conference. 
He chose Calipari's program over finalists Marquette, Kansas, Illinois and Michigan State.
"I had a good gut feeling since I went there. It was kinda pointless beating around the bushes with the other coaches," Matthews said. "That's the place I wanted to be."
Matthews is the third-highest ranked junior to pledge, joining Ben Simmons (LSU) and Tyler Dorsey (Arizona) as top-15 players already off the board.
How he fits at Kentucky: Matthews is one of the top guards in the class of 2015, and he's a player the Wildcats will be counting on to be a scorer at the next level. Kentucky won't have a ton of wing scoring in 2015, with 2014 recruit Devin Booker the only scorer in next year's class. Booker will still likely be in Lexington, and he and Matthews could be a dynamite combination on the perimeter, especially when it comes to shot-making. Moreover, Matthews played with 2014 point guard Tyler Ulis on the AAU circuit; their chemistry should carry over to Kentucky. Matthews has a smooth game, and his mid-range and pull-up game separate him from other players. He has the ability to play both backcourt positions and has a variety of ways to score.
What it means for Kentucky's class: John Calipari is in hot pursuit of a long list of guards in the 2015 class. Malik Newman is the top guard in the country, and he remains the top target for Kentucky. One player this could impact is Luke Kennard, one of the better shooters in the junior class and a priority of the Wildcats. Kennard and Matthews can play together, but that will be interesting to keep an eye on. Moreover, wing Montaque Gill-Caesar has been rumored to be very high on Kentucky – and a prime candidate to reclassify to 2014. With Matthews in the fold, he likely drops on the Wildcats' list of 2015 targets. Could Gill-Caesar reclassify? It likely depends on what happens with Kentucky's current crop of guards: Andrew Harrison, Aaron Harrison and James Young. Calipari didn't land the nation's best recruiting class in 2014, but he's off to a terrific start in 2015.
Which school loses the most: Illinois. Only a couple of months after losing out to Kansas at the wire for Cliff Alexander, the Fighting Illini lose another in-state kid down the stretch. John Groce and his staff did a very good job with Matthews, and some thought they were right there back in November. Moreover, 2015 commit D.J. Williams was very good friends with Matthews, and that seemed to play a role as well. Calipari's visit to St. Rita on Monday night changed the game, though, spurring Matthews to set a decision date – to the surprise of nearly everyone. Matthews had liked Kentucky for a long time, and at the end of the day, it was tough for Groce and the Illini to overcome the powerhouse Wildcats. They do have Aaron Jordan in the fold for 2015 at point guard, but missing on Matthews and potentially Jalen Brunson would be disappointing.
The file on … Charles Matthews
Height: 6-foot-6
Weight: 172 pounds
Position: Shooting guard
Ranking: No. 12 in 247Sports Composite for class of 2015
High School: St. Rita (Ill.)
AAU: Meanstreets
Stats: 12.4 ppg, 41.9 3PT% on 2013 EYBL circuit
Quotes from college coaches:
"He does everything good, nothing great. He needs to continue to work on his jump shot and his strength. Could be a really good defender. Won't be an impact guy right away; will be a really good college player in two or three years."
"He reminds me of a younger/thinner/bouncy Paul Pierce type of wing. He's more finesse than power, but has a toughness to him. Meanstreets kids tend to be success in the right situation because they have been 'coached' and not 'hyped.' He has a great high school coach who values toughness."
"He's capable of being an explosive scorer because of his combination of athleticism and skill. He has really good size at the guard spot. He's a good shooter (and that will get better) and he can get to the basket."
"He could either be Sam Thompson and have to wait his turn or Ben McLemore and be done after a year. It all remains to be seen, but his DNA of high school and AAU play lean toward earlier success, I think. His point guard will have a lot to do with his success, and Tyler Ulis was really good for him."
"Charles is a really versatile guard that can score at a high level. What takes him to the highest level is his feel for the game and basketball IQ. He has some toughness." 
Comparisons from coaches: Brad Beal, Ben McLemore, Gary Harris, 2014 prospect Rashad Vaughn, Evan Turner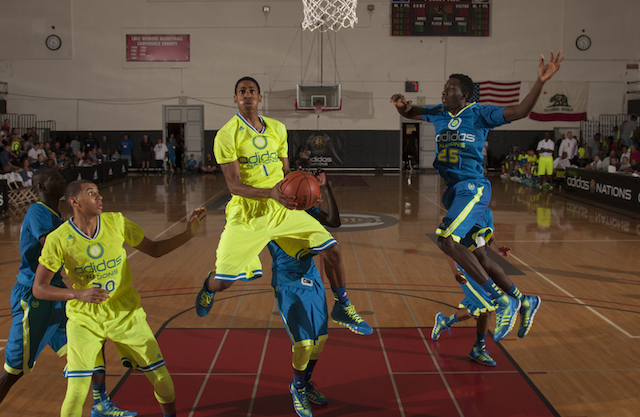 Quotables: What is Kentucky getting?
Tai Streets, head coach, Meanstreets AAU program
On his work ethic and personality: "Off the court, he's a funny kid, as far as having charisma. He's a darn good kid. He's very coachable; he's always trying to get better, basketball-wise, in the gym. He's a kid that's going to work very hard."
How he differs from the classic Chicago guard: "He's going to put on weight. He's more of a longer kid [than Derrick Rose, Sherron Collins, etc.], but he can do all the things they do. He's explosive for how long he is. He uses his length more than them. With Charles, his length and his jumping ability is his strength. He has such long arms; it plays to his advantage You don't know how long he is until you get up to him. Once he gets in the air, how high he gets on his shots. His length is just great."
On his improvement: "He's been working on all aspects of his game. Ball-handling. He's become a complete player; he's really worked on that jump shot. If you leave him open, he's going to knock it down. It's paying dividends."
On his ability to play both guard spots: "I think he can. He's so versatile; he can do it all. He's going to play a little bit of point for me in the summer. People try to do it, and I don't know if other people can do it effectively. He can do it consistently. I'm looking forward to the summer, having the luxury of playing him at the point."
What he will work on this spring/summer: "I want him to be a leader. Be vocal, on and off the court. Whichever school he commits to, everyone is going to be looking at him, everyone is going to play their best against him. I'll have to lean on him."
Academics: "He's definitely good in the classroom. He's already a qualifier. His mom and them stay on him. So that's going to follow him."
On his potential: "At times, he looks like the best player on the court. Regardless of whoever he played against. It helped having Tyler [Ulis] last year, given how tremendous Tyler was. The sky is the limit for the kid. I don't think he knows how great he ultimately could be. I think he's figuring it out now. Once he says, 'no one can stop me,' the sky is the limit."
Gary DeCesare, head coach, St. Rita (Ill.)
On his game: "He has great elevation on his shot. One-dribble pull-up. He's got to work on his ball-handling still, continue to do that. He's very versatile, he can play multiple positions. He's kind of like Julius [Hodge] like that. He's got a great understanding of the game. Student of the game. He's always listening. Got great court vision. He wants to be good."
Off-the-court: "He's a great kid, very respectful, great family. Great values in the family. Yes sir, no sir type of kid. I don't have any problems with his character."
On dealing with attention: "He's a very humble kid. It hasn't affected him at all to be honest with you. At least I haven't seen it. He takes care of his business, does what he does. It doesn't affect him."
How he compares to former stars he's coached: "Charles is as good as any of those guys I've coached. He's a hard-worker and he has a high ceiling. He doesn't want to do anything good, he wants to do everything great. It's a great characteristic. He's special."
On buying into a program: "I played him as a freshman. He soaks everything in. He's like a sponge, he absorbs so much."