Concerns over immediate eligibility lead to SMU losing Emmanuel Mudiay
The consensus top-five national recruit could've been a difference-maker in the AAC. Now, he'll likely be a rookie who struggles overseas before returning for next June's NBA Draft.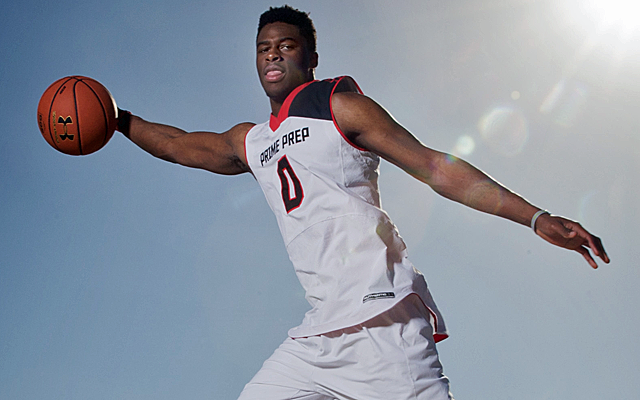 Latest in hoops: Latest News | Coaching Changes | Recruiting
So Emmanuel Mudiay, a consensus top-five national recruit, has decided, in the month of July before his freshman year at SMU, to skip college and move to either Europe or Asia to play professionally even though the only other American point guard who has ever tried that right out of high school struggled severely and hated almost every minute of it.
And, according to Mudiay, this decision has nothing to do with eligibility issues?
With all due respect, I'm not buying it.
And neither should you.
Because, according to multiple sources, the truth is that there were growing concerns, real or imagined, that the projected lottery pick might have a difficult time getting through the NCAA Eligibility Center because of academic issues or amateurism issues. In other words, there was a real possibility that Mudiay, even if cleared academically, would become the next Josh Selby or Shabazz Muhammed, i.e., an elite recruit found guilty of taking improper benefits to the point where a suspension would be possible, if not likely. And that, more than anything else, was the motivating factor behind Mudiay's decision to become just the second elite guard to ever attempt this jump.
The other, of course, was Brandon Jennings.
He skipped college for Europe in 2008 ... also amid eligibility concerns.
Which means not a single top-10 prospect has ever graduated, signed with a college program and then decided to bounce overseas rather than enroll unless that prospect was facing eligibility concerns. Like, it's literally never happened. And it still hasn't happened even if Mudiay's camp suggested he's just trying to take care of his mother financially.
"While I believe that college is the best way to prepare for life and the NBA, Emmanuel's situation is unique," said SMU coach Larry Brown. "We were excited about having him at SMU, but we understand this decision and wish him the best."
To be clear, I don't doubt that Mudiay wants to take care of his mother, and I'm confident that, yes, this move will allow him to do that in some way. All I'm saying is that, despite all of that, he'd be at SMU overwhelming American Athletic Conference guards and leading the Mustangs to the NCAA Tournament if not for eligibility concerns. Now, who knows?
Mudiay will certainly play somewhere.
He'll be paid well -- possibly by a team and Under Armour.
But don't ever forget that Jennings struggled in his one season in Europe because he wasn't equipped, physically or emotionally, to handle practicing with and playing against grown men, most of whom did not speak his language. Perhaps Mudiay will be different. I hope so, for his sake. But the thing people fail to mention when they talk about elite high school graduates jumping to Europe for a year before becoming eligible for the NBA Draft is that it's much simpler for top prospects to flourish as freshmen in college than it is for them to succeed as rookies overseas. That's not a fact, exactly. But, trust me, it's true.
Again, I wish Mudiay luck.
As for SMU, man, this really is unfortunate
Mudiay is the type of player -- a physically overwhelming point guard with great size, tremendous athleticism and a good-enough jumper -- who would've had the Mustangs in the preseason Top 25 and in contention for the AAC title. Now, that program-changing recruit will never play college basketball, and that's too bad for all involved ... except for the agent who will get a cut of a contract signed a year earlier than expected.
Mikal Bridges' slam and an alley-opp started by Jalen Brunson showed Nova came ready to pl...

The Wildcats face a surging Stanford team that has risen as a potential Pac-12 contender

The reeling Mountaineers look to get back on track against Texas at home
Young is coming off his worst game as a Sooner and will try and bounce back vs. the Cowboy...

The first-ranked Wildcats travel to UConn to face a middling Huskies team that is 3-3 in league...

The men's and women's basketball teams were among the handful of events now cancelled