Conference Catchup: ACC could be best league in the country
The ACC could be a dominant force in college hoops, as Syracuse, Pittsburgh and Notre Dame join the usual Tobacco Road powers.
• 7 min read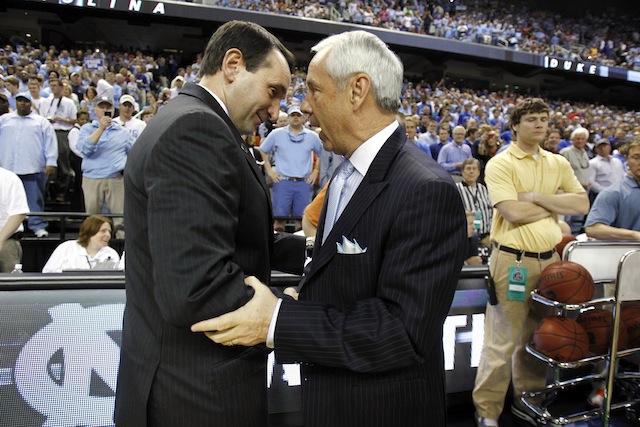 Things are, as May winds down and June approaches, now mostly settled in college basketball. We basically know who will be coaching where. We basically know who will be playing where. So this seems like as good of a time as any to reset everything and get caught up on all of the notable leagues.
That's the idea behind the CBSSports.com Conference Catchups.
We'll post one every other day for the next four weeks.
We'll post them in alphabetical order.
We started with The American, and then had the Atlantic 10. Now, it's time for the ACC.
FOUR OFFSEASON HEADLINES
1. Syracuse, Pittsburgh and Notre Dame all make debuts: The ACC takes its first step toward becoming the most dominant basketball league in all the land with the arrival of three schools from the Big East. Louisville is still a year away, but these three consistently successful programs will immediately provide a boost to the ACC. Will the league's powers still reside on Tobacco Road, or will the teams from up north come in and impact the power structure right off the bat? It will be interesting to see how everyone adapts.
2. Andrew Wiggins doesn't end up in the ACC: The top-ranked high school basketball player in the country had two ACC schools among his finalists, but neither North Carolina nor Florida State received Wiggins' signature. He ended up at Kansas, which is a major loss for both conference programs. North Carolina could have used a versatile, dominant scorer like Wiggins, while Florida State takes a huge hit. The Seminoles had invested plenty of time and resources into recruiting Wiggins, and he would have been the type of player to take them back to the NCAA tournament.  
3. North Carolina State and Miami get overhauled: The Wolfpack entered last season as the favorite to win the ACC for the first time since 1974-75. However, they underachieved throughout the season and never truly played up to expectations on a consistent basis. After the season, C.J. Leslie and Lorenzo Brown decided to enter the NBA draft early, while Rodney Purvis transferred to Connecticut. Scott Wood and Richard Howell used up their eligibility. Mark Gottfried is losing all five starters, and will have to rely heavily on newcomers. Meanwhile, Miami loses its top six minute-getters from last season. There were four seniors in the starting lineup, including Durand Scott and Kenny Kadji, but the premature loss of Shane Larkin to the NBA was the killer. Jim Larranaga has some young pieces on his roster, but the defending league champions won't threaten for that spot again.
4. Mike Krzyzewski returns to USA Basketball: After bringing Team USA back from mediocrity, Krzyzewski agreed to coach the team again in the 2016 Olympics – a pleasant surprise after he had previously said the American's victory in London would be his farewell. Coach K has shown he is able to mesh a variety of talents and egos, and get everyone to buy in to win a gold medal. If he can get everyone on the same page again (and his return could get commitments from certain players again), it's hard to imagine the United States not dominating in the next Olympics. Of course, this now gives us four years to come up with a suitable replacement for Coach K. It won't be easy.
BIG QUESTION THAT REMAINS 
Is the ACC the best conference in the country? When Louisville joins in 2014-15, it's going to be a foregone conclusion that the ACC will have a handful of the best programs in the country on an annual basis. For the upcoming season, though, it's conceivable too. Duke is a top-five team, while North Carolina and Syracuse are also pushing for the top 10. Notre Dame and Virginia are top 25 teams, while Maryland and Pittsburgh will be in the mix. Moreover, look for Boston College and Georgia Tech to make jumps. The Big Ten will make a case as well, but this might be the final season anyone can surpass the ACC.
NBA DRAFT REPORT
TRANSFERS
Coming: Angel Rodriguez (Kansas State to Miami),

Coron Williams

(Robert Morris to Wake Forest)
Going: Robert Brown (Virginia Tech to UAB), Chase Fischer (Wake Forest to BYU), Pe'Shon Howard (Maryland to TBD), Paul Jesperson (Virginia to Northern Iowa),

J.J. Moore

(Pittsburgh to Rutgers), Rodney Purvis (NC State to UConn),

Brandon Reed

(Georgia Tech to Arkansas State), Julian Royal (Georgia Tech to George Mason),

Terrance Shannon

(Florida State to VCU), Bernard Sullivan (Clemson to Charlotte), Terry Whisnant III (Florida State to East Carolina), Trey Zeigler (Pittsburgh to TCU)
TEAM COMMENTARY IN 140 CHARACTERS OR LESS
Boston College: The Eagles have a young core on the perimeter, and all-conference candidates in Olivier Hanlan and Ryan Anderson. A potential bubble team.
Clemson: There are a ton of question marks on the roster, and it could be tough to stay out of the cellar. Redshirt Jaron Blossomgame could breakout.
Duke: Krzyzewski will have one of the deepest perimeter groups in the country, led by Jabari Parker and co. The question mark is in the post.
Florida State: Wiggins would have made this team a potential Sweet 16 candidate. Instead, one of the bigs has to emerge. Consistency is a huge key, too.
Georgia Tech: Brian Gregory has this team poised for a jump in the standings. Consistent PG play is the key. Marcus Georges-Hunt is ready as a go-to-guy.
Maryland: Mark Turgeon has plenty of lineup options at his disposal, but the loss of Len hurts. Is frosh Roddy Peters the answer at the point?
Miami (Fl.): The Hurricanes are completely reloading, with all five starters gone. Angel Rodriguez needs a waiver; Tonye Jekiri has potential.
North Carolina: After being loaded on the perimeter last season, Roy Williams needs one of his bigs to breakout. P.J. Hairston/James McAdoo are all-ACC.
North Carolina State: Mark Gottfried has a decent collection of young talent, but it's going to be tough sledding. T.J. Warren could average 20 a game, though.
Notre Dame: The Irish will enter the ACC with an outstanding backcourt group. Eric Atkins, Jerian Grant, Demetrius Jackson, Pat Connaughton = wins.
Pittsburgh: The Panthers' offseason losses were a major negative, but Jamie Dixon's troops always find ways to win. PG James Robinson is a leader.
Syracuse: If Jim Boeheim can find consistent shooting and Tyler Ennis runs the point, Syracuse will contend again. C.J. Fair is an ACC POY candidate.
Virginia: I love this Cavaliers team. They have an assortment of breakout candidates up front, plus scorer Joe Harris at guard. Who plays the point?
Virginia Tech: The Hokies weren't very good last season, and they lose all-everything guard Erick Green. Where do they turn now? Frontcourt has pieces.
Wake Forest: The Demon Deacons were extremely young last season, and now they have another year under their belts. This could be a team to surprise.
EARLY GUESS AT THE TOP FIVE IN THE LEAGUE 
Duke
North Carolina
Syracuse
Virginia
Notre Dame
EARLY GUESS AT THE ALL-CONFERENCE TEAM
G: Joe Harris, Virginia
F: Jabari Parker, Duke
F: C.J. Fair, Syracuse
F: Ryan Anderson, Boston College
F: James Michael McAdoo, North Carolina  
Final thought: The ACC was down a little bit the past couple of seasons, but that won't be the case again for a long, long time. This league is primed to be the dominant force in college basketball for years to come, with the Tobacco Road teams combining with the imports from the Big East to form a loaded group at the top of the standings. With Louisville coming in next season, it's tough to imagine the ACC not fielding at least one team in the Final Four on a yearly basis. It's going to be that good.
Could the ACC become to college basketball what the SEC is to college football? Probably not, as I think the balance of power in the sport is more spread out than our counterparts on the gridiron, and the NCAA tournament is the great equalizer. But it's not that ridiculous a thought -- and that's scary.
This year could feature at least five teams in the top 25 all season, and up to seven or eight teams in the NCAA tournament. And most of the top teams in the conference have serious question marks.
Just think of these names: Mike Krzyzewski, Roy Williams, Jim Boeheim, Rick Pitino -- and then guys like Jamie Dixon, Mike Brey, Tony Bennett. All will be in the ACC come 2014-15 (barring retirement). It's going to be fun. 
The BC fan has a ton of apparel and gear headed his way after this putt

Durant's made a habit of making sure his alma mater is set with the latest customized gear

Ball says UCLA told him to thank Trump for getting him back to the states after shoplifting...
SportsLine's advanced computer model simulated Wednesday's Villanova vs. Temple game 10,000...

Will any of these six teams make it to 2018 without their first loss?

Temple could be a big problem for undefeated Villanova, the No. 1 team in the Top 25 (and...